Even though Gabby Weiss has lived less than half of her life in Pinehurst, the village is home to her.
From spending time playing golf at the Pinehurst Resort and Country Club over the final two years of high school, working there over the summer in college and now planning for a wedding and reception there later this year, Weiss has an affinity for the Cradle of American Golf.
"Just the feeling of home," Weiss said. "Every time I left for school to go back to college, I hated driving away from this place because I just wanted to be here all the time. I thoroughly enjoy being here."
After four years away from home studying and playing golf at James Madison University, Weiss found herself where she wanted to be the whole time as she started her job working in the resort's main golf shop three days after graduating from college in May 2018.
She says there's something about the luster of history in the clubhouse where you feel the aura walking down the main hallway that many of golf's great players have graced over the years.
Last month, the 25-year-old Weiss added to the history of the Pinehurst Country Club as she assumed her new role as head golf professional of the club and its more than 1,500 golfing members. She is the first female to hold that position.
"It means so much to me. This place is so special to me, just growing up here my late years in high school and seeing how it's transformed," she said. "Gosh, this clubhouse alone looks so different than when I first moved here. Just seeing where this place can go, it's just so endless."
Pinehurst hasn't always been home to Weiss, while that is the home she refers to now. Weiss spent the first 16-plus years of her life in the suburbs of Allentown, Pennsylvania.
She had brief encounters in the Pinehurst area through the U.S. Kids Golf World Championships and also competing in the 2010 U.S. Girls Junior Amateur at the Country Club of North Carolina growing up, but through that the Weiss Family fell in love with the Sandhills.
"That's when my parents were walking around in the gallery and were watching me, and that's when they decided they wanted to retire here," she said. "Coincidentally enough, they are members here as well."
Ann and John Weiss retirement brought the family to Pinehurst, and golf continued to be a constant for Gabby.
Joining the Pinecrest girls golf team, Weiss played a vital role in the Patriots finishing second as a team in the 4A state championship in 2012 and third in the 2013 state championship.
Her senior year included her etching her name in the N.C. High School Athletic Association record books. With an 18-hole score of 8-under-par 64 at Bayonet at Puppy Creek in Raeford during a conference match, Weiss set the state record for lowest score in a high school match. That record has been broken twice but remained tied for the third-lowest round in state history.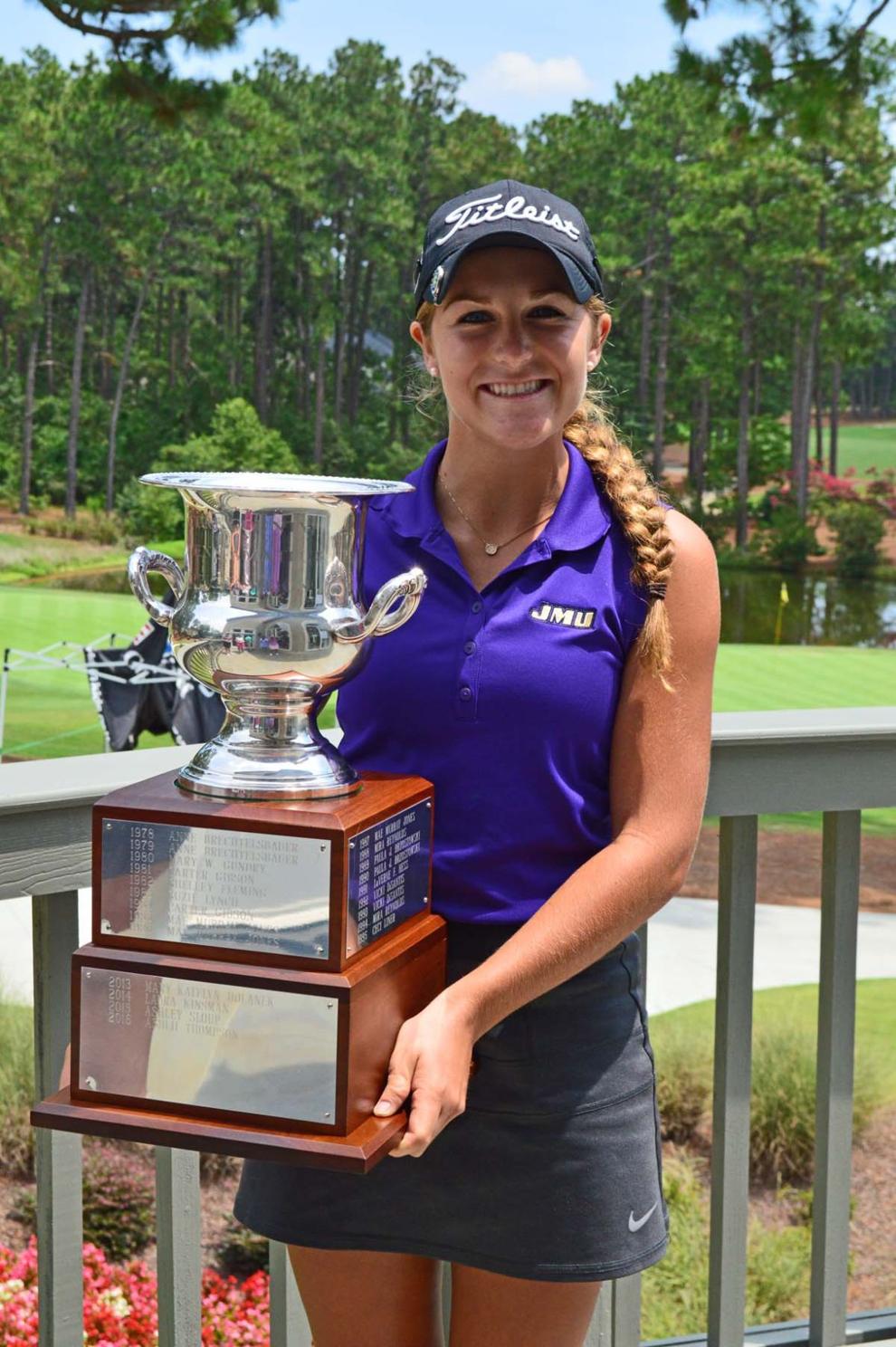 Weiss attended James Madison and was a four-year player on the team, and her career featured four top-30 finishes in tournaments, including one top-10 finish after taking fourth at the Forest Oaks Classic as a sophomore.
During her summers at home from college is when Weiss realized that working at Pinehurst might be an option after graduation. Weiss worked in the Pinehurst Golf Academy with Eric Alpenfels, the academy's director of golf instruction, and started to see her calling for a career.
"I really owe a lot of credit to him and also Matt Barksdale, our resort head golf professional. He's been a great mentor to me these last two years," she said, also noting that Ben Bridgers, director of golf for the Pinehurst Resort and Country Club has played a vital role in her career.
"That's when I was really like, 'all right, I can come back here. I can work in golf. I can make this a career of mine and just kind of run with it." And I did. When I set my mind to something and set a goal, I'm going to follow through on it for sure."
Trailblazing as a Professional
Her path to becoming the first female golf professional at the country club came in an untraditional way, Weiss said, and also came with hurdles through the pandemic.
"I dove in head first so I'm not like most people that worked here that went to a PGM school and did it that way. I did it the opposite," Weiss said. "I got my PGA certification in a year and a half-ish, close to two years and it would've been less than that if COVID hadn't forced the close of some of the testing sites."
Weiss moved to the country club from the resort's main golf shop before the end of the 2018 calendar year, but aspiring for a job with very few female role models in the profession has driven Weiss.
"I do think I have a different perspective than some of the male golf professionals here. That's been a real great thing to take on as my duty," she said. "In the short time I've been here, I've made it a point to grow women's golf. That's been my main focus."
In her 2-plus years working in golf operations with the club, Weiss has overseen the growth of the ladies Nine and Wine evening events that struggled to gather 10 people three years ago and was threatened to be canceled. Weiss says that now it takes booking two courses for the more than 100 golfers to participate.
Weiss' teammates from golf teams over the years have seen their golf careers fade, and so too has their interest in continuing the sport. A small number of those she walked the fairways with in high school in college are working in the sport, but Weiss thinks those with the knowledge should continue to be there for the next generation.
"I do think it's important that if you are involved with golf to stay with it and keep elevating it for women in the game," she said.
While work and wedding planning has limited Weiss' time on the golf course playing to a round or two a month, she now has an appreciation for those she saw setting up tables and tents at youth golf events growing up.
She says the labor comes with love for her new position.
"There's people that enjoy their jobs and everything and they enjoy being in their careers," Weiss said. "This place is so special to the point that you walk in here everyday, you walk down the main hallway on the resort side of the clubhouse and you think about all the people that have walked through the hallways. That kind of feeling and working here too, it's just special."
Weiss said that she has noticed that many positions at Pinehurst are sometimes a "revolving door," but the uniqueness, the homely feel and the support from the people of Pinehurst is what makes her want to stay long after her August wedding with her fiancé Tanner Steiner, who is also a golf professional at CCNC.
"It's a big responsibility to be over so many golf courses and so much responsibility, but there's so many folks that are opening their arms to me saying, 'hey, if you need any help, let me know.' That's been so incredible so far. I'm looking forward to what I can learn," Weiss said.
"I just want to stay here for a while. I love living here."