Having played one football game in four weeks, North Moore coach Andrew Carrouth expected to see rust from his team this week in practice ahead of perhaps its biggest matchup of the season, and against one of the best players the Mustangs might face all season, at Cummings on Friday.
The Mustangs took last week off when East Chapel Hill was forced to forfeit the game. For the first time since Sept. 24, North Moore will kickoff a football game in Burlington at 7:30 p.m. Before the major matchup, Carrouth wants to see the team return to the same mental and physical execution it had before the layoff.
"Getting the rust out is the biggest thing right now," Carrouth said. "I think mentally and physically making sure that some of those mistakes that you make in those first ball games are things we have to hammer out this week in practice."
The game plays a major part in the Mid-Carolina Conference title as both are the last remaining undefeated teams in conference play. Cummings defeated Jordan-Matthews 57-0 Monday night to improve to 5-1 overall and 3-0 in conference play.
North Moore has claimed a pair of forfeits in back-to-back weeks, first over Jordan-Matthews and then last week over East Chapel Hill. Last time out, the Mustangs defeated Bartlett Yancey 26-8. Cummings out-gunned Bartlett Yancey for a 59-36 win.
Like many of the teams North Moore (7-0, 2-0 Mid-Carolina) has faced, the Cavaliers are fast, according to Carrouth. With that, the Mustangs have to stay true to their style of play to combat that.
"They do a really good job of getting their athletes the ball in space. It seems like everywhere you look on the field from their offensive lineman to their skill kids, everyone is fast," Carrouth said. "Part of the game for us is going to be holding the football. Doing what we do, playing keepaway a little bit by sustaining drives."
Leading that speedy team is sophomore Jonathan Paylor, who plays several positions across the field.
Paylor is a four-star recruit for the sophomore class, and is ranked as the top prospect in the state by 247Sports. He has already garnered 16 Division-I offers, from the likes of Georgia, LSU, N.C. State and UNC.
For the Cavs this season, Paylor has done it all. Seeing time as a wide receiver, running back, defensive back, punter and kick returner, Paylor hardly takes a play off. He has combined for 673 all-purpose yards on offense through four games.
"They really do a great job with him on special teams. He is the kick returner for them and he really takes over the ballgame as far as kick returner, punt returner that type of thing," Carrouth said. "Offensively, they use him some as a running back there. He's very effective there doing a really good job with his cutbacks. They will use him some as a receiver trying to get the ball in his hands. He's a very dynamic kid on that end. Defensively, he's a guy that sits back in the middle and nothing really gets by him."
Outside of Paylor, senior quarterback Zion Crawley has passed for 317 yards and five touchdowns. Junior Marione Enoch is the team's second-leading rusher. Cummings is averaging 42 points per game this season, and the Mustangs will lean on their opportunistic defense to help out when possible Friday.
"They are going to hit some plays, and they are going to have some big plays, probably. What we've got to do is make them play another play," Carrouth said. "If their big play is a 20-yard gain, we'll make it a 20-yard gain instead of a 40-yard touchdown."
Pinecrest Takes Aim At Third Straight Win
Pinecrest seems to be trending upward at the right time, and the only thing separating the Patriots from their second three-game win streak of the season is a road meeting with Scotland at 7:30 p.m. Friday. The game is the first for the Scots since going into COVID-19 quarantine two weeks ago.
Before the layoff, the Scots were sitting at 5-1 overall and 2-0 in the Sandhills Athletic Conference.
"I think it's going to be a tough game. It's going to be a long game for both sides. We will both try to establish dominance in the trenches and whoever establishes that dominance will have the upper hand," Pinecrest coach Bob Curtin said. "They're 6-1 with their only loss to Hoggard and that was a pretty good game from what we could see in the film. Everyone else they have blown out."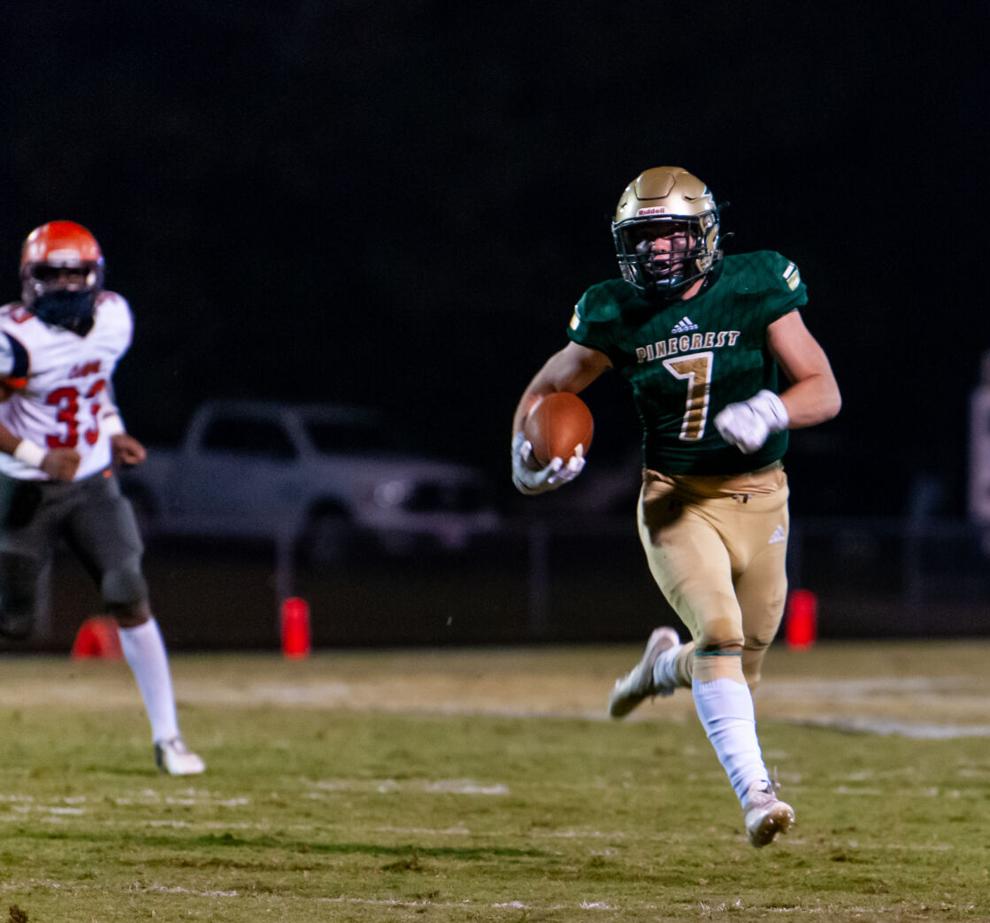 With the Scots coming off the break in the season, Curtin wants to see his team set the tone early, but it won't be as easy as one would think, he said.
"I think those boys themselves got down to the park and just started throwing the ball around and started things through. I don't think they all went home and sat down," Curtin said. "I do think if we can get in there and establish a tempo and establish our will, that will give us an advantage."
Scotland's offense has been balanced through the first six games behind sophomore quarterback Carter Revelle with more than 800 yards passing and 11 touchdowns through the air. Senior running back R.J. Nicholson has nearly 650 yards rushing and seven touchdowns.
The Scots' defense is anchored around defensive end Nick Henderson and linebackers Ladarius McNeill and Hunter Callahan.
The unit has shut out two teams in six games so far, and only given up six points in two other games.
Pinecrest's (5-2, 2-1 Sandhills) defense has continued to shine as it allowed 14 points to Lee County, the Yellow Jackets' second-lowest scoring effort of the season.
Pinecrest has won the last three meetings between the teams, this coming after Scotland had won 12 of the previous 14 matchups.
"At the end of the day, it's going to be Scotland and Pinecrest," Curtin said. "It's going to be a tough fight."
Union Pines Travels to Hoke County
With the top four teams starting to distance themselves in the Sandhills Athletic Conference standings from the other three teams, the matchup between Union Pines at Hoke County now plays a big part for fifth place in the league.
Kickoff is set for 7:30 p.m. Friday.
Union Pines lost 69-6 at Richmond last Wednesday in a game rescheduled due to a chance of rain Friday night. Hoke County is coming off a 36-7 win over Southern Lee last week.
"They realized that if they are going to play at that level that they have to get stronger and that means they have to get serious in the weight room and buy in to the offseason lifting," Union Pines coach Jason Trousdale said. "We have a do a better job of ourselves to get even close to being on that level."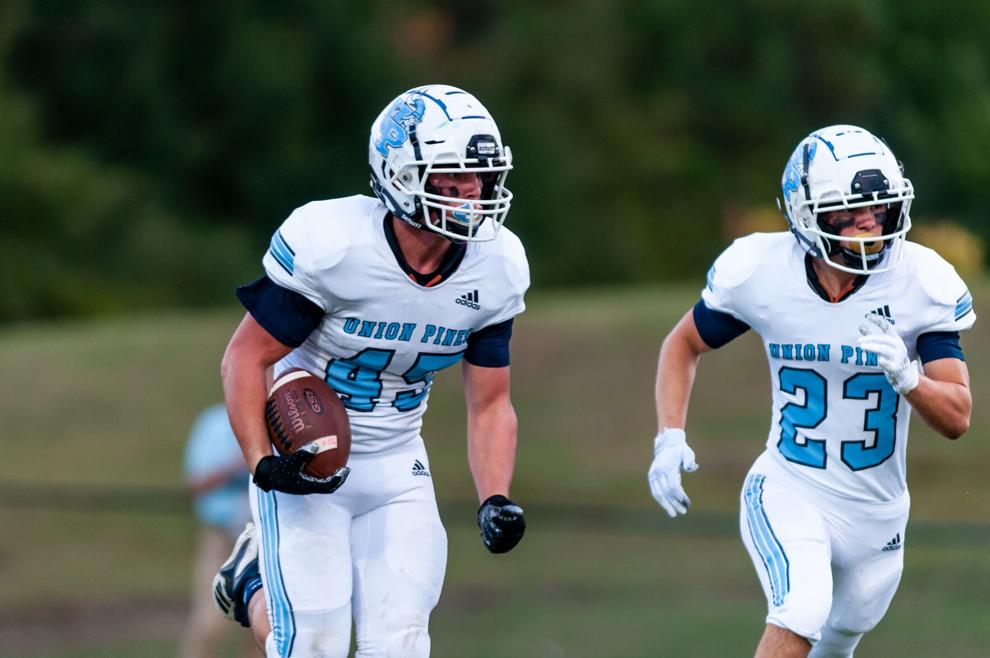 Several juniors play a big part in the Hoke County (3-5, 1-3 Sandhills) offense, which has already amassed more than 1,000 yards on the ground this season.
"We are coming off a tough test against Richmond, and Hoke has a ton of athletes we have to keep hemmed up if we want to give ourselves a chance to win," Trousdale said.
Junior quarterback Warren Avery has passed for 245 yards and three touchdowns, while also rushing for 412 yards and nine touchdowns. To aid Avery in the run game, junior Ethan Wallace has rushed for 526 yards and three scores.
On the other side of the ball, senior linebacker Matthew Leach has 60 total tackles and 10 tackles for loss. Junior defensive back Nick Watts has an interception and a fumble to his credit his season.
The Vikings (1-6, 0-3 Sandhills) played last week without eight starters, including five out due to suspension.
Trousdale said that with several players expected to be out for this week again that the coaches have moved players around to make up for the lack of depth in certain positions.