Improving by 16 strokes as a team from the first round to the final round on Tuesday, the Union Pines girls golf team stormed back to finish three shots off the lead at the N.C. High School Athletic Association 3A golf championship.
The Vikings took second to state champion Fike at Foxfire Golf and Resort's Grey Fox Course Tuesday with a team total of 136-over-par. The finish is the program's best since winning the 3A state titles in 2007 and 2008.
Senior Sara Adams finished 10th in the individual championship with a two-day total of 171 strokes after rounds of 86 and 85.
Carolyn Coffey posted rounds of 96 and 91 to finish in a tie for 25th, Morgan Pettine shot rounds of 111 and 100 to finish in a tie for 54th and Shawna McDonald finished in 71st with rounds of 110 and 118.
Eastern Alamance's Emily Matthews shot even par for the two rounds to finish 12 shots ahead of second place.
In the 4A state championship, Pinecrest showed a promising future with a third-place finish at Pinehurst No. 5.
"It's something good to look forward to. The future is bright with a great group of girls who work hard," Pinecrest coach Rick Handchen said. "It's a good experience for a young team to be competing in the state playoffs. Getting this experience is going to benefit us the next two or three years."
Entering the final round five shots off the lead shared by Cardinal Gibbons and Reagan, Pinecrest shot 19-over-par as a team in the final round Tuesday.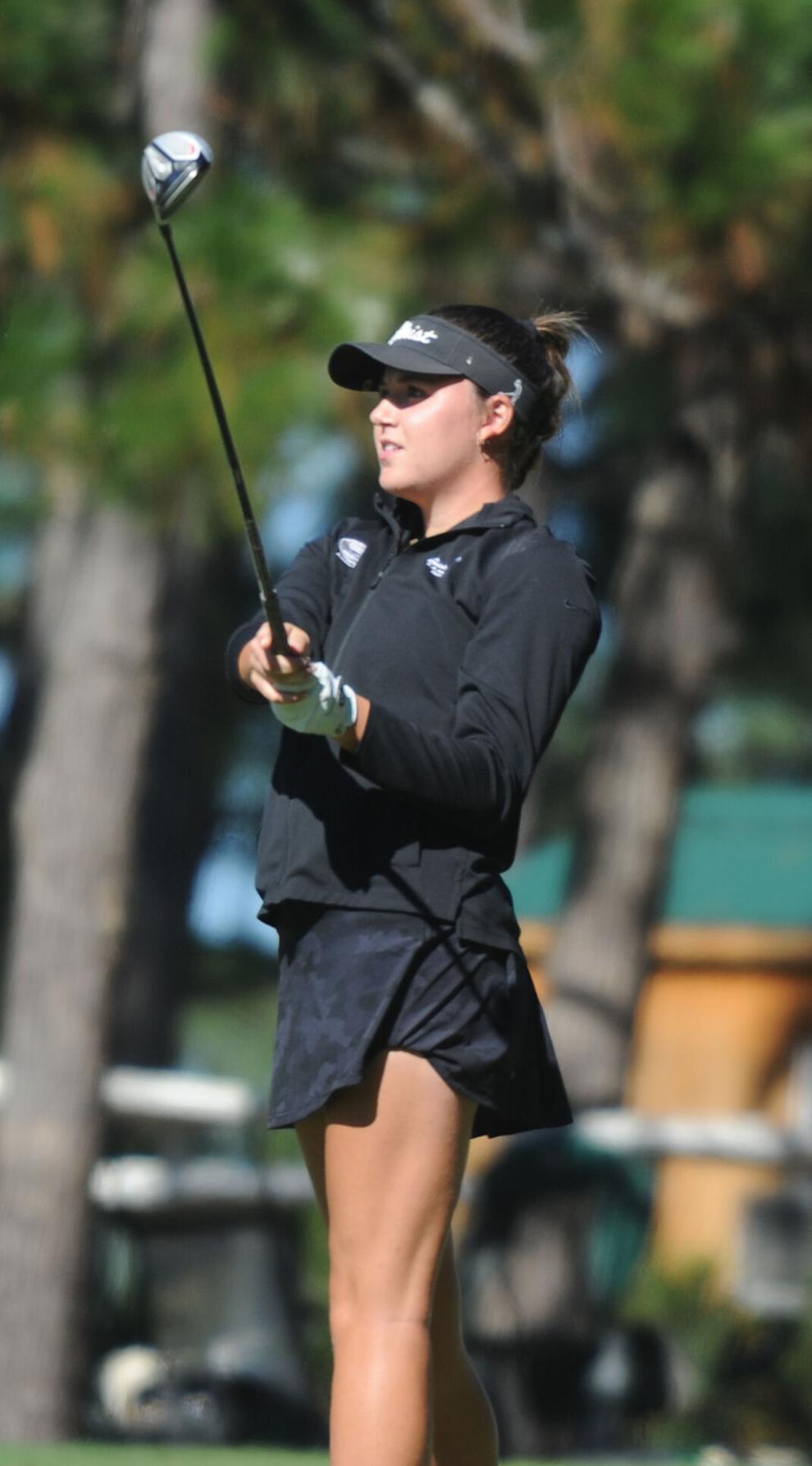 Leading the team in the tournament was senior Jayden Ford with rounds of 76 and 76 to finish in a tie for 15th place. Transferring in this season, Ford was a consistent contributor for the team this fall.
"It was a good experience overall. It's always good to have two rounds in the 70s at states," Ford said. "I hit a little rough patch today, but I tried to keep steady the best I could and it worked out."
Ford rebounded on the back nine of the second round with three birdies to go along with a triple bogey and a pair of bogeys.
"Anytime you have a bad hole, it's just you can't control what has already happened. You've just got to look forward," Ford said. "If you believe in yourself, you can do a lot more than you think you can."
The only senior of the five golfers Pinecrest sent to the state championships, Ford was a leader all season for the Patriots. She will play next season at UNC Greensboro.
"She led by example. She was the hardest worker on the team and that's what you expect from a senior that's going on to play in college," Handchen said.
Sophomore BB Rujiranan followed up her round of 73 to open the state championships with an 80 on Tuesday to finish in 17th place in her second appearance at states.
The opening round came as a bit of a surprise for Rujiranan.
"I did better than I thought I would," Rujiranan said. "I was really nervous today. I knew I had to play with two seniors and I knew they were top five in the state. It got me nervous on the front nine, but I got better on the back nine."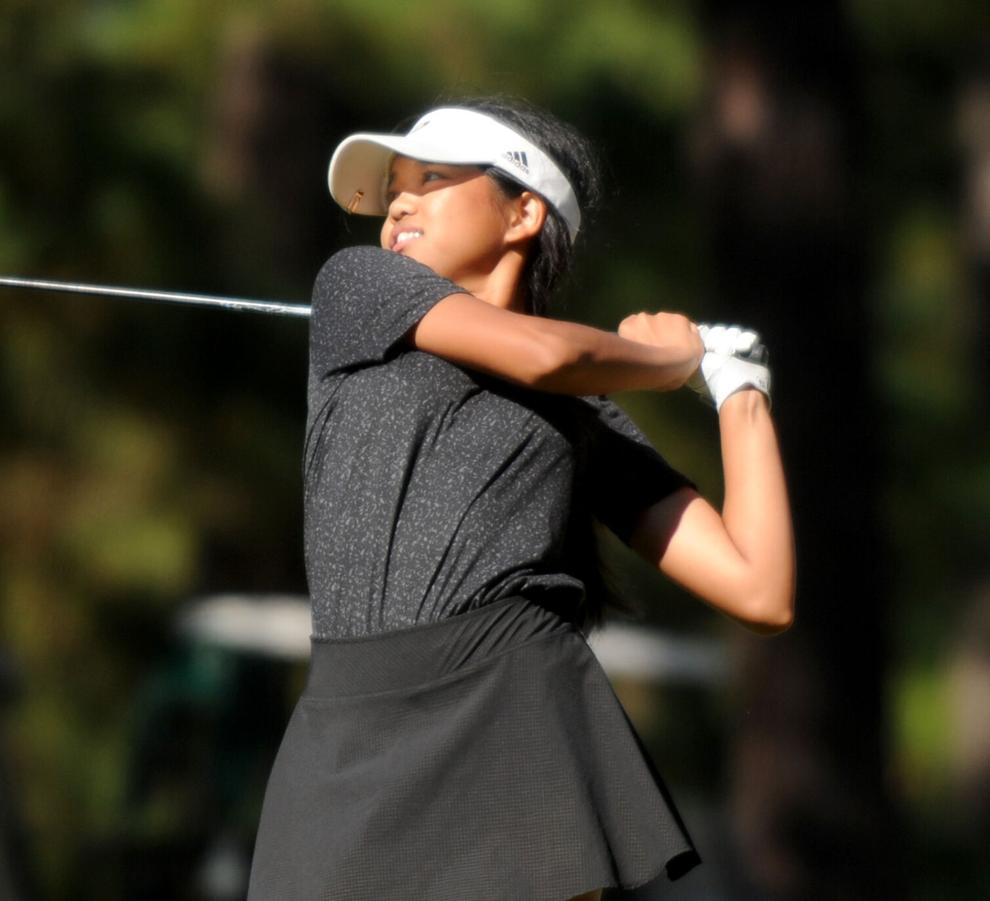 Keeping mistakes to a minimum on Monday with three bogeys, Rujiranan had to rebound Tuesday with a 43 on the front nine, and a putt for an even par back nine skirted the edge of the cup on the final hole.
"You've just got to move on and look at the shot in front of you," Rujiranan said of the lessons she's learned from the championship. "We all know what to work on now and we know what's going to happen next year."
Junior Kitson O'Neal finished in a tie for 28th with rounds of 82 and 79, freshman Katilyn Kruczek finished in a tie for 30th with rounds of 82 and 80 and freshman Camilah Porras used rounds of 81 and 82 to finish in a tie for 34th.
Reagan won the state title with a final round score of 7-under-par for a two-day total of 2-over-par. Cardinal Gibbons finished in second at 17-over-par. Senior Morgan Ketchum from Reagan finished at 4 under for the championship to take state medalist honors.
North Moore's Paige Ritter improved by 12 strokes from the first to the second round at the 1A/2A state championship hosted at Longleaf Golf and Family Club. The sophomore had a round of 98 to finish in a tie for 47th.