The Union Pines cross country team claimed the boys and girls Tri-County Conference titles on Wednesday in Lillington.
In the girls championship, Union Pines edged out Harnett Central with 27 points to 32 points for the Trojans.
Harnett Central's Sierra Collins won the conference's girls individual title in a time of 18:42, followed by Union Pines' Emily Bowbliss with a time of 20:28.
Other finishers for the Vikings included Laura Caviness in fifth with a time of 23:18, Clara Kellner in seventh with a time of 23:42, Eva Reinhardt in eighth with a time of 24:04, Julianna Paris in 11th with a time of 24:36, Addison Fairleigh in 12th with a time of 25:09 and Maya Fraley in 13th with a time of 25:13.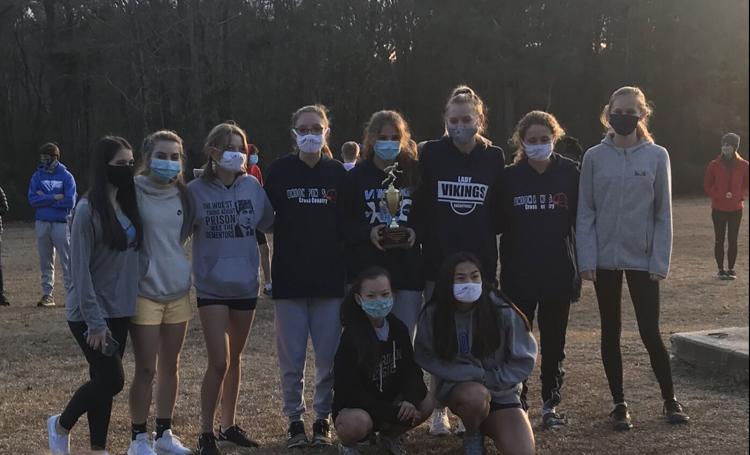 In the boys race, Union Pines placed three runners in the top six to beat out Harnett Central for the boys title with 37 points to the Trojans' 52.
Union Pines juniors Hudson Hayes and Giovanni Rincon finished second and third in the race, with Hayes finishing in 17:46 and Rincon in 18:02. Triton senior Martin Mancera won the boys race in a time of 17:37.
Other finishers for the Vikings included Ender Limb finishing sixth in 19:08, Ryan Yarter finished in 12th in 20:29, Richard Hoover finished 14th in 21:06, Ivan Olgiati finished 15th in 21:13 and Zachary Rubio finished 16th in 21:18.
Union Pines will compete in the 3A Mideast Regional at the WakeMed Soccer Park next Saturday.