While the Country Club of North Carolina's Dogwood Course began to show its teeth Wednesday with the start of match play at the 73rd U.S. Junior Amateur, the brackets did not show many surprises through the round of 64.
The top 10 seeds advanced into the round of 32 that will start Thursday's action at the U.S. Junior, and most of the contest went along with the seeding numbers.
No. 5-seed Caleb Surratt, one of the top juniors in North Carolina, was able to show resilience in his match to advance to the second round, 1 up, over Daniel Choi.
Choi, the son of eight-time PGA Tour winner K.J. Choi, was one of the last players in the match play field after Wednesday morning's playoff, and carried that momentum over early on in the match. Choi built up a 3 up lead through the first five holes, and carried that lead into the eighth tee before Surratt heated up.
"I think me and my caddie just talked it over and we figured out that God has got a plan and that whatever happens happens," Surratt said. "If it's not his will that I win, it's not. I knew that my game was good enough to win no matter how far down I got, I just had to keep going."
The Indian Trail native went on to win six of the next seven holes and take a 3 up lead of his own on Choi.
Choi responded with wins on 15 and 17 to push the match to the 18th hole, which was halved to give Surratt the win.
"I think I've been down pretty good and come back before and took it to 18 like that, but it was a different type of pressure that I've never really been in, having to defend the lead coming down 18, especially with a great player like Daniel," he said. "I mean, it was a different level of intensity than I've had before, but I think it's great to put that under my belt for future play in match play."
The other wins for the rest of the single-digit seeds never made it to the 18th tee with large margins leading them to the round of 32.
Medalist and top seed Kelly Chinn fought off Brendan Valdes, 3 and 2, to earn his spot into the next round. Valdes, the long hitter off the tee who played his way into the field in a playoff, gave Chinn all he could handle early before Chinn found a groove midway through the back nine.
"We both played some really solid golf out there," Chinn said. "I don't think we made a bogey on the front nine. I knew if I just continued to play my game the way I wanted to that eventually my lead would grow, which is what happened."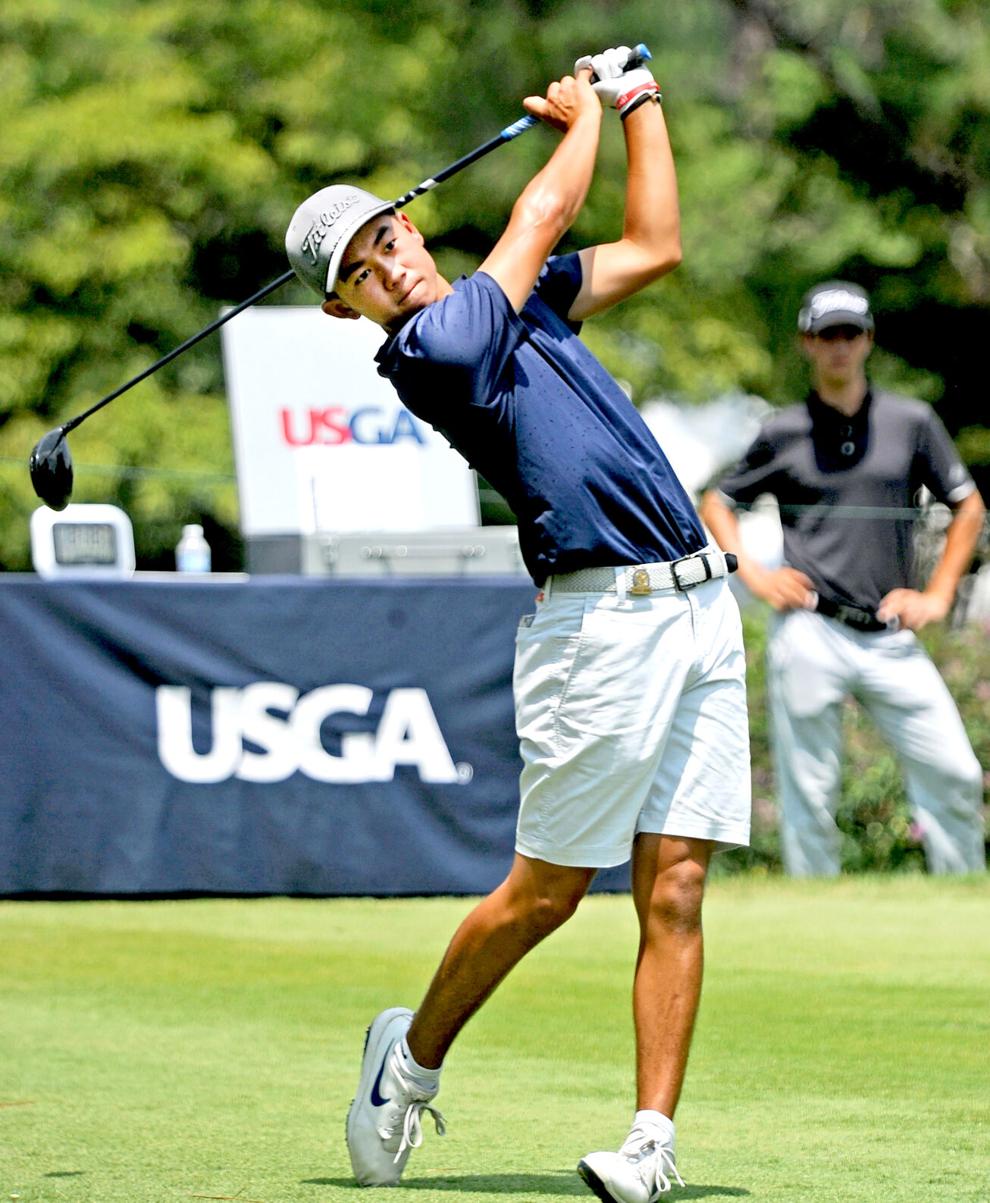 Leading 1 up after nine, Chinn added to his lead with birdies on 10 and 12, and a par on the par-3 13th to lead 4 up.
"Brendan didn't make many mistakes on the first nine holes," Chinn said. "I knew if I just played my game, I would win some more holes, which is exactly what happened."
Results from the Round of 64:
Kelly Chinn, Great Falls, Va. (132) def. Brendan Valdes, Orlando, Fla. (147), 3 and 2
Luke Clanton, Miami Lakes, Fla. (144) def, Ben Sluzas, Lockport, Ill. (144), 19 holes
Benjamin Reuter, Netherlands (141) def. Matvey Golovanov, Russian Federation (146), 6 and 5
Jackson Van Paris, Pinehurst, N.C. (142) def. Spencer Turtz, Charlotte, N.C. (146), 4 and 3
Gordon Sargent, Birmingham, Ala. (138) def. Kyle An, Aliso Viejo, Calif. (147), 2 and 1
Hampton Roberts, Cary, N.C. (145) def. Owen Kose, Holly Springs, N.C. (143), 5 and 4
Bryan Lee, Fairfax, Va. (138) def. Braeden Barnett, Galivants Ferry, S.C. (147), 5 and 3
Carter Loflin, Duluth, Ga. (146) def. PJ Maybank, Cheboygan, Mich. (143), 4 and 2
David Ford, Peachtree Corners, Ga. (136) def. Rylan Johnson, Gilbert, Ariz. (147), 5 and 4
Conor Gough, England (144) def. Baron Szeto, Moraga, Calif. (145), 2 up
Cohen Trolio, West Point, Miss. (141) def. Brady Siravo, Sacramento, Calif. (146), 4 and 3
John Broderick, Wellesley, Mass. (143) def. William Sides, Tulsa, Okla. (146), 3 and 2
Caleb Surratt, Indian Trail, N.C. (137) def. Daniel Choi, Keller, Texas (147), 1 up
Rowan Sullivan, Charleston, S.C. (145) def. Andrew Clark, Winter Park, Fla. (144), 7 and 5
Jonathan Griz, Hilton Head Island, S.C. (141) def. Martin Couvra, France (146), 5 and 3
Buck Brumlow, Cartersville, Ga. (146) def. Nathan Sampson, Temecula, Calif. (143), 1 up
Andrew Goodman, Norman, Okla. (135) def. Rylan Wotherspoon, Cincinnati, Ohio (147), 5 and 4
Gene Zeigler, Florence, S.C. (144) def. Sihan Sandhu, Pinehurst, N.C. (144), 2 and 1
Luke Potter, Encinitas, Calif. (141) def. Sam Davis, Jacksonville, Fla. (146), 2 up
Alexander Yang, Carlsbad, Calif. (142) def. Scotty Kennon, Ponte Vedra Beach, Fla. (146), 2 and 1
Maxwell Ford, Peachtree Corners, Ga. (137) def. Connor Williams, Escondido, Calif. (147), 2 and 1
Aaron Pounds, The Woodlands, Texas (143) def. Jay Nimmo, Benton, Ky. (145), 1 up
Carson Brewer, Jacksonville, Fla. (140) def. Cole Eckert, Chatham, N.J. (147), 7 and 5
Joshua Stewart, Winter Springs, Fla. (143) def. Joe Wilson IV, West Chester, Ohio (146), 6 and 4
Nicholas Dunlap, Huntsville, Ala. (136) def. Jack Turner, Orlando, Fla. (147), 3 and 2
Hunter Thomson, Canada (145) def. Jackson Roman, Kensington, Conn. (144), 2 up
Matthew Comegys, Van Alstyne, Texas (141) def. Aidan Gutierrez, Valparaiso, Ind. (146), 3 and 2
Marshall Meisel, Chevy Chase, Md. (146) def. Anton Ouyang, San Jose, Calif. (142), 2 and 1
Rylan Shim, Centreville, Va. (137) def. Jackson Hymer, San Antonio, Texas (147), 3 and 2
Arjun Gupta, United Arab Emirates (145) def. Jackson Koivun, San Jose, Calif. (143), 20 holes
Jonas Appel, Encinitas, Calif. (146) def. Benjamin James, Milford, Conn. (141), 2 and 1
Robbie Higgins, Sarasota, Fla. (143) def. Dylan McDermott, Granite Bay, Calif. (146), 1 up