Alec Allred's family revolves around baseball.
With several business ventures the family owns involved in baseball, and a professional baseball player himself, a local facility caught the eye of the family as a place to grow the sport and their business footprint.
The Allreds were looking for a new locale after renovations were needed at their existing facility in Siler City, and that's when they came across the former Stingray Athletics facility on Central Avenue in Southern Pines that is being renamed The Factory.
"It's got a really good set-up and I thought it would be a pretty seamless transition to move our facility to Southern Pines," Alec Allred said. "Our family has several businesses that we own and they all are related to baseball."
The family also owns the Old North State, which is one of the largest summer college wood bat leagues in the country, and a high school and youth baseball organization with nine travel teams currently.
What he said was already a "fully functional" baseball and softball training facility took weeks to get rebranded with The Factory brand and name that originated at the Siler City facility being housed in an old furniture factory. The 9,000 square-foot facility will be operated on a membership system with access to all of the amenities free to use for anyone who pays a monthly membership.
The facility has three batting cages that can also be pulled back to allow the fully turf area to be used for indoor fielding. The area also has a bullpen area with a pair of pitching mounds. A full weight room and a classroom will also allow for strength and mental training for players at The Factory.
"The convenience of it is definitely a big difference. We had a lot of polls in The Factory, like structural poles," Allred said. "The new facility is completely wide open so it gives us a lot more opportunities to pull all the cages back and run full team practices, and hit ground balls, that we weren't able to do in Siler City."
While the facility is new, there is familiarity with it.
Allred's father-in-law, Barry Culberthson, who played baseball at Elon, has given lessons in the past at the facility when it was under the ownership of the Stingrays. Allred said he will continue to do so at The Factory.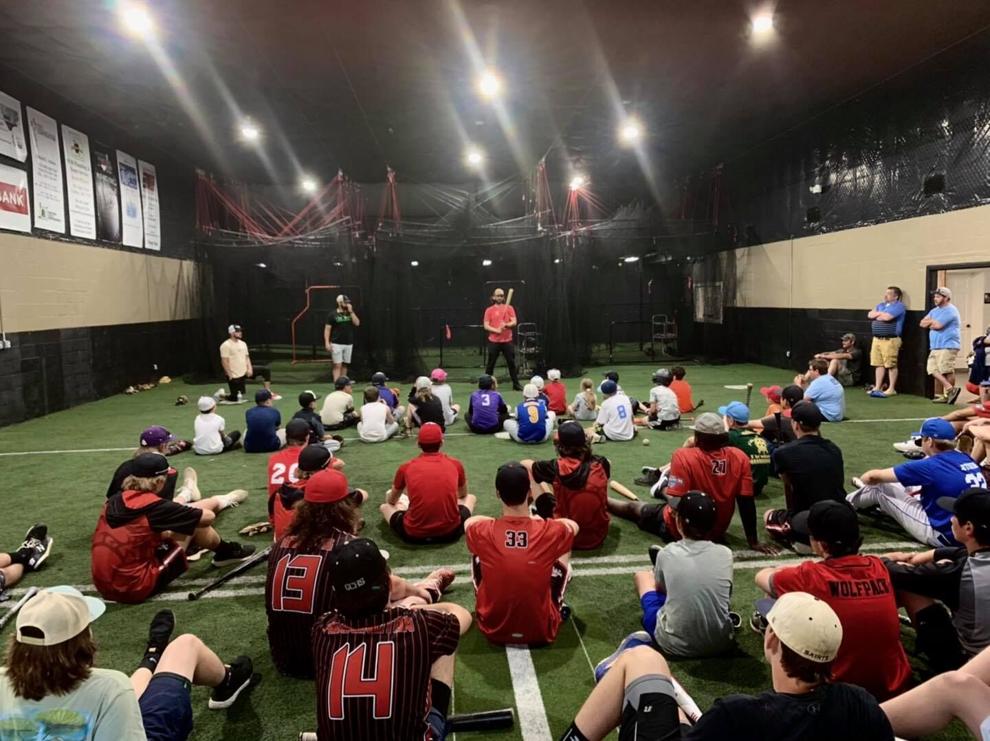 The facility had a grand opening with a free instructional clinic for players of all ages this past Saturday. Allred, who will play this summer with the Gastonia Honey Hunters professional baseball team in the Atlantic League, and former minor league catcher Benji Johnson provided instruction.
Allred's goal of the facility is contributing to the growth of the sport in the area, just as he had growing up in Randolph County.
"I kind of want to see it impact the lives of the next generation," he said. "I know there were a ton of people that helped me out growing up and made big impacts on my life. I kind of want to return that favor a little bit."
Rental equipment such as radar guns and bat speed will be available. As a cost-saving measure for members, the technological side of training will be utilized at The Factory.
"One of the things we are trying to do is we're trying to bring some of the baseball technology into it," Allred said. "When people buy memberships at The Factory, they're going to be able to sign out radar guns, different devices you can put on your bats, some pitching devices and things like that, for when they come in and they will sign them back in when they are heading out."
Allred said he plans on teaching lessons when he is in the offseason, and said he would like to see more individuals with a strong baseball and softball background to give lessons at The Factory.
"The more minds you can have in baseball and softball, the better to learn from different coaching methods," Allred said. "I really want to get the community involved. Getting some of the good baseball and softball people from the area that have been around there would be really beneficial."