Joe Hogan remembers the practices for the Southern Pines Rugby Club was a small handful of players that prepped to join up with a team out of Raleigh, and even then didn't have enough players on their side for a whole team.
Four years later, the director of youth rugby for the club comes out to practices to see a swarm of rugby players of all ages taking up the entire practice field behind the former Aberdeen Elementary to make up a full-fledged rugby development program.
Hogan, who helped start the Southern Pines Jokers rugby squad while a student at Pinecrest in 2003, now has seen the program grow and reach numbers to field a high school 15s team that closed out its season two weeks ago with a home contest at the National Athletic Village. In total, 64 players were a part of the program this spring season, ranging from ages 7 to 19.
But Hogan wants to see more in the future with a feeder program in place.
"We just added the little kids this year. We've been doing high school for four years. This is our first year of doing middle school and elementary school," Hogan said. "We're still looking to grow. We want more kids. We want more coaches. We want more sponsors."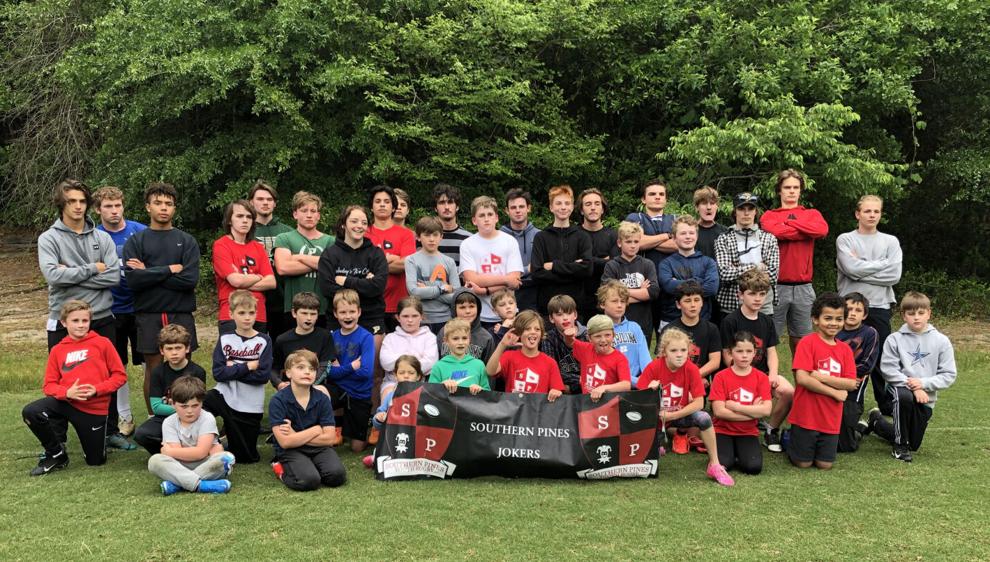 One of the original Jokers from 2003 to 2006, Hogan said the program took a hiatus after he graduated from high school. When he returned to the community four years ago, he was asked to get the program started back up again.
"We started with four kids that first year. We teamed up with a team from Raleigh that had like 10 kids," Hogan said. "We would borrow players from the other team that we were playing. As word got out, kids started coming out. We had a lot of players that joined over the last couple years that had brothers and sisters that wanted to play."
The influx of new players has come from a wide spectrum of athletes and skill levels. Hogan said that he's seen female participation increase in recent years and hopes to field a girls high school team in the future.
"We like to invite anybody that wants to try a new sport. Wrestlers, lacrosse players, soccer players, basketball players, we take them all," Hogan said. "We've got some kids that can't catch a ball. We've got some that are good athletes that are going to play rugby for scholarships."
While many of the high school players see rugby as a secondary sport, Andrew McElwain, who recently came to the area with a family move, is in the opposite scenario.
"I've always been rugby. My offseason was football. But mostly it was rugby and wrestling," McElwain said.
Playing the sport for nearly a decade off and on, McElwain has brought a lot of experience this year to the team as a senior. Before moving to North Carolina, McElwain was a member of the Fort Hunt Warriors rugby team in Virginia that was ranked third in the nation and went to nationals.
"When I came out here, I was looking for a team, and there were no teams in the area. I saw something with the Jokers and I popped out to one of their adult training sessions," he said.
Being one of the more well-versed rugby players on the team, McElwain has taken on a role as a leader with the Jokers.
"Patience. This team has brought me patience. There's a lot of new guys out here," he said. "It's good for me, but it's also stressful. Teaching the new kids and seeing them understand stuff and seeing them grasp the game is a really special feeling."
While the Jokers' understanding has grown, he said this year was fun to be a part of the team that has reached a full roster in his final high school season.
"It's really special because this is my senior season with a team I watched grow from a little team that barely had enough to have a whole practice to a team that now can get out a consistent 15 to 17 players per game," McElwain said.
McElwain will play rugby in college on scholarship from the University of Mary Washington.
That national tournament appearance is where McElwain's passion to play in college sparked, and led to the connection with the Division-III program.
"For Andrew when he came out, he was probably used to being a player on a really good team, and then he had to be a really good player on a newer team," Hogan said. "To watch him grow from a really good player to a really good leader has been fun for us."