Monday marked the start of the baseball, wrestling and track and field season for high school sports across the state. Tuesday afternoon, Union Pines had two of the three sports hosting home events as the track and field took on Chatham Charter and the baseball team took on Anson to kick off the shortened 2021 season.
Union Pines and Pinecrest are scheduled to compete in a tri-meet at Union Pines on Saturday.
Early Start, Insurance Helps Vikings Open Season with Win
Awareness is sometimes easier to coach in practice than it is to put into use in a game. Luckily, the Union Pines baseball team has a lot of seasoned players on its team.
With two outs in the bottom of the sixth inning, Union Pines Finley Spicer struck out, but the junior was quick to react when the pitch got away from Anson catcher Garrett Sikes. Spicer sprinted down the line, and an errant throw to first base led to the Vikings extending the inning.
"Usually that comes back to bite, and usually you're on defense when that stuff happens. So that was nice it worked in our favor this time," Union Pines coach Eric Marion said. "The guys are just aware. They've been playing baseball forever. It's honestly not something we work on a whole lot. I guess by this point in your life as a high school baseball player, if you hadn't figured that thing out, then you probably need to be playing baseball anymore."
Junior Griffin Booker, a courtesy runner for Spicer, came around to score later in the sixth inning as an insurance run for Union Pines to claim a 3-1 nonconference win over Anson at home on Tuesday.
"It was definitely nice to have a little insurance. We would've liked to have a little more over the course of the night," Marion said. "You'll take what you can get when you walk out of here with a dub."
The run scored by Union Pines (1-0) came after Anson scratched its first, and only, run of the game in the top of the sixth inning.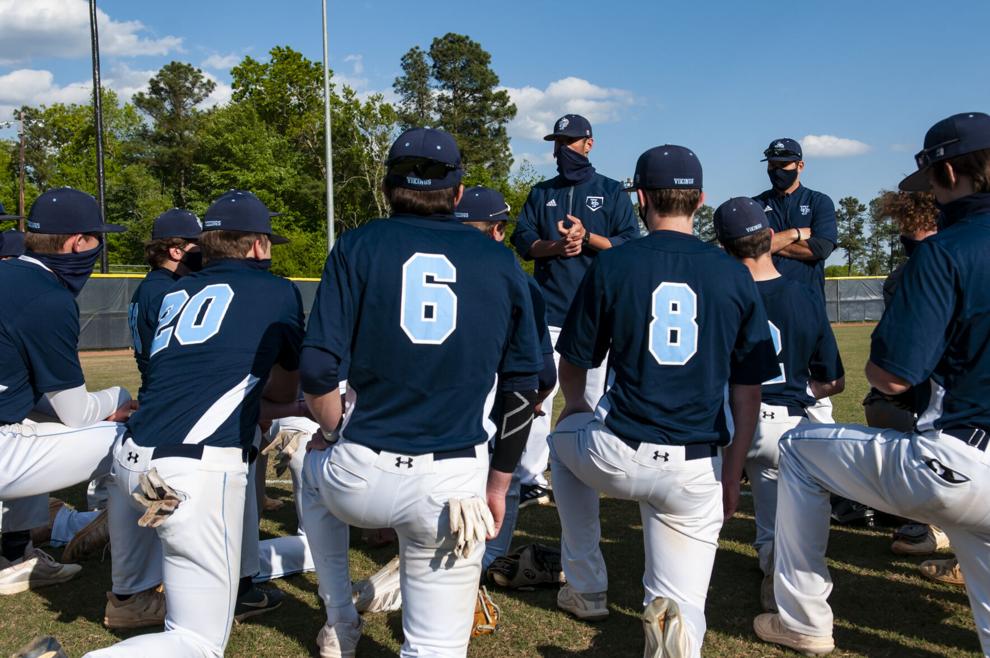 Anson scored on an RBI groundout after Union Pines switched out senior Jonathan Foster on the mound for senior Bryson Horney. Foster played the first 5-plus innings in the outfield. With runners on base, Foster looked to get out with as limited damage as possible.
"I just wanted to come in and finish it. I knew with a guy on third that it's really hard to get in there and keep him from scoring," Foster said. "We had a 2-0 lead so I knew it was OK to give up that one run."
Anson's Bryson Jackson drove in a run with a grounder to shortstop with one out. The top of the sixth ended with Foster getting an out in the next at-bat.
Foster played out in the field for the first five innings, and had a designated hitter bat in his place in the lineup. When he moved to the mound, the DH was lifted.
Two batters after Spicer's heads-up play, Foster came to the plate with one thing in mind.
"I wanted to absolutely destroy this ball," Foster said. "I got in the batter's box and the only thing I could think of was, 'if he throws me one anywhere near the zone, I'm hitting the crap out of it.'"
Booker scored from second base after Foster ripped a single to left field on a 2-0 pitch.
"Putting that ball in play and allowing that man to score, that really gets the team pumping and allows for us to go out there and make defensive plays," Foster said.
Hitting in that situation is a point of emphasis that Marion preaches to the team.
"We talk to our guys that with 2-0 we are looking for something to hammer and (Foster) might've been the only one that was ready to hit that one tonight," Marion said. "That's what we talk about when we tell them to be ready to hit."
Foster pitched the final five outs of the contest without allowing a hit and striking out one batter. He followed up a start from Horney who struck out nine batters and allowed six hits.
"That's what we ask them to do: fill up the zone and let our defense work," Marion said. "Throw strikes and let our defense work, and they did a great job of that tonight."
Horney got early run support in the bottom of the first when senior Ethan McKay had an RBI double to score senior Jack Lange on a shot to right center field. McKay scored three batters later when Spicer hit a triple to left field.
Union Pines plays at home against Montgomery Central on Friday.
Union Pines Soccer Closing in on Undefeated Season
Scoring six goals in the first half, the Union Pines girls soccer team claimed a 9-0 win on the road at Harnett Central on Tuesday.
The Vikings (12-0, 8-0 Tri-County) had three players score multiple goals in the road conference win, led by Emma Ring with three goals.
Emily Bowbliss and Gianna Silvestri each scored two goals, and Silvestri added two assists in the win over the Trojans.
Olivia Ivey and Sage Dougherty each scored a goal for Union Pines. Ivey, Lillian Richards, Abigail Robbins and Eva Reinhardt each had one assist.
Union Pines closes out the regular season at home against Western Harnett on Wednesday.
Mustangs Open Up with Win Over Freedom Christian
Scoring its 10 runs over four consecutive innings, the North Moore baseball team earned a 10-2 win at home over Freedom Christian on Tuesday.
The Mustang (1-0) pitching staff combined with 12 strikeouts from three different pitchers. Starter Will Early struck out five players in his three innings of work, and allowed two hits. Justin Garner pitched three innings of relief and struck out four batters and allowed two hits. To close out the contest on the mound, Logan Ritter struck out the side in the seventh.
At the plate, nine North Moore batters registered a hit, including two hits apiece from Justis Dorsett, Gabriel Swarms and Ritter.
North Moore scored two runs in the bottom of the second, third and fourth innings, before posting four runs in the fifth inning.
RBIs in the win came from Swarms, Ritter, Early, Garner, Ty Allred, Clayton Allred, Ashton Monroe and Collin Dunlap.
North Moore hosts Western Harnett on Friday.