Changes for the high school football season have been made, and some have still yet to be made as the long awaited return to the gridiron comes this week.
Playoff berths are limited this season, meaning even more comes to every play under the Friday night lights this winter, leading into the spring. The number of fans that will be allowed in the stadiums across the state await Gov. Roy Cooper's announcement this coming week.
Pinecrest and Union Pines look to build off of first-round playoff exits and North Moore looks to continue to build off a three-win season a year ago.
After 15 months away, high school football is back.
In coach Andrew Carrouth's first year with the program, the Mustangs went 3-7 last year, with a 1-5 mark in the Yadkin Valley Conference.
One noticeable difference that Carrouth has seen through the preseason is the team's speed.
"I think we've got more speed than last year, which is a good thing," Carrouth said. "I think our team speed overall has improved, which is a good thing. I think we've got some really solid depth at a lot of our skill positions, but we are really thin up front."
The Mustangs lose dual-threat quarterback Gage Pennington who passed for more than 700 yards and rushed for more than 700 yards a season ago, but also bring in several other running threats this season.
Senior Jaleak Horne totted the ball a majority of the time last season, while also being a key piece on defense. Carrouth said Horne won't be burdened with as much wear and tear this season, with the addition of other backs in Isaiah Cassidy and Justice Dorsett. Dakota Morgan will start at quarterback behind an offensive line that has three key seniors in Timmy Freeman, Colin Dunlap and Isaiah Maness.
Senior Cody Patterson returns at tight end and will be joined by newcomer Drew Brewer as vital parts of the offense, Carrouth said.
"We're going to ask him to put his hand in the ground a lot to block, but also go out and catch some balls for us too," he said of Patterson.
The Mustangs' defense will center around linebackers Trevor Brady and Trace Wilson.
With uncertainty looming over the season, Carrouth wants to see urgency from his players entering this short season.
"We're trying to do things and make sure all our guys know that they are only guaranteed what you got right in front of you," Carrouth said. "All our preparation and all our focus is going on North Rowan next week.
"Beyond that, we are going to take it one game at a time. We are very fortunate to be playing ball right now and we want to make sure we are not looking ahead."
North Rowan comes to North Moore on Thursday with a threat of rain in the forecast for Friday.
Pinecrest closed out last season with losses to Hoke County at the end of the regular season and Reagan in the first round of the state playoffs. With a prolonged offseason, that hasn't sat well with the Patriots to close out a 9-3 season.
"How things finished last year kind of left a bad taste in everybody's mouth," coach Chris Metzger said. "There's been a real focus on each week, not only because it's a short season, but because there's less teams in the state playoffs. Each week is the state championship."
Only two automatic playoff spots are available for the always tough Sandhills Athletic Conference, and because of that, the one-word message that the Patriots are using is "finish."
"Sometimes in the game of football we can start good, but not finish good. Let's keep that focus on finishing," Metzger said. "I just have seen a tremendous desire by our guys to want to get better."
To lead Pinecrest in focusing on that goal, a large group of seniors are directing the team.
Metzger said battle tested seniors Braxton Barber and Gibson Macrae are becoming leaders on both sides of the ball. Barber, a Davidson signee, is making the move from tight end to quarterback this season due to an injury to Ben Garbark, and Macrae is one of several returning linebackers.
Running backs Nicholas Marella and Savion Kiser return and will operate behind an offensive line anchored by Aaron Stuber. Metzger said that competition is ongoing for essentially all position groups, but those two groups have their share of players vying for snaps.
"I think more than anything, the competition is as tight as it's ever been for us, which is a great thing," he said. "Competition makes you better. The kids are cheering each other on. They just want Pinecrest to do good."
On the other side of the ball, senior linebackers Bruce "Mac" McFadden and Nick Garbark join with Macrae as three of the top four returning tacklers. Those players have not only been leaders on the practice field, but off it as well.
"Whether it was getting better on their own or getting guys together on their own to get better. It's a true mark of what you do when no one is watching," Metzger said. "That was their true character. It speaks volumes to them and their desire to be better. And to be uncommon."
In front of the linebackers, John Connor Veenemen and Bryson Coe will be key points in the trenches after busy offseasons working to get better.
Senior Georgio Najm, who tallied four interceptions last season, is the lone returner in the secondary.
A late change in the schedule on Thursday flipped Week 1's games with Week 7's matchups to allow everyone to open the season with a game as conference foes Lumberton and Purnell Swett open the season in quarantine. Hoke County will come to Pinecrest to open the season on Friday. Just one of many changes the team has already overcome this school year.
"Our kids have been relentless in their commitment, not only to their schools and their families, but to our program and our football family," Metzger said. "They've had a real relentless focus on getting better and doing what we had to do."
Lonnie Cox's first year at Union Pines started off on a high note in 2019 as the Vikings went 8-4 to match the most wins in a season for the program since 1998.
Behind an electric offense, the Vikings averaged more than 27 points per game last season. That offense loses some key pieces, but Cox has seen the players rising to starting positions buy in after last season.
"Over the course of last season, our young men went from 'hoping' to win to 'expecting' to win," Cox said. "Ultimately, you cannot rest on your own laurels; you have to be comfortable being uncomfortable and focus on winning the next rep."
Replacing Rory Board, who threw for more than 2,300 yards and nearly rushed for 500 yards, is junior Micah Monaghan. Protecting Monahan and setting up the run game is a veteran offensive line.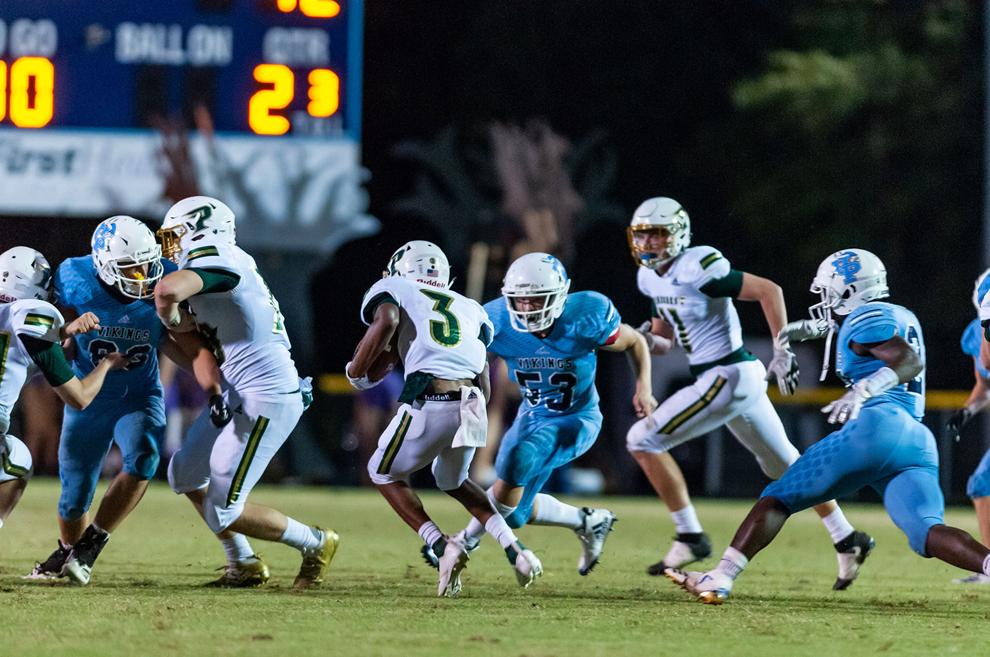 "One of our team's biggest strengths is having bigger, stronger, and faster lineman, and we will rely on the returning tandem of Andrew McCormick, Tyshown Ray and Kellen Devries to lead us up front on both sides of the ball," Cox said.
All-around senior playmaker Ahamad Jones will be a lynchpin for the team in all three phases, Cox said. He is expected mostly to lead a group of young receivers that will look to pick up the production that outgoing senior Jacob Bowbliss leaves after a 1,000-yard season.
"Micah Monaghan is expected to take over for us at quarterback, and he will look to get the ball in the hands of receivers Ethan Biggs, Mayson Dear, Kelby Wright and Ahmad Jones: a group that has explosive, playmaking ability across the board," Cox said. "Kishon Davis and Russ Schaper will split carries at running back, as both offer us different strengths in our run game."
On the defensive side, Cox expects a pair of seniors Joshua Birky and Dakota Spangler to lead the Vikings' defense.
"We are going to depend heavily on senior linebackers Joshua Birky, as he is truly a coach in a player's uniform and the quarterback of our defense," he said. "Linebacker Dakota Spangler brings back a wealth of experience and versatility, as he can play up front and at linebacker in our defense."
Birky was injured in the second game last season, but was the team's leading tackler in the season opener.
The Tri-County Conference is only assured one automatic bid into the 3A state playoffs, but the focus for the Vikings to hopefully get to that point will come on a week-by-week basis.
"We are not focused on how our team stacks up with those in our league and/or classification; we are building and fostering a culture that is founded on falling in love with the process of being the best version of ourselves," Cox said. "To accomplish that, we have to focus on winning every rep among the classroom, field, and in the weight room."
Union Pines opens the season at Cummings on Friday.