Coming from a basketball-rich area like the 252 area code in eastern North Carolina, Savion Staton's journey to Sandhills Community College came about by happenstance.
The Flyers coaching staff was in the area looking at a post player, when a 6-foot-2 guard from the other team caught the eye of former Sandhills assistant coach Darrell Yates.
"Coach Yates came back and said the big kid is OK, but SouthWest Edgecombe has this kid and he can play. He's dunking the basketball and scoring at will so we started researching him," Sandhills coach Mike Apple said.
"He's from Pinetops, North Carolina, which is down there close to Kinston. It's just a mecca for college basketball players. He has played against superior competition ever since he was little. When you play against good players, you have an opportunity to grow as a player yourself if you allow yourself."
The same reason that college coaches find themselves on winter nights in high school gyms in the area, including Yates that fateful night when he discovered Staton, is what has helped develop Staton's attitude and composure on the court.
"You've got a lot of players that made it to the NBA from the 252 area code," Staton said.
"Playing out there is good, you go out there and play against a lot of good players. It's competitive. You get your tough nature there and that's where I got my tough nature coming from that area."
That same intensity that Staton brought to the high school level at SouthWest Edgecombe has transferred over to the college level, and also has come with some development in the game of the multifaceted guard.
While he played in a competitive area in high school, there was a transition period for Staton once he got to Sandhills. He was redshirted his first season before his emergence last season as a freshman leader on the team.
"It wasn't a big transition besides defense-wise," Staton said. "That was the biggest transition for me because I had to get better because college is all about defense. Everybody can score in college so you've got to play defense."
Apple said that Staton's maturity has been an area of growth for the sophomore the last two seasons.
"He came in more mature this year. He understood first of all what it takes to be a college basketball player," Apple said. "He redshirted for us his first year and he played last year in his first year playing and he had a lot of ups and downs as far as the maturity part of it. Every night, you've got to establish yourself and you've got to bring great effort. You've got to bring great effort to practice everyday. He's done that this year."
Accompanying his maturity, Apple said that Staton has developed more as an outside shooter, and is more than capable of helping with ball handling duties for the team.
Staton is a versatile player on the court with his frame and his athletic ability.
"That's what makes a guy so valuable is when he can play and defend multiple positions. He's got a lot of tools in the kit so to speak. He can bring a lot to the table," Apple said.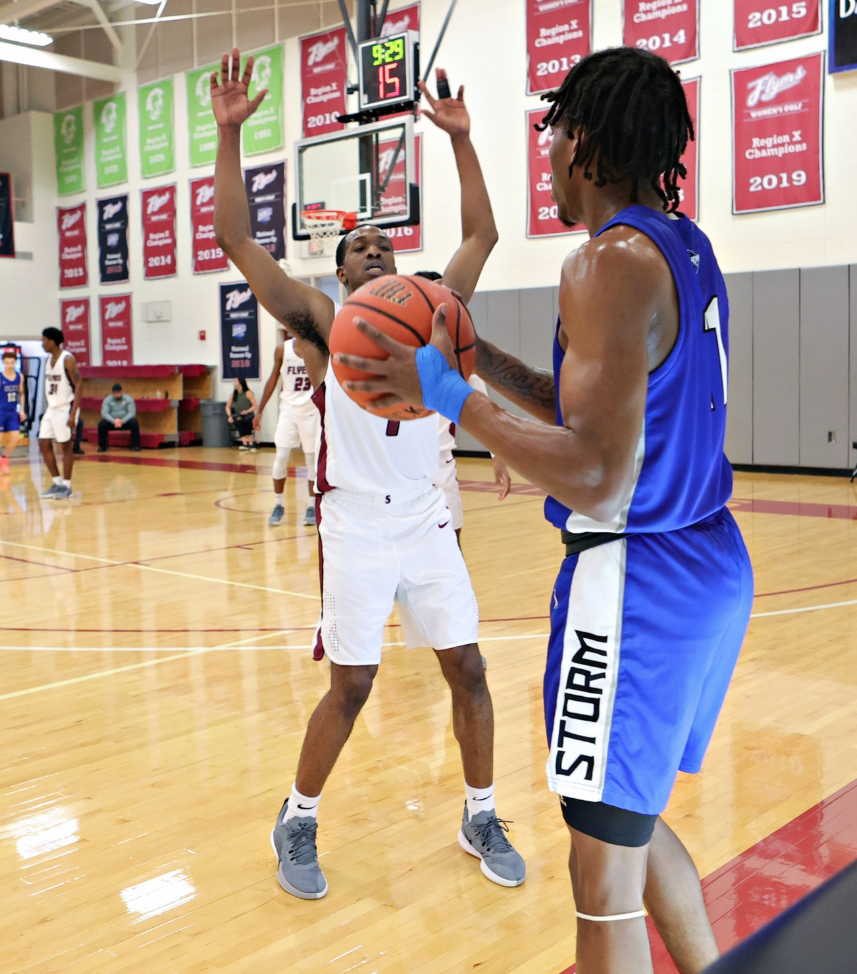 Over the past two seasons where the Flyers have run off a combined 49-5 record, including a run to the National Junior College Athletic Association national championship last year. During the final two games of the postseason stretch last year, Staton scored 16 points in the national semifinal game, followed by 12 points in the national title game that were played on the same day.
Staton was named to the all-tournament team following his performance in what he considers is his biggest basketball accomplishment.
Stepping into a sophomore leadership role this year, Staton's production has improved across the board. A team leader with 13.1 points per game, 5.4 rebounds per game, 3.5 assists per game, he also is among the tops in the NJCAA Division II ranks in steals per game, with 2.8 an outing.
"To win the ballgame, that's my mindset. I want to go out there and compete hard and win every game," he said.
That steal total per game is nearly double the average last season as Staton has taken more of the lead as a defender and vocal leader for the Flyers this season. If Sandhills looks to repeat last year's feat in a higher division against programs that offer scholarships to their athletes, defense is where the Flyers must improve, according to Staton.
"It's going to take a little bit more. I've got to be a little more active because last year we had Eli (Idlett) talking. This year I've got to be more of a talker, besides playing hard on the court," he said.
"I want to see everybody play a little more defense. I think everybody on our team can score the ball well, but defense is our main problem."