By running outdoors in the open air, cross country seems like it would be an ideal sport for social distancing as high school athletics work to get back to a sense of normalcy in the midst of the coronavirus pandemic. Local cross country coaches have found there are still some parts of their sport where the changes with the virus have forced changes for the long-distance, endurance sport.
While there isn't equipment to share that would have to be sanitized and only shared amongst a small group of athletes, cross country does have to come with precautionary measures.
"Certain parts it is hard to social distance, especially with things like the start and finish," North Moore coach Jasmine Wray said. "It's kind of difficult, so in practice we just stagger run everybody so we are social distancing while we run."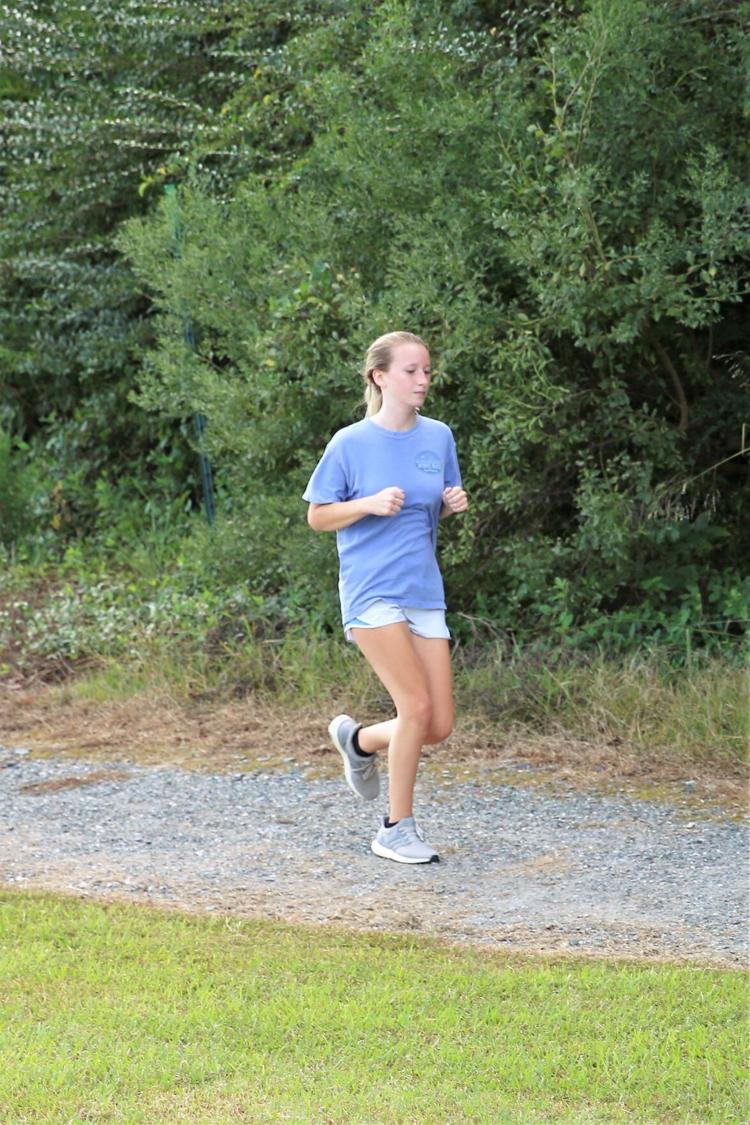 First-year coach Kyndal Giddens at Sandhills Community College has had a different preseason than in the past, but still sees the positives with cross country compared to other sports.
"There isn't much to cross country, we don't need much to run and compete so that cuts down on contact with objects (ie. Balls, human contact, concessions, etc.)," she said. "Unlike other ball/stick/contact sports, cross country is more of an individual endeavor where contact is kept to a minimum even under normal circumstances."
Union Pines has averaged more than 40 runners at workouts regularly, that includes both cross country runners, and other athletes looking to remain in shape.
"I've got them separated into smaller groups that we work with, which makes it better," coach Nat Carter said.
He also gave his claim for how cross country works perfectly for social distancing.
"Not only that, but kids of different abilities, some are going to be out front and some are going to be behind anyways," he said.
Pinecrest has seen a more dedicated focus to smaller groups of runners now with the mandates for the teams from the virus, according to boys coach Mike Devine.
"On a positive side, because of the COVID-19, we are forced to keep them in smaller groups and that has turned out to be better for the athletes as far as development goes," Devine said. "We have more coaches that are able to give them a little more dedicated attention. They are progressing pretty fast."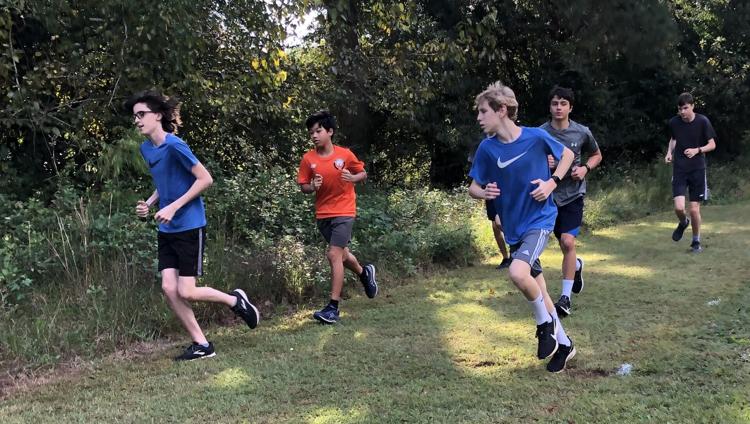 In the time since school was let out in March due to the rising threat of the virus and the start of workouts last week, high school coaches have worked to stay on top of their athletes to ensure they were staying in shape.
"I actually had a couple students reach out to me and say, 'Hey coach, can you give me a workout plan so whenever that time comes? I won't be completely out of shape,'" Wray said. "I had kids reaching out as early as April because they were starting to realize we weren't coming back to school and the next thing that was going to happen was cross country so they started running."
The Patriots finished in the top five on both the boys and girls sides at the 4-A state championships a year ago, and the continued push to get better has bled over into the time off by requesting workouts to do on their own.
"The fact that those kids independently choose to do something that frankly isn't easy is a testament to their character," Devine said.
Pinecrest girls coach John Buchholz said there is a lot of excitement from both the returners, but also the new faces to the program.
"We have a strong incoming freshmen class and several are hopeful to compete for one of the top seven spots on the team," Buchholz said. "Our team members have been working hard preparing for this season. Most of it on their own."
Carmen Alder won her second consecutive individual state title last year and returns for her senior season this fall. The girls program has claimed the last 27 conference cross country championships.
Carter said he put some of his experienced runners in charge of their peers, with a select few named group leaders that had six runners to check with daily to make sure they were doing some sort of physical activity. A running application also allowed Carter to track the distances and times his athletes were doing remotely.
"Those types of things have been instrumental in keeping us on task," Carter said.
Now back on the track working out together, Carter has seen his team showcase dedication with a shorter, and colder season starting in full in November.
"It's just the fact that the kids want to be out here," Carter said. "They've been pretty dedicated as far as following through with their mileage."
The Flyers enter their fourth season running, with a limited schedule due to the pandemic that pushed the other fall semester sporting events back to start in January.
Giddens said that tentatively the schedule for the team includes a meet next week in Charlotte, and NJCAA regional and national championships fall at the end of the month and early in November.
With the changes in the program and how the season normally would look, Giddens is pleased with the progress of the team.
"Training this so far has been great," she said. "My guys are looking strong and ready to showcase their hard work at a meet. We have focused on getting their mileage up and pushing their aerobic capacity."