With the Tri-County Conference title within reach, Union Pines girls basketball coach Anissa Little told her team after its 53-51 loss at home to Harnett Central on Monday night that the team needed to have a short memory.
The formerly undefeated Vikings had just lost for the first time this season, but there was no dwell on the first loss in conference play in 16 outings. A game at Triton on Tuesday and at home against Western Harnett on Friday keeps a fourth straight conference title for Union Pines in the balance.
"We hadn't lost so sometimes you think you're better than what you are," Little said. "I told them, 'OK, you got beat. Now you know you can lose, but we know we can win.' Now we've got to go there tomorrow and do what we know what to do, and that's win ball games."
Against the Trojans on Monday, Union Pines went down by as much as 17 points in the third quarter, before a defensive change helped the Vikings (9-1, 7-1 TCC).
Already up 30-18 at halftime, Harnett Central jumped ahead 38-21 with a little more than three minutes to go in the third quarter.
Union Pines picked up the defensive pressure the entire length of the court, and that in turn helped kick start its offense.
"We put pressure on them and they weren't getting those open looks. We're not typically a man team," Little said. "Tonight we got in a situation where we got down."
Little said worries about foul trouble for players like juniors Sara Adams and Aaliyah Balser, along with senior Emily Bowbliss kept them from switching to the more aggressive defense earlier.
By the end of the third quarter, the 17-point hole was trimmed to 40-32, and was cut to a single possession game with two minutes to go.
Both teams traded baskets and free throws down the stretch. A Syniah McMiller pushed the lead out to 52-47 under a minute to play. Buckets from Emma Ring and Bowbliss made it 53-51 with 22 seconds left.
On the final trip down, Union Pines poked away a pass, and had a pair of clean looks in the closing 10 seconds. Bowbliss' layup attempt was off the mark and when the ball came out to Adams at the top of the key, the 3-pointer hit back iron at the buzzer.
"Down 17 and cut it to two and have an opportunity to tie the score in that same position or win the game. I can't ask for much more," Little said. "That's our first time being down more than seven points. That got in our heads a little bit."
Bowbliss had a team-high 21 points, Adams had 12 points and Balser had 11 points. Bowbliss and Ring each had six steals to lead the team's comeback.
"Bowbliss, she played her heart out, especially defensively," Little said.
Harnett Central's towering center McMiller scored 25 points, including eight in the second quarter.
That second quarter saw the Trojans use a 19-5 run, and outscore the Vikings by 14 points to take a sizeable lead into the intermission.
"I wish we could take the second quarter back. This is the first time a team has scored 21 points in a quarter on us," Little said. "We didn't make good decisions offensively."
Pinecrest Boys Rout Scots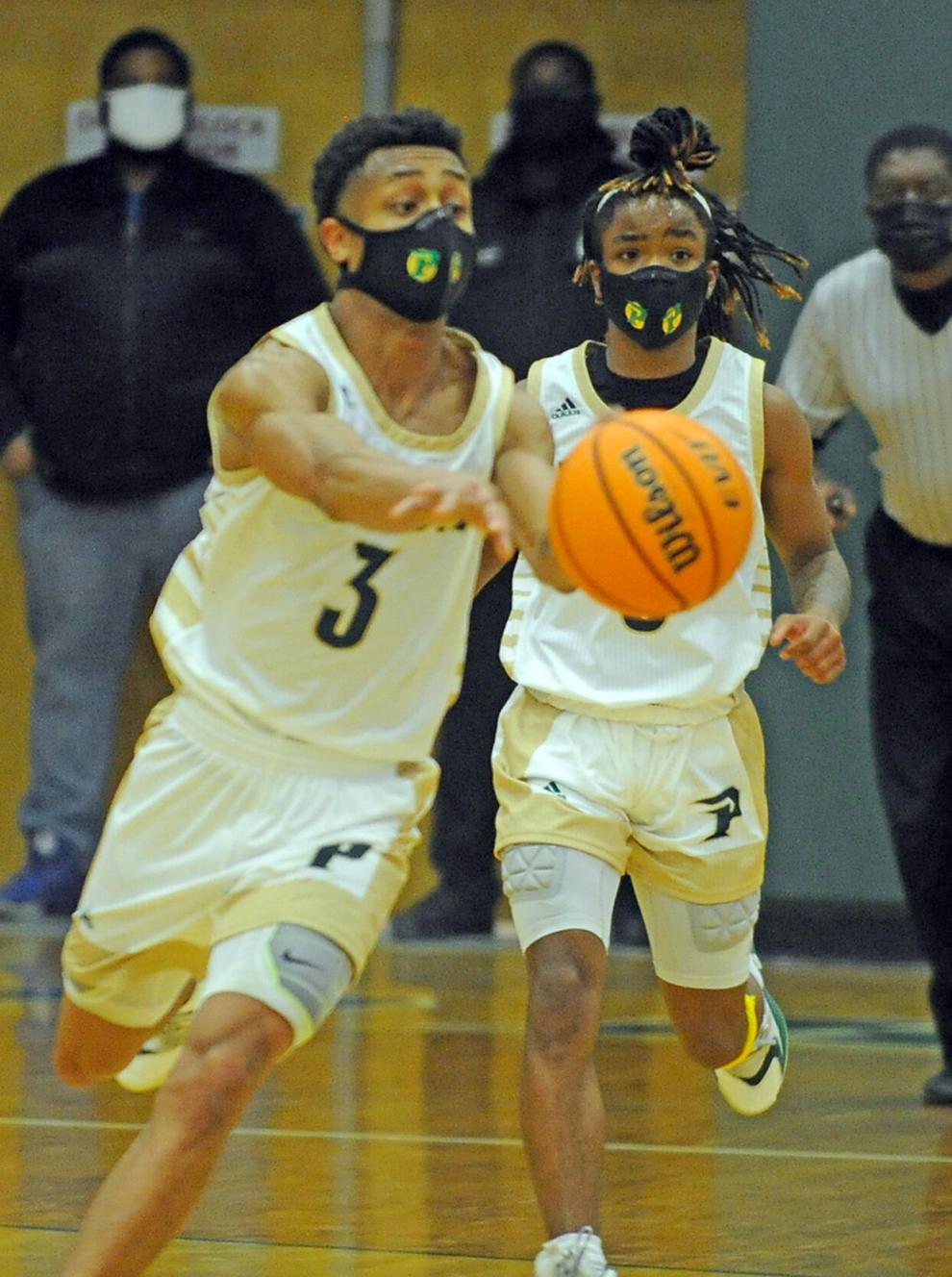 The top-seeded Pinecrest boys basketball team had its best offensive showing of the season with an 84-48 win at home over Scotland in the first round of the Sandhills Athletic Conference tournament on Monday.
The Patriots (10-1) jumped ahead 27-8 after the first quarter and netted 26 points in the second quarter to lead 56-19 at halftime. Pinecrest hosts fifth-seeded Seventy-First on Wednesday in the semifinals.
Senior Bradlee Haskell had 25 points and Ian Blue added 16 points. All of Sam Stoltz's 11 points came in the first half.
Scotland's Patrick Reeves had 17 points.
Patriots Hold Off Lumberton in Girls Opener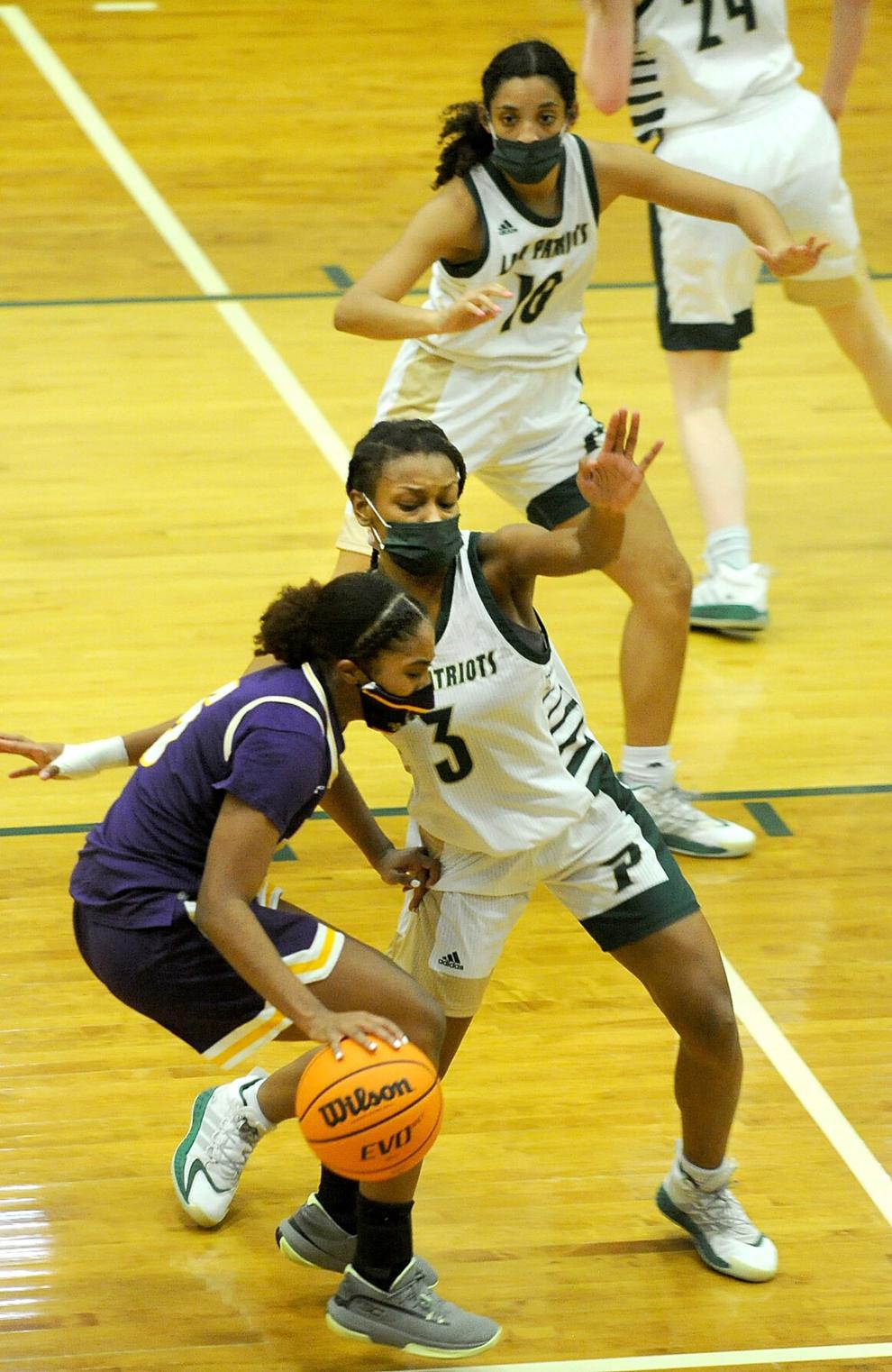 A double-digit lead for the Pinecrest girls basketball team melted away in the second half of its Sandhills Athletic Conference tournament opener against Lumberton at home on Monday, but the Patriots held on for a 50-49 win.
Third-seeded Pinecrest (8-4) travels to No. 2 Seventy-First on Wednesday in the semifinals.
Junior forward Emmie Modlin had 12 points, with 10 coming after halftime, and junior Aniyah Jackson scored 11 points, all coming in the first three quarters for the Patriots.
Jakaya Scott had nine points.
Pinecrest scored 18 points in the third quarter but eight in the fourth quarter to hold off the Pirates.