Points weren't coming easily for the Union Pines girls basketball team on Friday against Southern Lee, but coach Anissa Little told the team that didn't have to deter the Vikings on the other end of the court.
"We know every night is not going to be your best night, but you've got to make the best out of whatever night it is," Little said. "We saw we weren't having a good night offensively, so our defense has to transition into offense and that was the difference in the game."
The Vikings clamped down on defense, and scored a majority of their points off turnovers to earn a 49-13 Tri-County Conference win.
Union Pines (9-0, 7-0 TCC) now has three games next week, with two wins needed to claim the conference title for the fourth straight season. With that title comes the conference's only automatic bid for the state playoffs this year.
"I think it's a big deal, especially for our seniors because we've always made it to the state playoffs and we wanted to do it one last time," senior Emily Bowbliss said.
Leading the defense and the Vikings in scoring on Friday was Bowbliss. Playing at the top of the team's zone defense and the full-court press, Bowbliss came away with a team-high six steals and also had 18 points.
"I think my part in it is kind of crucial," Bowbliss said of her role on defense. "I get a lot of steals, I have to read it, defend one side, push it one way and hopefully they overthink and I deflect it and pass it to another player to score."
At halftime with a 24-6 lead over Southern Lee (1-7, 1-6 TCC), Little challenged the seniors to lead the way.
"I just had to remind them what our goal is. For Bowbliss and Emma (Ring) our goal is to win the conference again. They have been on a conference championship team each of their four years here," Little said. "As seniors they got everyone else pumped up for that."
Ten of Bowbliss' points came after halftime and junior Sara Adams seven of her 10 points after the intermission. Junior Aaliyah Balser pulled down 15 boards and had five steals.
Saturday will be the only practice Union Pines will have before playing Harnett Central at home on Monday and a quick turnaround for possibly a defacto conference title matchup at Triton on Tuesday.
"We want to try and do what we do," Little said. "Defense and transition baskets is what we lean on."
Defense Holds Cavaliers Quiet Against Union Pines
It was a very simple message, and the Union Pines boys basketball team executed it to perfection on Friday taking on the defending conference champions Southern Lee at home.
"I told them to win each quarter," UP coach Nick Boney said after the 44-24 win.
"I wasn't expecting to win the fourth quarter by as much as we did, but my coaches told me they didn't score but two points in the second quarter. They listened and they were focused."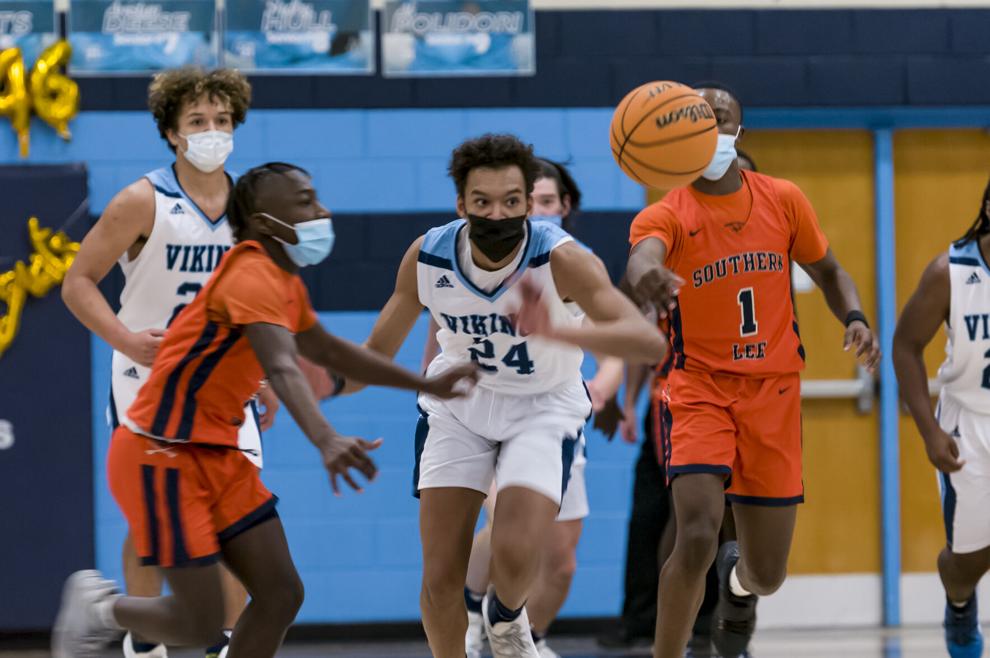 When the teams met earlier this season, Southern Lee stormed past Union Pines in the final period after the Vikings led going into the fourth quarter. Union Pines (6-3, 5-2 TCC) led by 11 after three quarters, but didn't slow down to close out the first loss in conference for Southern Lee (7-3, 6-1 TCC) since January 2019.
"It feels amazing. I'm just glad that we beat them," junior Kelby Wright said. "They can't say they went undefeated. Can't say they won against us here this year."
In order to win each quarter, the Vikings had to hold down on the defensive side of the ball, which they did all 32 minutes.
"We had more energy than the last time we played them," senior guard Ahmad Jones said. "This time we had to stay focused because we knew we had to win this game to keep our winning streak going."
After the Cavaliers scored nine points in the first quarter and trailed 10-9, Union Pines' defense limited Southern Lee to two points in the second quarter and six points in the fourth quarter. Jones led Union Pines with 11 points and Wright added nine points.
Both upperclassmen had 3-pointers in big spots in the second half. Jones' triple with 2:30 left in the third quarter pushed the lead out to double digits for the first time and ignited his scoring as all 11 points came from that point on. With Southern Lee hanging around in the fourth quarter, Wright's trey from right of the top of the key made it an 18-point game with less than two minutes to go.
"They were real dialed in tonight, probably more than they've been all season," Boney said. Work isn't over for the Vikings. COVID-19 quarantines for Western Harnett and Harnett Central canceled two opponents for the Vikings next week, leaving just the game against Southern Lee Friday and a road trip to Triton on Tuesday as the only two games remaining in the regular season. Two wins were needed for the Vikings to earn the No. 2 seed out of the conference and be in a better spot to claim a playoff seed.
"The focus was to try and win two to try and help us get in the state playoffs," Boney said. "We've got one so we need to get one more."
Patriots Cap off Perfect Run Through the Sandhills
The Pinecrest boys basketball team finished off an undefeated season in Sandhills Athletic Conference play on Friday at Hoke County with a 57-36 win.
Senior Bradlee Haskell had 29 points to lead the Patriots (9-1, 7-0 SAC). J.J. Goins had nine points, Sam Stoltz added eight points and Ian Blue had seven points.
Coach Ben Snyder said Pinecrest held the Bucks to nine points over an 18-point span in the win.
The Patriots open the Sandhills Athletic Conference tournament at home against Scotland on Monday.
Balanced Offense Helps Pinecrest Girls Over Hoke County
With 10 players scoring, the Pinecrest girls basketball team defeated Hoke County 48-20 to close out the regular season on the road Friday.
The Patriots will play at home against Lumberton in the first round of the conference tournament on Monday, needing wins to help out their position for a playoff spot.
Aniyah Jackson had 12 points to lead Pinecrest, with eight coming in the first quarter as the team posted 19 points. Jakaya Scott added eight points for the Patriots.
In other action on Friday, North Rowan defeated North Moore 66-55 in boys basketball action and 72-16 in the girls game. Both North Moore teams close the season at Chatham Central on Wednesday.