A collective sense of relief came over the Union Pines boys basketball team on Friday night in the fourth quarter of its Tri-County Conference opener against Lee County at home.
Not only did junior guard Stevenson Haskell's jumper from behind the arc help push the Vikings lead out to five points, but it was the first made 3-pointer of the season for the team.
"It was just a momentum booster, a confidence booster and all of that. It just felt good to go in," Haskell said of the shot after the 54-44 win.
"We've had a bunch of jokes and laughing about how nobody can hit one, and we'll hit them all the time in practice, but get in the game and miss them all."
Union Pines coach Nick Boney said he was glad to see his team's shooting ability come through 11 quarters into the season after seeing shots drop in practice.
"It was 100 percent relief. We practice it everyday," Boney said. "We're going to practice for an hour and 30 minutes tomorrow, and we are going to shoot for an hour and 30 minutes tomorrow."
Haskell hit a pair of triples in the span of a minute and a half as the Vikings (3-0, 1-0 TRC) went from up 36-34 to up 44-36 with 5 1⁄2 minutes to go in the game. The junior guard scored all eight of his points in the final period.
Lee County (0-3, 0-2 TRC) never reached any closer than five points the rest of the way as Union Pines pounded the ball into the post for buckets down the stretch.
Junior Jameson Rembert had 12 points, including a pair of finishes at the rim late in the game, and sophomore Isaiah Robbins had half of his eight points in the fourth as well.
"Into the future, you're probably going to see that more," Boney said of Robbins and Rembert on the floor together. "I would love to see those two big guys, 6-5 and 6-8, in there together getting me rebounds."
With the post providing a threat, it opened up shots for Haskell and fellow guard Kelby Wright, who had a team-high 13 points in the win.
"It's good to know we've got a body down there boxing out, rebounding hard, hustling to get the ball, finishing strong and going up through contact," Haskell said. "It takes pressure off us.
We don't have to focus on just making the shot."
Lee County took a 21-17 lead into halftime after holding the Vikings to five points in the second quarter. While scoring was lacking, Boney wanted to see the intensity increase at the other end of the floor.
"I knew that if the defense stepped up, it would take care of the offense," Boney said.
Malachi McLean had 13 points to lead Lee County in scoring.
The defending conference champions, Southern Lee, host Union Pines on Tuesday.
Depth, Defense Key For Union Pines Girls
From the start of the game, the Union Pines girls basketball team had no trouble with Lee County at home en route to claiming a 52-13 win to open Tri-County Conference play.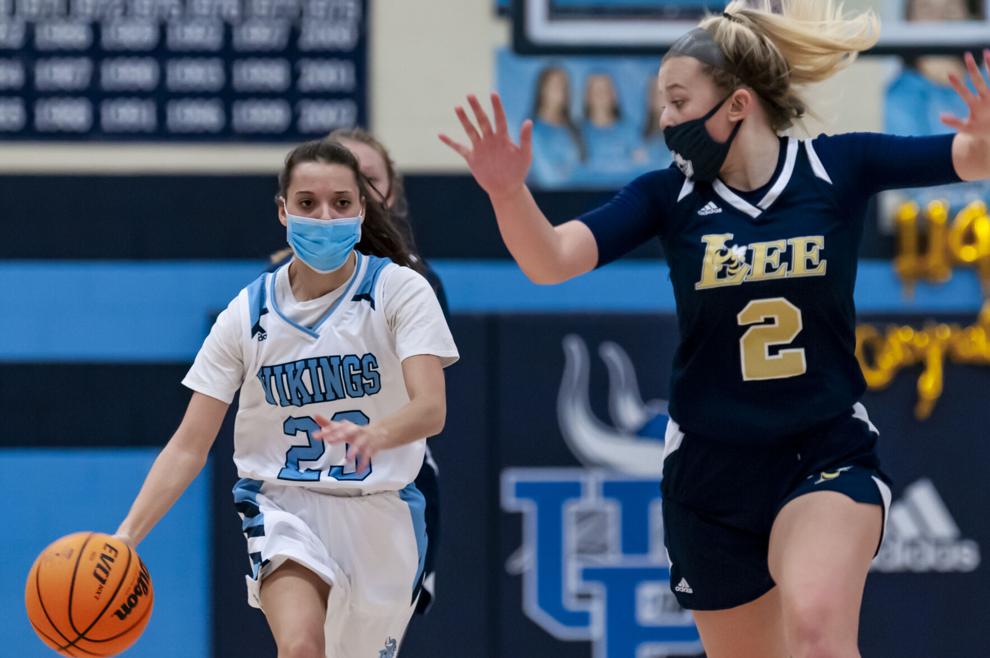 The lopsided affair allowed coach Anissa Little the opportunity to work in different lineups from the bench and see what is available depth wise for the Vikings (3-0, 1-0 TRC) this season.
"It helps to get them some confidence and it helps me to see who's able to step up if one of my starters has to come out," Little said. "I see now more of what combinations will work together."
All but one player that stepped on the floor for the Vikings got into the scorebook, with the lone outlier being senior leader Emily Bowbliss who played sparingly in preparation for running in the state cross country championships on Saturday morning.
Reserve players like Mikayla Dunn, with six points, and Corryn McCutchen, with five points, played a big part in the second half of the win.
The Vikings forced 22 steals in the win.
"We've still got work to do, but we want our defense to transition into our offense," Little said. "We want to get deflections. We want to be in position to get steals or make them take a shot that they don't normally take and crash the boards."
Union Pines led 27-0 to start the game before the Yellow Jackets (0-3, 0-2 TRC) hit a free throw late in the second quarter. Lee County's first made field goal came two minutes into the second half.
Union Pines' Emma Ring and Sara Adams each had nine points in the win.
The Vikings play at Southern Lee on Tuesday.
Patriots Rebound in Conference Win at Home
The Pinecrest boys basketball team claimed a 68-54 win at home over Seventy-First to open Sandhills Athletic Conference play on Friday.
Senior guard Bradlee Haskell had a season-high 36 points in the win for Pinecrest (3-1, 1-0 SAC).
In the win to rebound from the nonconference loss to St. Pauls earlier this week, the Patriots scored 20 points in the first quarter and limited Seventy-First (0-2, 0-1 SAC) to seven points in the second quarter to lead 35-21 at the half.
Sam Stoltz added 13 points for Pinecrest, and Kelvyn Harrington had nine points.
Seventy-First was led in scoring by Jared Davis with 12 points.
Pinecrest's game on Tuesday against Richmond has been postponed due to the Raiders being in quarantine.