Rebounding from his performance last week, Union Pines senior golfer Tommy Reinhardt posted a 1-over round of 37 on the Pines Course at Country Club of Whispering Pines in Monday's Tri-County Conference match.
The Union Pines boys narrowly edged Harnett Central, 182 to 187 in the team results for its second straight conference victory.
"My upperclassmen are really wanting to play well. They're putting in the time in, practicing and trying to get out and play," boys coach Alan Cox said. "I think by the end of the season we are going to be in good shape to maybe make a regional run and see how we do for states."
The Union Pines girls finished second to Lee County by one stroke on Monday. The Yellow Jackets posted a team score of 160, Union Pines had a 161 and Triton was close in third with a 163.
"We're really young and experienced with one junior, two sophomores and two freshmen," girls coach Brandon Reynolds said. "I feel like we are doing a good job of staying in the process and just trying to get better in this short season."
To go along with Reinhardt's 37 after scoring a 42 last week, last week's medalist Landen Daugherty had a round of 47 and Konner Kinlaw added a 48 for the Vikings. Thirteen golfers broke 50 in their nine holes on Monday in total.
On the girls side, Sara Adams led the Vikings with a 51, Jaclyn Manzo had a 53, Morgan Pettine had a 57 and Carolyn Coffey had a 59.
"Today was not an easy day for anyone. I was proud of where we finished," Reynolds said.
The conference will play its next match at Sanford Municipal Golf Course.
Triton's Lana Klein shot a 50 to win medalist honors.
Union Pines Stomps West Johnston
A hat trick for senior Emily Bowbliss helped the Union Pines girls soccer team claim a 9-0 home nonconference soccer win over West Johnson on Monday.
The Vikings (3-0) jumped ahead 8-0 in the first half and scored in the final goal in the second half for the win.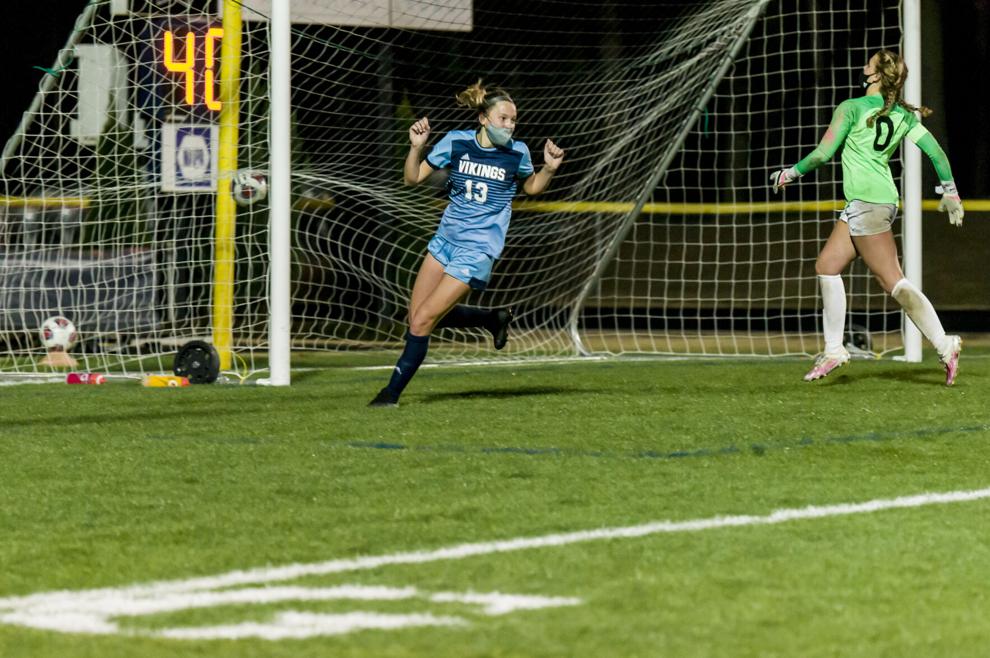 Taylor Leach added two goals, and Emma Ring, Sage Doughtery, Olivia Ivey and Gianna Silvestri each scored a goal for Union Pines.
Ivey, Lexi Robbins and Jenna Bonds assisted on two goals each.
Union Pines plays at Northwest Guilford on Tuesday.
Pinecrest Golf Opens With Runaway Victories
The Pinecrest boys and girls golf teams were victorious on Monday on Pinehurst No. 6 in their respective Sandhills Athletic Conference matches.
The Pinecrest girls combined to shoot a team total of 208, winning by 33 strokes. The boys team posted a 147 and finished 47 shots ahead of second place in the nine-hole match.
The teams will play on No. 6 again on Wednesday.
Patriots Make Quick Work of Purnell Swett
Using five goals from senior midfielder Lauren Landry, the Pinecrest girls soccer team defeated Purnell Swett 10-0 on the road on Monday.
Landry's five scores came in the first 22 minutes as the Patriots (3-0) built a 6-0 lead up to that point. The game was called at halftime.
Kate Casey scored twice and one goal each came from Keaton Clark, Anika Gulovich and Sami O'Reilly.
Pinecrest plays at Lumberton on Wednesday.
Pinecrest Softball No-Hit by Rams
A no-hitter by Purnell Swett junior pitcher Chandra Locklear held down the Pinecrest softball team on the road on Monday.
Purnell Swett jumped ahead early in the 12-0 win at home over the Patriots.
Pinecrest plays at Lumberton on Wednesday.