Union Pines junior goalkeeper Liam Thayer said most of his acrobatic and athletic plays on the ball in goal Monday night at home against cross-county rival Pinecrest were reactionary, but there was a play on the ball off a corner kick late in the contest where his reaction was a split second too late.
The scoreboard was knotted at zero for much of the Sandhills Athletic Conference match, and with less than four minutes to go, the Patriots had their best chance.
"I didn't want it to go to extra time. I wanted to finish it and we got that corner (kick). That was our biggest chance," senior Gerald Ofosu said after nailing the game-winning goal in the 1-0 road victory.
"Nobody was marking me and the ball came out to me. A lot of times I'm just by myself. So it came to me and I finished it."
Ofosu went to the far post as the Patriots broke formation. A corner kick from the right side was deflected in the senior's direction among the traffic in the box, leading to some space in goal clear of the reach of Thayer.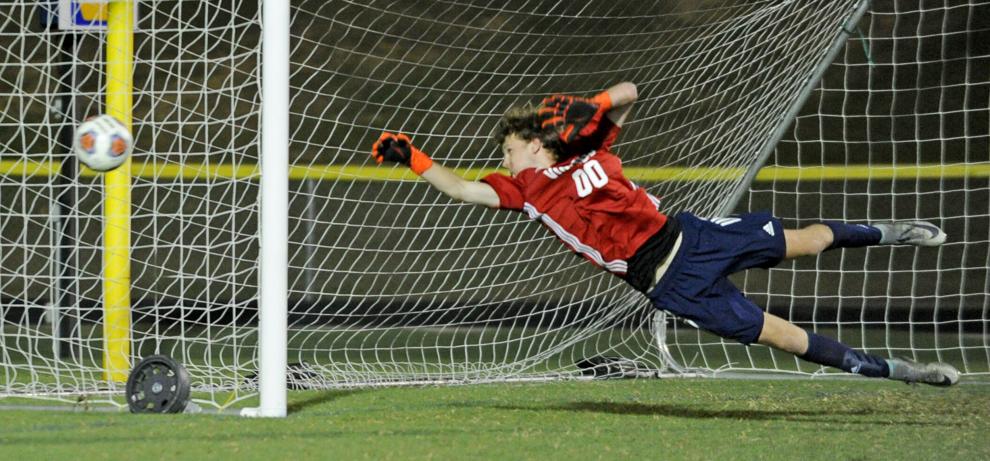 "I told someone to mark up and they didn't. When the ball kind of snuck past, I saw him sitting there alone," Thayer said. "Then my heart just dropped to the floor because I knew that he was probably going to score it."
Pinecrest (9-1-1, 3-0-1 Sandhills) was frustrated by the defensive pressure applied by the Vikings (2-10-2, 1-2 Sandhills) in the match. And when the Patriots found a combination to get through the defense, Thayer was able to get a glove on the shots on goal.
"They would just play a high line. Then sometimes they would know when to pack it in so that we couldn't get in behind them," Ofosu said. "Whenever we got the ball in their box, they knew how to contain us and how to keep their marks."
Thayer played all 80 minutes between the pipes as opposed to other games this season when he would play one half and senior Sean Blatz would come in for the other half. Blatz played a part of the Vikings' attack that had several close calls, including with 20 minutes left when a failed clearance by Pinecrest goalkeeper Cohen Williams was trapped by Blatz 35 yards from the goal, but he was unable to get a shot on the open goal.
Being the first meeting between the sides since the 2019 season, Union Pines looked to get the most of the Patriots, and the showing in goal came from lots of training recently by Thayer to hold the rivals scoreless for the first 77 minutes of the contest.
"I play with these guys in club ball all the time so I kind of know what they do and their tendencies. I just went with that really," Thayer said. "(The defense) really worked their butts off and it really helped us."
Pinecrest hosts Hoke County in a major 4A battle in conference play Thursday,
"We're happy that we won, but we've got to do better than that," Ofosu said. "We know to do better than that next time."
Union Pines hosts Lee County Wednesday.
Patriots, Vikings Finish 1-2 in Sandhills Golf Match
In the first 18-hole golf match of the Sandhills Athletic Conference season, the girls golf teams from Pinecrest and Union Pines finished first and second on Pinehurst No. 6 Monday.
Kiston O'Neal won medalist honors as the Pinecrest junior shot a round of 73. She edged out teammate Jayden Ford by five strokes. Pinecrest finished with a team score of 230, Union Pines' team total was 298 strokes.
Rounding out the scoring for Pinecrest were Camilah Porras with a 79 and rounds of 83 by B.B. Rujiranan and Kaitlyn Kruczek
Union Pines was led by Carolyn Coffey with an 89 and Sara Adams with a 92.
Union Pines Tennis Fends Off Cavs
Fighting in some tough matches at home against Southern Lee, the Union Pines girls tennis team claimed a 9-0 win Monday.
Tyne Ross and Lily Slyman won their No. 1 and No. 2 singles matches, respectively, and then teamed up for an 8-2 win in No. 1 singles.
Abby Robertson and McKayla Kirk won the No. 4 and No. 5 singles matches and then won the No. 2 doubles match 9-7.
Becca Cameron won her singles match and then teamed up with Ceilidh Clendenin in the No. 3 doubles match for a win.
Union Pines plays at Richmond Tuesday.