A flat start held back the Pinecrest girls basketball team on Tuesday at home against Jack Britt.
Going up against the top team in the Sandhills Athletic Conference standings, the Patriots scored six points in the first half, and were caught playing catch-up the rest of the contest as the Buccaneers kept their conference record perfect in a 63-36 win.
"Jack Britt's a good team, but we weren't focused mentally," Pinecrest coach Ronshau Cole said. "We prepared yesterday and we pretty much knew what they was going to bring at us. We just didn't show up."
The quiet offensive start also was due to the defensive pressure Jack Britt (5-0, 5-0 SAC) applied to the Patriots (6-4, 4-2 SAC). Unable to get into an offensive flow in the first half without the Bucs forcing turnovers or limiting one-shot possessions, Pinecrest came on the wrong end of a 17-1 run that lasted more than a quarter.
A Pinecrest bucket from Aniyah Jackson made it a 9-5 ballgame in the closing seconds of the first quarter, and from there Jack Britt never let up.
An Emmie Modlin free throw was all that Pinecrest scored in the second quarter as a six-point lead grew to 20 at the intermission, 26-6.
The third-quarter energy Pinecrest had was one that Cole said he wanted to see from his team to open the game.
"The second half we gave great effort," Cole said. "It happens and we just didn't show up today."
Modlin scored 11 of her team-high 12 points in the third quarter as Pinecrest traded buckets with Jack Britt for most of the contest. Her basket with 2:45 left in the quarter trimmed the lead to 34-19, which was the closest the Patriots would get the rest of the night.
Nyla Cooper had 17 points to lead Jack Britt in scoring and Ashara Hayes had 14 points.
Jakaya Scott had seven points for Pinecrest.
The loss locks in Pinecrest for the third seed in the conference and more than likely needing some help next week in the Sandhills Athletic Conference tournament to earn a playoff bid. With a game against Hoke County on Friday beforehand, the lessons from the loss is what Cole wants his team to apply the rest of the way.
"I feel like if we show up ready to play, then we will be fine," Cole said. "I just think if we show up ready to play with a purpose, we should be fine."
Blue Ignites Patriots to Win Over Bucs
There was no extra motivation or any kind of need for the veterans to focus the younger players into a busy week for the Pinecrest boys basketball team.
With three games in four days, starting with Jack Britt on Tuesday at home, the Patriots needed two wins over to start off the homestretch of the regular season to clinch the Sandhills Athletic Conference title. Cross off the first leg in the triple play as the Patriots after they claimed a 58-44 win over Jack Britt.
"Fortunately, this group has been so focused," Pinecrest coach Ben Snyder said. "It doesn't matter who we're playing, they're going to be dialed in. That's the nice thing about having veteran leadership on this team."
While no senior motivation was needed, senior Ian Blue came out on a mission on Tuesday, scoring 12 of his game-best 23 points in the first half.
"I wanted to get this week going. I knew we had a big game tomorrow so I wanted to start the week off right," Blue said. "I think as a team this year, we've really been focused. We walk in at 2 o'clock everyday on game day with a purpose to get after it."
This season has been a showcase of Blue's developed game, after spending most of the time away during the pandemic playing outdoors with friends and teammates on whatever court or goal they could find to grow his skillset. Blue also said he worked more in the weight room to become a better rebounder and handle contact inside.
"Really getting stronger was the biggest thing for me," Blue said. "Last year, I was just a spot up shooter. This year, I can take people off the dribble and really go get rebounds."
Blue's shooting touch was on display against Jack Britt (2-5, 2-2 SAC) as the smooth-shooting lefty had four 3-pointers in the win.
Pinecrest (7-1, 5-0 SAC) also benefited from his length at the point of the 3-2 matchup zone that led to steals and fast-break buckets on the other end.
"The defense was what started us in the second half, those first three minutes," Blue said.
The Blue-forced turnovers really made an impact in the fourth quarter as the lead grew from 11 points to a comfortable margin over Jack Britt.
"I thought Ian had a stretch there early in the fourth quarter where he had three straight deflections at the top in that 3-2 zone," Snyder said. "I think it generated a 3 and a layup and then the game kind of felt like it was over."
Senior Bradlee Haskell had 11 points, including five in the second quarter as Pinecrest pushed out to a 29-21 lead at halftime, after the visitors trimmed the lead to three points midway through the quarter.
Sam Stoltz added all of his nine points in the second half for the Patriots.
Jack Britt's 6-foot-7 versatile big man Demetri Patterson had 22 points, and E.J. McArthur had nine points.
Now the focus shifts to Richmond on Wednesday night on the road. A win would clinch the conference title for the Patriots with a head-to-head win over one-loss Lumberton, no matter the result of Friday's game at Hoke County.
"We've done our prep this weekend on Richmond as a coaching staff, but that name never came up. The task at hand was Jack Britt," Snyder said.
Pinecrest Girls Lacrosse Throttles Union Pines
The Pinecrest girls lacrosse team defeated Union Pines by a 17-5 score at home on Tuesday during its senior night.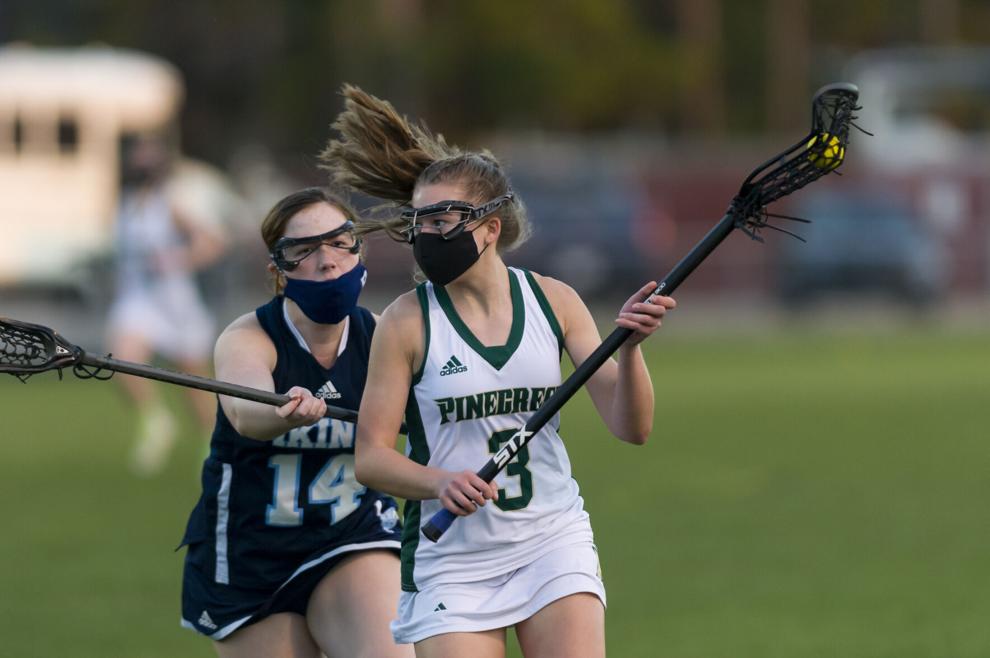 Union Pines' scoring came from Shania Jones and Gabby Wood with two goals each and one goal from River Britt.
Vikings (2-2) goalkeeper Savannah Telemeco had 24 saves.
Union Pines plays at Terry Sanford next Tuesday, while Pinecrest goes to Cape Fear on Friday.
Pinecrest Boys Win Fourth in a Row
A five-goal outing from freshman Gavin Laton contributed to the Pinecrest boys lacrosse team's 19-3 win at home against Jack Britt on Tuesday.
Laton also had an assist as the Patriots (4-1) jumped ahead 9-0 after the first period.
Senior Logan Laton assisted on four goals and scored a pair himself agains the Bucs. Freshman attacker Weston Thomson had three goals and two assists.
Junior Gavin Hoover had three goals and sophomore Emilio Najm scored two goals. 
Senior Jonathan Stansel was a perfect 9-for-9 in faceoffs. 
The Patriots travel to Fuquay-Varina on Friday in a matchup of the top two teams in the conference.
Vikings Girls Hoops Stays Perfect
Scoring 20 points in the second quarter, the Union Pines girls basketball team ran away with a 45-28 Tri-County Conference win at Lee County on Tuesday.
The 20-point quarter helped the Vikings (8-0, 6-0 TCC) lead 32-13 at halftime over the Yellow Jackets.
Sara Adams led Union Pines in scoring with 13 points on a trio of 3-pointers and senior Emma Ring had eight points and six assists. Junior Aaliyah Balser had eight rebounds and Adams pulled down six boards.
The Vikings host Southern Lee on Friday.
In other basketball action on Tuesday, the Union Pines boys basketball team defeated Lee County, 41-34. North Moore lost both games to Uwharrie Charter; the boys team by an 83-46 score score and the girls lost 61-22.