With school out and graduation over, baseball teams from across the state this season are in a strange position playing a season after school has ended.
Finding themselves in uncharted territory, the Pinecrest baseball team looked to get back to the basics this week with a Sandhills Athletic Conference championship within reach.
"We had practice yesterday and just went back to the fundamentals. We want to push our fundamentals at practice," coach Jeff Hewitt said after the 10-0 over Hoke County Tuesday at home.
"We want to get it to a point where we're still crisp and this week is about finishing up. We want to get a lot of guys on the mound because we know we're going to need them."
The win locks in at least a share of the Sandhills Athletic Conference title for the Patriots, but because they own the head-to-head tiebreaker over second-place Scotland, Pinecrest will be the top playoff seed out of the conference for playoff purposes.
Entering the series with Hoke County this week, the Patriots (12-1, 10-1 Sandhills) had the goals of going 2-0 this week and getting some innings on the mounds for other pitchers on the staff.
Pinecrest's pitching combined to throw a three-hitter against Hoke County (1-12, 1-10 Sandhills) in five innings. Starter Colby Wallace and reliever Skyler Mathis both pitched two innings and struck out four batters apiece. Cam Bunker came in for the fifth inning and struck out the side while getting out of a jam with the bases loaded.
"Mound time is crucial for us," Hewitt said. "I feel like if we can pitch, we can score runs."
Coming in relief, Mathis knows what he has to do to follow up behind the stable of Patriot starters.
"You've got three guys, R.J. (Sales), Colby and Ryder (Douglas) that throw cheddar. They throw hot stuff and it's hard for other guys to touch it," Mathis said. "When you come in, and you throw it a little bit slower, you've got to know where to place the ball and be ready at all times."
Mathis, a junior, who has seen appearances sparingly this season, but came in relief in the last two games for the Patriots.
"Being in the bullpen and always being ready all the time it's definitely an intense role," Mathis said." You've got to make sure you're ready all the time and it's definitely an important role."
Coming on in the top of the third inning with a 7-0 lead, Mathis allowed the first hit for the Bucks.
"It's a little stressful at first, but once you start settling in and realizing what's working and what's not working for you, you just work from there," Mathis said.
After Mathis retired the Bucks in the top of the fourth, Pinecrest pushed three runs across in the bottom half of the inning to take the lead out to 10-0.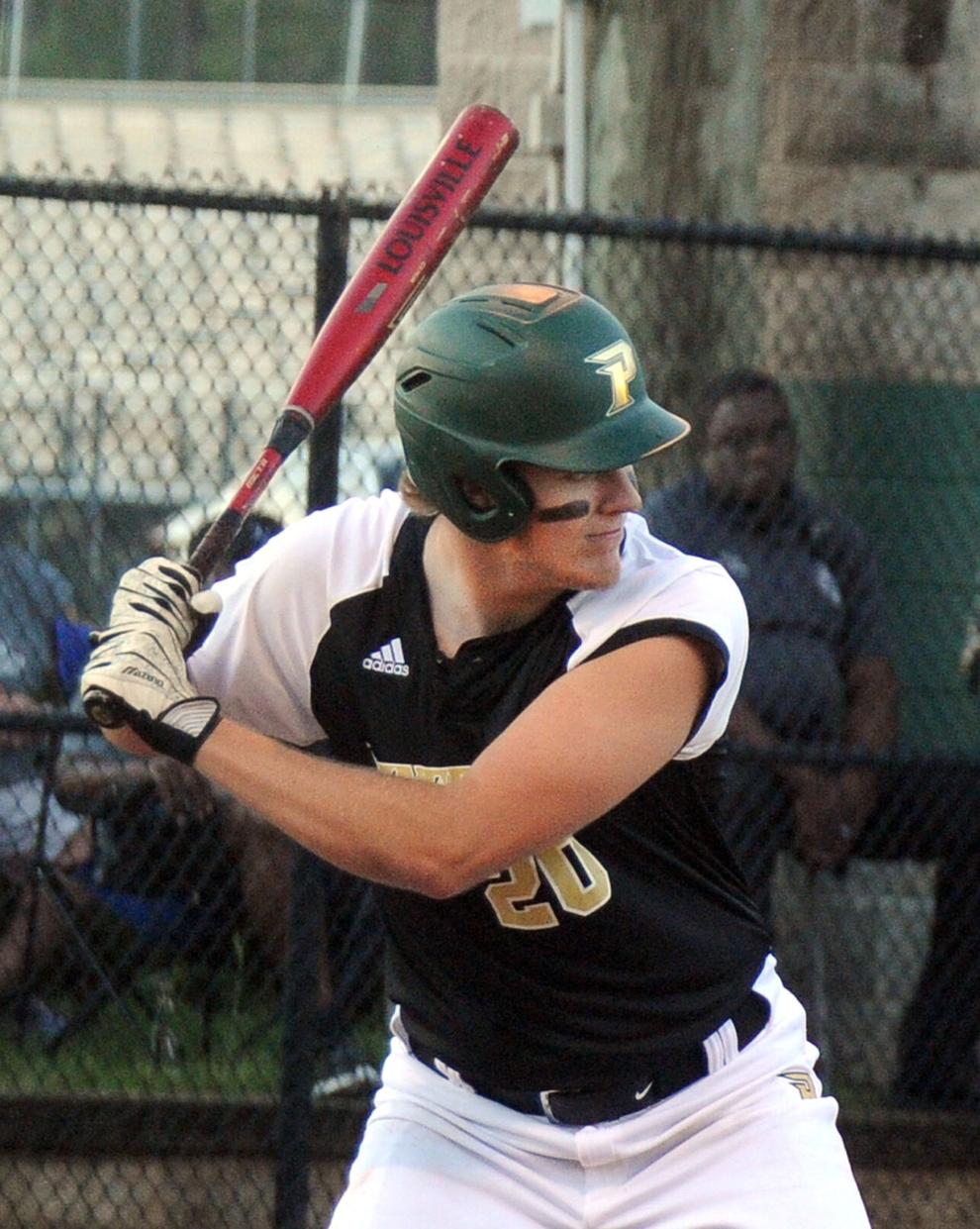 Jackson Kuhn pushed across the first run of the inning with a single to left field to plate Bunker, and Ryley Norton drove in a pair of runs with a double later in the inning.
The sophomore Norton was one of several underclassmen that came in late in the contest to claim some valuable playing time with the postseason approaching.
In the first two innings, Wallace helped his own cause with three RBIs on a pair of singles. His single in the first inning scored two runs, and was later followed up by a two-run single by Douglas to make it a 4-0 lead after one inning.
Wallace and Nick DiCarlo drove in runs with base knocks in the second inning and a third run scored on a double steal.
Pinecrest plays at Hoke County on Friday with a chance to lock in the outright conference championship.
Patriots Throttle Scotland, Lee County in Wrestling
Posting near identical scores, the Pinecrest wrestling team claimed a pair of wins over Scotland and Lee County at home Tuesday in the final home contest of the season for the Patriots.
Pinecrest defeated Lee County, 78-6, before then downing Sandhills Athletic Conference foe Scotland, 76-6. The win over the Yellow Jackets featured eight wins by forfeit for the Patriots (22-3) and seven in the match with Scotland.
In the win over Scotland, Matt Rowland, Riley Merchant, Gavin Millard, Will Brock and Chase Godwin claimed wins by fall. Kian Smith won by decision at 145 pounds.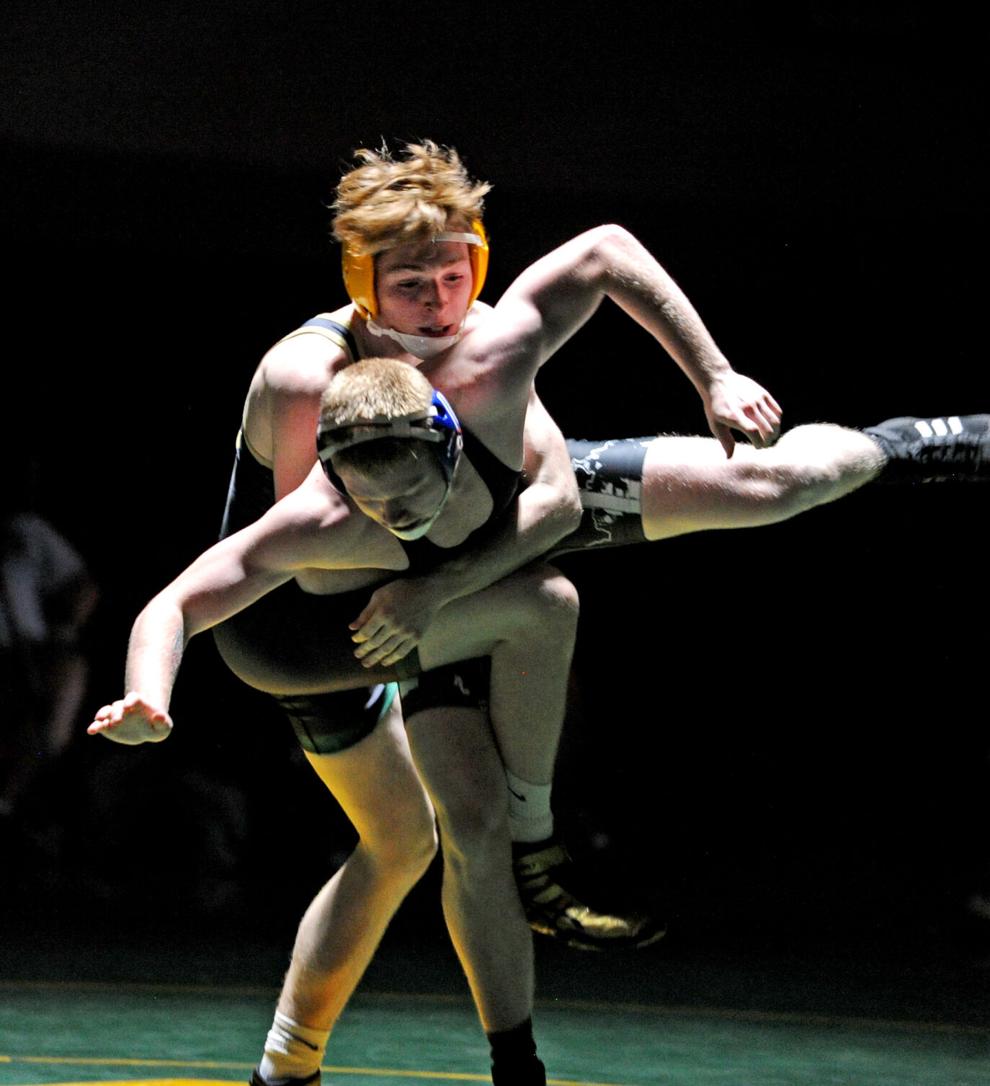 Against Lee County, Pinecrest won five matches by pin with Godwin at 285 pounds, Gavin Millard at 126 pounds, Elijah Ybarra at 138 pounds, Elijah Ybarra at 160 and Cooper Bumgarner at 195 pounds.
Union Pines Rebounds Against Western Harnett
After suffering its first loss of the season a week and a half ago, the Union Pines baseball team posted an 18-6 win at Western Harnett Tuesday.
Western Harnett scored its six runs in the bottom of the fourth inning to cut the lead to 7-6 before Union Pines scored six runs in the sixth inning and four more in the seventh.
Mayson Dear had four RBIs to lead Union Pines (11-1, 7-1 Tri-County). Ethan McKay, Trevor Hilburn and Chance Purvis each had two RBIs.
Jack Lange and Micah Monaghan each had three hits to lead the Vikings.
McKay came in to pitch the final six outs of the contest, and struck out four batters in no-hit fashion.
Union Pines goes to Triton on Thursday before closing out the regular season against Western Harnett at home on Friday.
Vikings Claim Doubleheader Wins Over Triton
Playing only the singles matches in a doubleheader at home on Monday, the Union Pines girls tennis team claimed a pair of wins over Triton to stay perfect on the season.
Union Pines (7-0) won 6-0 and 5-1 on the day.
River Britt, Tyne Ross, Eleanor Slyman, McKayla Kirk and Abby Robertson won both matches. Lily Slyman won one match.