Pinecrest junior Colby Wallace has an uncanny ability of being in the right place at the right time. In the closing moments of the Pinecrest boys basketball team's matchup against the defending state champion Millbrook at home Tuesday, Wallace found himself wide open on the opposite block time and time again to help the Patriots to a 74-67 win.
"I was just going to the opposite block and I was always open," Wallace said of what led to him going uncovered multiple times in the win.
Wallace scored 14 of his game-high 22 points in the second half to continue to lead the way scoring for Pinecrest (3-2) early this season.
"He was moving. He was moving to open spots. He was cutting and we were passing the ball," Pinecrest coach Kellen Parrish said. "We weren't being selfish. The ball was moving, Colby was cutting to the open area and he was taking shots that he can make."
Coming off a road loss to Richmond Friday night, the game served as a refresher for the Patriots to get back to their style of play. Tuesday's game just happened to be up against the defending 4A state champions.
"We were coming off a loss against Richmond, so we already wanted to beat the next time, and the next team just happened to be the state champions last year," Wallace said. "That just made it a bigger game for us."
After Millbrook (4-2) took a 16-9 lead early in the second quarter, the Patriots rallied to take the lead with two minutes left in the second quarter following three straight buckets from Colby Wallace, making it a 22-21 Patriot lead. The lead grew to 31-26 at halftime.
The type of play Parrish envisions the Patriots operating in was on full display to start the second half. Turnovers leading to fastbreak scores and a near-perfectly executed motion offense in the halfcourt helped Pinecrest build an 18-point lead with 3:23 left in the third after six straight points from senior Thomas Mandell.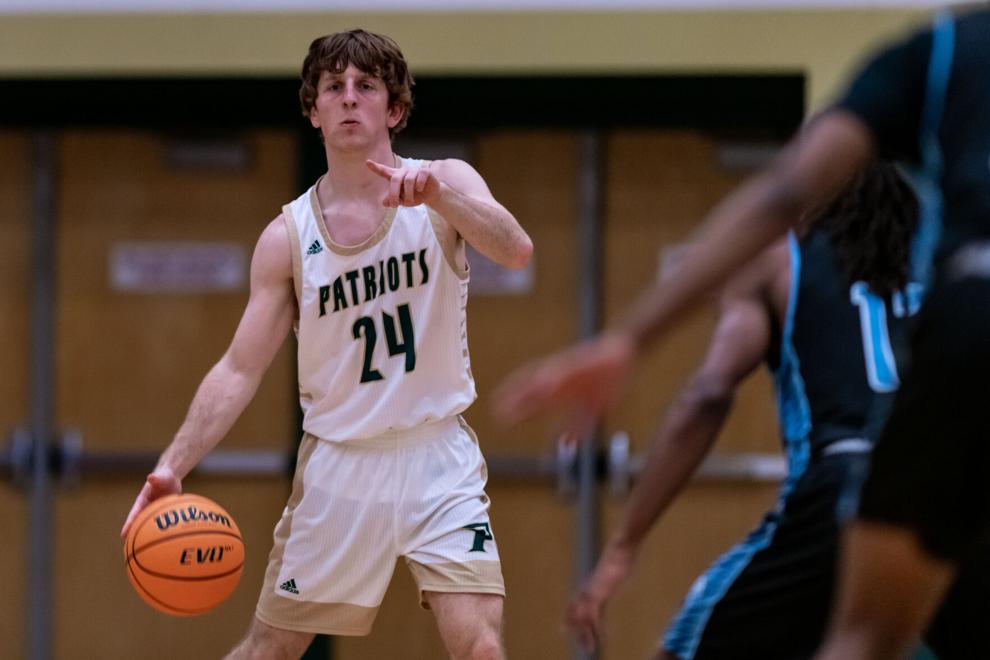 "We started playing our game. It's starting to come together, and each day we are starting to get better and better and better," Parrish said. "We did push the lead up there. Now we have to work on maintaining it at that level."
Mandell scored nine of his 14 points in the third quarter and he drained three 3-pointers in the win.
"That's who we are. We've had some ups and downs so far, but that third quarter shows who we are as a team," Mandell said. "When we stick together, we're talking and have energy on the bench, we can beat anybody in North Carolina."
Senior Christian Freeman eight points in the win, and scored six during that run in the third.
Seasoned Millbrook didn't go away after falling down by double digits. By the end of the third quarter, Pinecrest's lead was down to eight points, and the Wildcats had the deficit trimmed to 61-60 with 3 ½ minutes left in the game behind scoring from senior CeeJay Jordan and freshman Colt Langdon.
Millbrook called timeout inside of two minutes to go, down 64-62, and on the baseline inbounds pass out of the huddle, Wallace came away with a steal and went the 90-plus feet the other way for a layup to make it a four-point game.
"It got us going. It got our momentum going when we were starting to lose it kind of," Wallace said. "I knew we needed something to get it going."
Pinecrest used free throws from Mandell and fellow senior J.J. Goins, along with a timely bucket from Wallace inside of a minute to close out the nonconference win.
"We looked at it as another game. Where they were last year is where we're trying to get," Mandell said. "This is a stepping stone to get there, and we know that if we play our game we can compete with anybody."
Langdon scored 21 points to lead Millbrook, including 19 points over the final three quarters, and Jordan had 19 points.
Millbrook came into the contest averaging nearly 87 points per game, led by senior Jaylan Bowen averaging more than 24 points per game. The Wildcats were held to their lowest point total of the season, and Bowen went silent in the game without a point.
"We just played good defense. We knew he was a shooter averaging 24 points per game and we couldn't leave him," Parrish said. "We were in great helpside and we stayed close to him."
The Patriots take on Bunn Saturday in the Dexter Cooley Showcase at Wakefield High School Saturday.
Union Pines Boys Head to Christmas Undefeated
The Union Pines boys basketball team kept its perfect run to start the season with a 45-32 win on the road against Montgomery Central Tuesday.
A 20-point fourth quarter from the Vikings (8-0) helped add some distance on the scoreboard against the Timberwolves (1-5) after entering the final quarter up 35-25.
Kelbry Wright had 15 points in the win and Stevenson Haskell added 11 points.
Montgomery Central had Javian Johnson and Tyrese Scott with 11 points each.
Union Pines takes on Green Level in the first round of the Lee County Holiday Classic on Dec. 27.
Vikings Turn Back Montgomery Central Girls
Leading by single digits heading into the fourth quarter, the Union Pines girls basketball team outscored Montgomery Central by six points in the fourth quarter to come away with a 48-35 road win Tuesday.
Senior Aaliyah Balser had 27 points, 11 rebounds and five steals to lead the Vikings (6-2). Fellow senior Sara Adams added 14 points, five rebounds and five assists, and freshman Taryn Pekala scored six points and dished five assists.
Union Pines plays Seventy-First at Terry Sanford in the first round of the Cumberland County Holiday Classic Thursday.
Union Pines Wrestling Top Richmond, Hoke County
The Union Pines wrestling team claimed a pair of wins to open Sandhills Athletic Conference play Tuesday at Hoke County.
The Vikings defeated Richmond, 81-0, and held off Hoke County by a 46-27 score.
In the opening shutout of the Raiders, Jayden Crawford, Dominic Inocenio, Brock Sullivan, Aiden McCafferty, Nicholas Mascolino, Colton Collins and Kellen DeVries all claimed wins by pin for Union Pines. Joseph Vrabcak won by an 8-2 decision at 138 pounds.
In the win over Hoke County, Crawford, Sullivan, McCafferty, Mascolino and DeVries claimed wins by fall.
Johann Diaz claimed a decision win at 126 pounds, Collins won by decision at 220 pounds and Finn McCafferty won by major decision at 132 pounds.
The Viking will wrestle Southern Lee and Scotland at home on Jan. 4 and finish up with Lee County and Pinecrest at Southern Lee on Jan 19.
Patriots Fall on Road at Millbrook
The Pinecrest girls basketball team got off to a slow start at Millbrook, and was unable to recover in a 61-47 loss on the road Tuesday.
Pinecrest (4-3) trailed 18-7 after the first quarter, and by 25 points at halftime. In the third quarter, the Patriots outscored Millbrook (6-1) 22-10.
Brittney Sparrow scored 14 points in her first game with the Patriots this season, and Aniyah Jackson had nine points. Jakaya Scott added six points.
Pinecrest plays Wesleyan Christian Academy on Dec. 27 in the first round of the Sheetz Classic hosted at Southwest Guilford.