If at first you don't succeed, try again. And in O'Neal freshman Sadler Marshall's case, try again another time.
After being held scoreless for the first 50 minutes of Tuesday's nonconference girls soccer match at home against North Moore, Marshall lifted the lid on the goal as the Falcons claimed a 3-0 win.
"I know it was frustrating for me because a lot of mine could've gone in," Marshall said of the first half. "We had a lot of shots, just the accuracy was a little off on them."
Marshall wasn't far off line from scoring on two occasions in the dry spell to open the match. Shots off the freshman's foot clanked off the crossbar late in the first half in one of the best tries on offense for O'Neal before the break, and a second shot caromed off the top of the North Moore goal with less than 10 minutes into the second half.
Luckily the second time, the ball came back to the foot of Sadler in the 18-yard box and she fired a second shot that got past the Mustangs' goalkeeper.
"I was thinking like, 'I have to make this. I have to or it's not going to be well,'" Marshall said.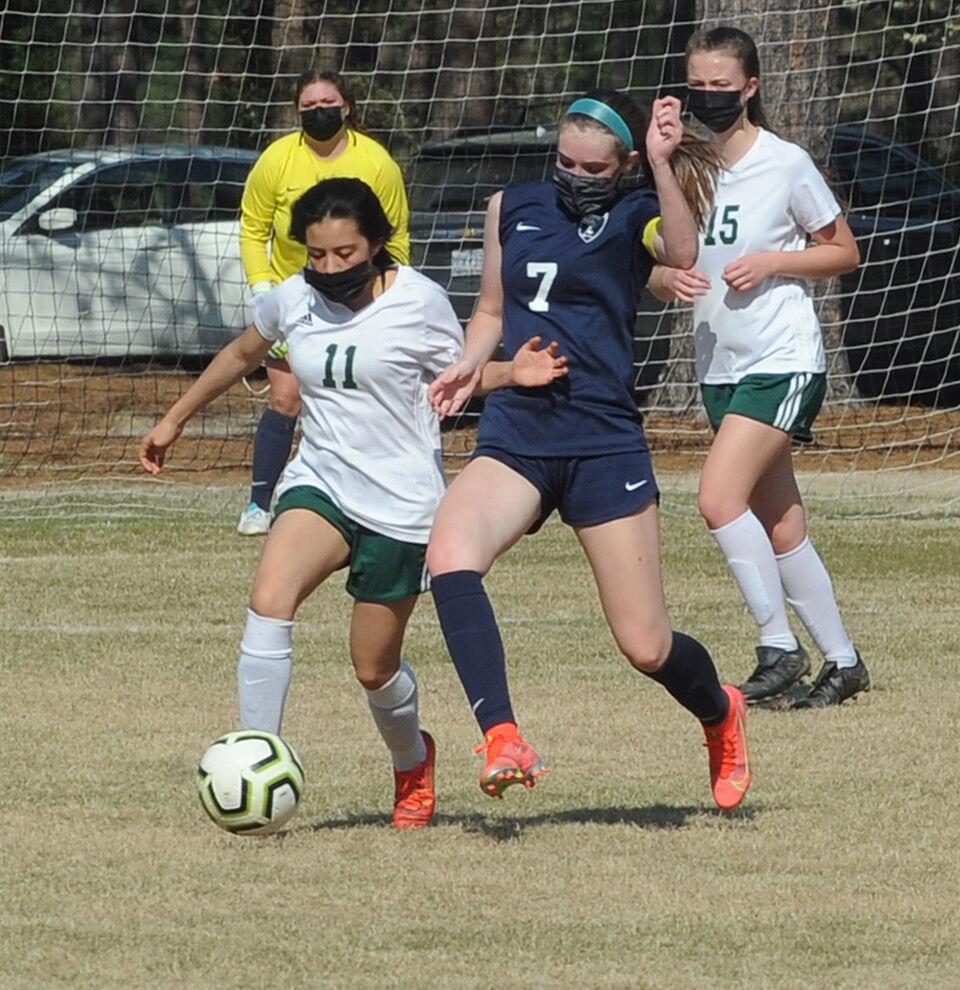 The goal started a stretch of three goals in a matter of 12 minutes of the Falcons (3-2-1).
Sophomore Peyton Smitherman scored two minutes after the Marshall goal to make it 2-0 O'Neal.
"The difference was we were playing through the midfield and we were calming down instead of playing the way they wanted us to play. We were playing the way we needed to play," O'Neal coach Jason Jones said. "Sadler tries to do everything, but once she settles and plays within herself, she's one of the best players in the conference, if not the best player in the conference."
North Moore controlled possession early in the game, and after falling behind was able to piece together runs at the goal in the final 20 minutes of the match. The performance was a sign of the Mustangs' youth.
"This team has a lot of potential. It's a young team so they have a lot to learn and a lot of room to grow," North Moore coach Chloe Peralta said. "When they're on, they're on. It's the getting them to work together that's the problem."
North Moore has 10 players that are either freshmen or sophomores.
The third goal came with 18 minutes left in the match when Marshall found Hannah Saye cutting toward the goal for an open shot from the right side.
"Being up top there's a lot of pressure because you feel like you want to make your team proud and get the result that your team wants," Marshall said. "I feel like (the younger players) add some energy. I think we are kind of excited to be a part of it."
O'Neal hosts Fayetteville Academy on Wednesday and North Moore hosts Albemarle on Monday.
The Union Pines girls soccer team defeated Southern Lee 9-0 at home on Tuesday in Tri-County Conference action.
Senior forward Emily Bowbliss scored five goals and assisted on another in the win for the Vikings (6-0, 2-0 Tri-County). Emma Ring scored two goals and had two assists as well for Union Pines.
Olivia Ivey and Jeanna Bonds added a goal each.
Union Pines plays at Western Harnett on Monday.
North Moore Girls Golf Wins First Match
The North Moore girls golf team won the first golf match in school history recently, according to coach Richard Smith.
In the second year the school was able to field a girls team, North Moore defeated North Rowan by 14 strokes at Corbin Hills Golf Course in Salisbury on April 1.
The North Moore girls golf team will play at Beacon Ridge next Thursday against Chatham Central.
UP Softball Opens 2-0 in Conference Play
The Union Pines softball team scored a run in five of the seven innings against Southern Lee on the road Tuesday in a 14-1 Tri-County Conference contest.
Sophomore Karma Morrison and fresham Corryn McCuthcin each drove in three runs and had two hits for the Vikings (2-1, 2-0 Tri-County).
Marissa Fuller had three hits to lead Union Pines' bats and also pitched two innings.
Skylar Stewart had two hits and an RBI.
Madison Wagner struck out three in four innings.
Union Pines hosts Triton on Wednesday.
Pinecrest Gets First Softball Win
The Pinecrest softball team snapped its five-game losing streak to open the season with a 6-4 win over Hoke County at home on Tuesday.
Using a four-run first inning, the Patriots (1-5) were able to hold off Hoke County late in the contest.
Sophomore Frances Hanshew led the Patriots with a pair of hits and three RBIs, and Trista Gordon drove in a pair of runs with one hit. Aniyah Jackson had the other RBI for Pinecrest.
Senior Gracie Hough struck out two and allowed four hits in seven innings in the circle.
Pinecrest plays at Richmond on Monday.