Through three Sandhills Athletic Conference golf matches, the Pinecrest boys golf team has had a different medalist each outing, showcasing the team's parity.
Through it all, the search for continued improvement has continued to push the Patriots.
"It's just a good team and we should be state contenders this year," sophomore Holland Giles said. "We all want to go low and beat each other, but we also don't want anyone to play bad."
Pinecrest's boys claimed a 100-stroke victory behind a strong showing from Giles on Pinehurst No. 6 Monday and the Pinecrest girls won by 98 strokes in the first 18-hole match of the season.
After playing the first three events on just the front nine of the course, the Patriots opened on hole No. 10, and it came with adjustments for both medalists.
"It's so much longer, but I guess I played better," freshman Bebe Rujiranan who led the girls field. "I'm not a good driver hitter. I hit it short so I have to keep my short game good."
After two holes, Giles made the adjustment to keep the long clubs in the bag, and the result paid dividends. The sophomore posted a round of 7-under-par 65, including a second nine of 30 as he narrowly missed a putt that would give him a 29 for the front nine.
"I lost a ball on hole No. 11. I stopped hitting driver and 3-wood and I just hit my 3-iron on every hole," Giles said. "We've played this course a ton of times, but I didn't play the back nine a single time this year. Then the front nine, since I knew where to hit it, it helped a lot."
Giles edged out teammate Jackson Van Paris by two strokes.
"I was trying to beat Jackson Van Paris because I've never done that before. It felt good to do that finally," Giles said with a laugh.
Caden Bertagnole had a 74, Colin Dutton had a 76 and Jackson Bode finished with an 80. Pinecrest's top four scorers accounted for a 6-under 282 and Scotland finished with a score of 382.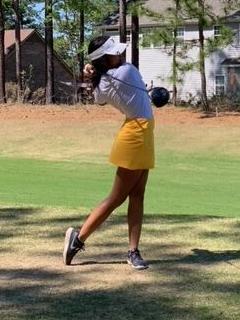 On the girls side, Pinecrest's team score of 367 was followed up by Richmond's 465 team score.
Rujiranan finished with a round of 81, which featured two of her better nine-hole scores of the season.
"I want to hit a 72 for one round," Rujiranran said.
Teammate Kitson O'Neal finished one shot behind Rujiranan with an 82, including a second nine score of 39. Chloe Peters had a 99, Chloe Derusseau had a 105 and Jenni Zalnasky posted a 117.
The teams will meet for another 18-hole match on No. 6 next Tuesday. The Sandhills Athletic Conference championship will be on Pinehurst No. 1 on April 26.
Union Pines Boots Western Harnett
A hat trick from Emma Ring highlighted the Union Pines girls soccer team's 9-0 Tri-County Conference win at Westnern Harnett on Monday.
Ring's three goals also came with five teammates scoring a goal each in the win. Union Pines (7-0, 3-0 Tri-County) scored eight goals in the first half of the win.
Emily Bowbliss scored a goal and assisted on four other goals in the win, while Gianna Silvestri and Alexis Robbins each scored a goal and had an assist.
Olivia Ivey, Eva Reinhardt and Jenna Bonds each had a goal and Sage Dougherty finished with one assist.
Union Pines hosts Lee County on Tuesday and stays at home for a match against Triton on Wednesday.
Patriots Earn Rout of Raiders
A trio of players for the Pinecrest girls soccer team had multiple goals as the Patriots earned a 9-0 win over Richmond on the road on Monday.
Senior Lauren Landry had three goals, junior Keaton Clark had two goals and sophomore Savannah Dunahay added two goals for Pinecrest (9-0) in the Sandhills Athletic Conference blowout.
Blair Rice and Sami O'Reilly each scored a goal as well. Landry had three assists and Dunahay had a pair of assists as well.
Pinecrest hosts Purnell Swett on Wednesday.
Pinecrest Softball Falls in Heartbreaker
Richmond used a pair of solo home runs in the bottom of the seventh to fend off the Pinecrest softball team on Monday.
Pinecrest held a one-run lead entering the final half inning of the 9-8 loss.
Sophomore Frances Hanshew had four RBIs on three hits, including two runs batted in during the top of the seventh as Pinecrest took an 8-7 lead.
Amy Webb also had three hits and two RBIs. Joanna Joyce had a pair of hits and an RBI, and the other RBI came from Ashlee Ogburn.
Pinecrest plays at home against Purnell Swett on Wednesday.