Claiming the third straight conference regular season title is a nice accomplishment for the Pinecrest volleyball team, but that is not where the team's focus was after clinching the outright Sandhills Athletic Conference title with a three-set win at Hoke County Tuesday.
"It's just the start," junior setter Sydney Karjala said. "We have the playoffs, which we know we went far last year, and we can do it again. We're just ready to see what comes."
The regular season ends for Pinecrest at home Thursday against rival Union Pines. Even with the title locked up, finishing off a season sweep of the Vikings is where the team's focus is at.
"I don't think they are going to treat any conference championship like one unless they take care of business on Thursday," Pinecrest coach Scott Shepherd said.
The Patriots claimed set wins of 25-11, 25-6 and 25-13 in the win over the Bucks to remain perfect in conference play.
Pinecrest (18-4, 11-0 Sandhills) adjusted in the match to the team being without several players due to nagging injuries and other conflicts. The team's depth showed that with starters missing, the second unit could step up to do the job when need be.
"Our second tier of players is just as good as the first tier. It's just a matter of the battle in practices during the week," Shepherd said. "We know we have a sort of plug and play when we need it. We know anyone we put in is going to get the job done."
Karjala, who is one of two rotating setters for the Patriots, sees the versatility of her teammates in practice.
"Everybody knows what they need to do. Everybody knows the priority is to not let down other people," Karjala said. "We know to keep a positive attitude. Any adversity we see, we keep that positive attitude."
Players like Ashley Pohl, Paige Gibbons and Brooke Emore saw more court time in the win, and made an impact. Pohl dished eight assists and Emore finished with six kills.
Winning wire-to-wire in the first two sets, more reserve players were mixed in during the third set, closing the match on a 10-2 run.
Junior Caroline Bradford had 11 digs, nine kills and six aces in the win, and classmate Marlee Johnson led the team with 10 kills.
Karjala dished 22 assists, but also was on the attacking end with five kills.
"I feel like a lot of the girls stepped up, including me. I know that big leadership on the court is super important," she said.
Lainey Mullins had 15 digs and seven aces.
The match comes after Pinecrest lost three of four matches in a tournament in Chapel Hill over the weekend against some of the top teams in the state. An opening win over Chapel Hill was followed with losses to J.H. Rose, Green Hope and Cedar Ridge.
"Saturday was about learning where we are and what we have. We learned that playing with three of the top seeds in the state that we can play with about pretty much anybody in the state," Shepherd said. "That is what they love. That is what they want. If we could do that every weekend, they would probably do it."
Some of the injuries occurred in the weekend matches, and the Patriots saw areas of growth from the defeats.
"We took losses, but we didn't lose our pride. We all agreed that we played really well," Karjala said. "We could've played better, but every team knows you're never going to play perfect."
Union Pines Defeats Southern Lee In Four Sets
Rebounding from a third-set loss, the Union Pines volleyball team finished off Southern Lee on the road in four sets.
The Vikings improved to 17-3 overall and 10-2 in Sandhills Athletic Conference play with scores of 25-17, 25-16, 20-25 and 25-19.
Senior Emma Vacha had 11 kills and nine blocks at the net and Devyn Craven had eight kills and six blocks. Gianna Silvestri had nine kills and 22 digs.
Brisi Gonzalez finished with 27 digs and also had four assists in the win.
Faith Driver collected 22 assists, six kills and 21 digs for the Vikings.
Union Pines plays at Pinecrest Thursday.
Pats, Vikes Dominate Conference Tennis Titles
Three of the four Sandhills Athletic Conference girls tennis titles for the 3A and 4A classifications were won by Union Pines and Pinecrest at Hoke County Tuesday.
In the 3A singles bracket, Union Pines sophomore Tyne Ross defeated teammate Lily Slyman to win the title in straight sets, 6-0 and 6-0. Both are regional qualifiers with their finish.
Union Pines' team of McKayla Kirk and Becca Cameron finished second in the 3A doubles title, falling to Genesis Gonzalez and Kate Jackson from Southern Lee in straight sets. Abby Robertson and Madelyn Ragsdale from Union Pines finished third with a three-set win in the third-place match. Both Union Pines doubles teams qualified for regionals.
In the 4A singles bracket, Pinecrest's Brooke Lafrenz defeated teammate Olivia Pratt for the title, 6-1 and 6-0. Both players qualified for regionals.
In the double championship, Annecy Pratt and Astelle Kilpatrick won the 4A title with a three-set win over Claire Gully and Keaton Clark. Both of those doubles teams qualified for regionals.
Pinecrest Cross Country Honors Seniors
The seniors of the Pinecrest cross country team were honored before a scheduled meet at the school Tuesday. Videos played on the jumbotron at the school with the seniors showing their comedic side as well as sharing their favorite memories running with the storied cross country program.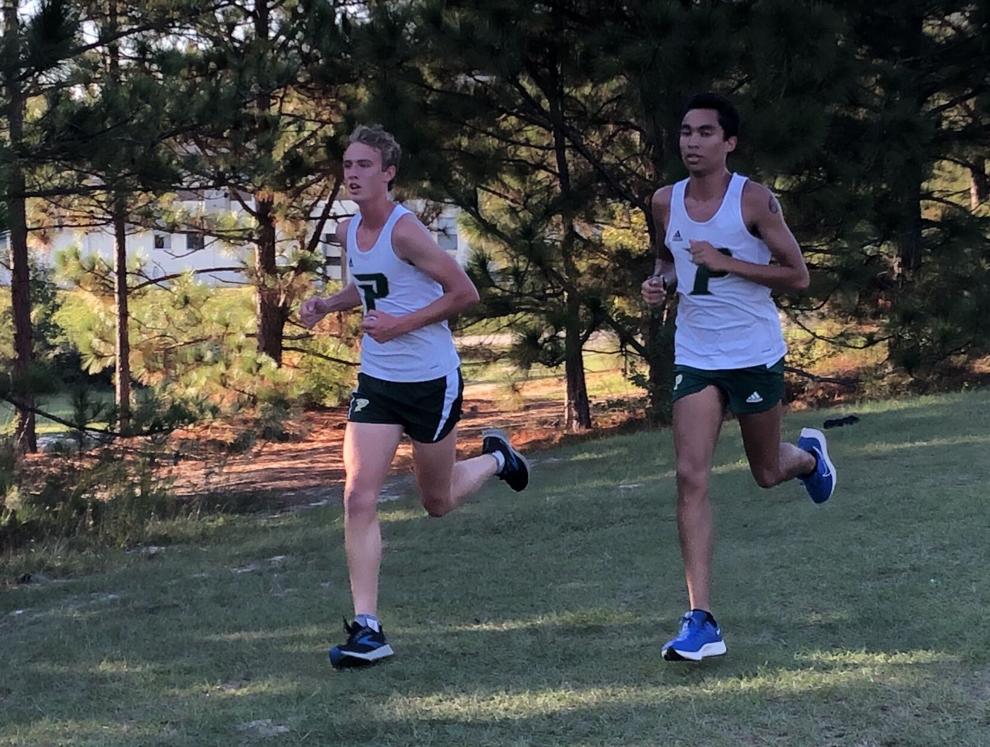 The two scheduled opponents, Hoke County and Richmond, did not appear for the meet, leading to the runners competing on the course at the school for the first time in an official meet this season.
Pinecrest junior Zack Gilbertson won the boys race in a time of 17 minutes, edging out senior Adrian Archer by two seconds. Both the boys and girls teams competed together in the race.
The top girls finisher was junior Lauren Wilmberly finished in a time of 20 minutes, 8 seconds.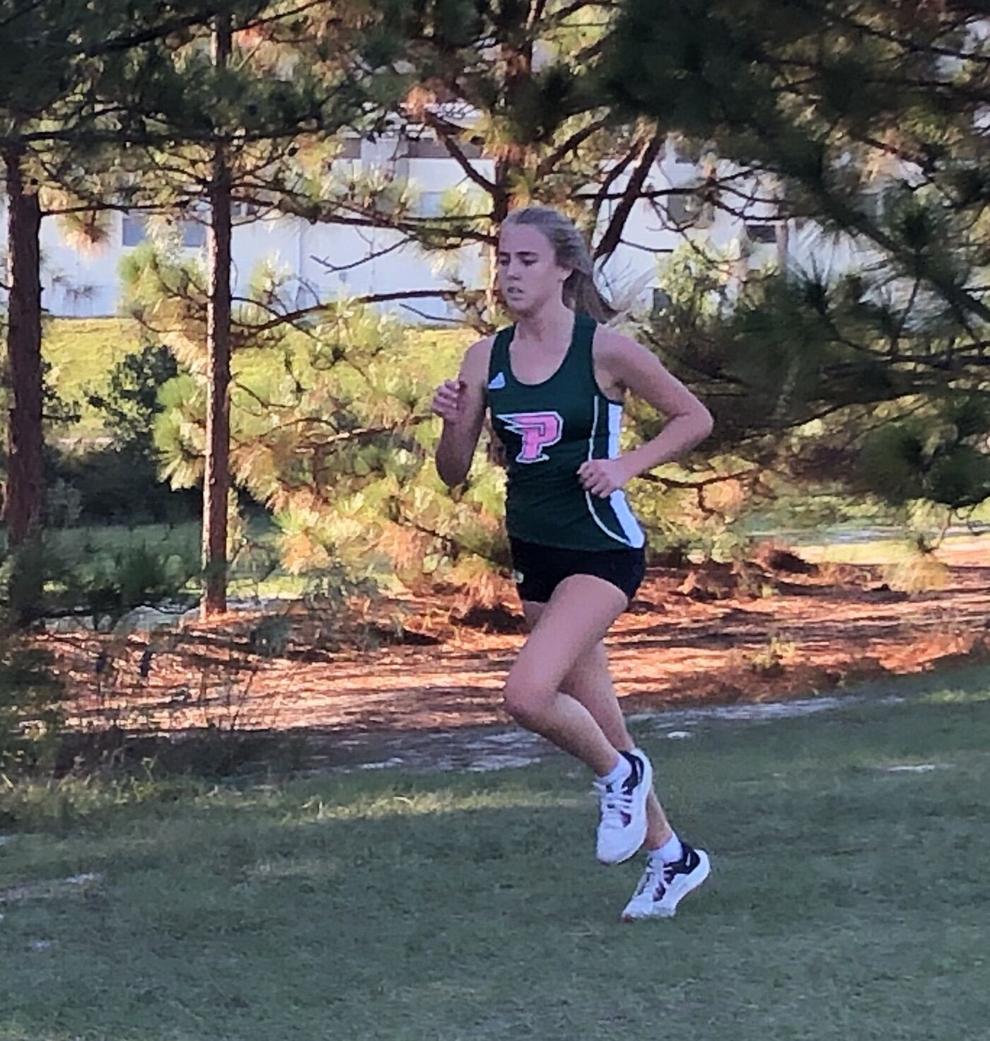 Pinecrest and Union Pines compete in the conference cross country championship at Scotland next Wednesday.