The two losses for the Pinecrest softball team don't tell the whole story.
After taking their lumps against a tough Sandhills Athletic Conference slate the first time through the rotation, the young and determined Patriots have played two of the best games of the season this week in a heartbreaking loss to Richmond on Monday and a 4-1 defeat against conference-leading Purnell Swett at home Wednesday.
"From the beginning of the season to now, I've seen a lot of growth with their mental state," Pinecrest coach Tyler Ross said. "Kids are coming in, they are buying in a lot more, they are coming in for extra reps.
"I think the mental aspect of, 'hey, we've got to get better,' and they've done a tremendous job with that."
Errors were plentiful early on the season, and the team lacked confidence at the plate, but against one of the top teams in the state, Pinecrest showed no fear.
The defense had three errors, but avoided snowballing the mistakes into big innings for the visitors. Runners were left in scoring position by the Rams in the game as the Patriot defense stood tall and finished off outs to trot into the dugout and keep in striking distance with the Rams.
In the third inning, the Pinecrest defense celebrated a major accomplishment like a championship won as shortstop Aniyah Jackson flipped the ball to Kaylin Mills at second, who then turned and threw the ball to first to finish off a double play.
"Right before that double play, we've talked about it all season and I'd say, 'Kaylin we're going to get this double play,'" Jackson said. "It was definitely a confidence booster and it showed that we could hang with a team and that we could possibly come out with a W, even though we didn't tonight. It's something to look forward to in the future."
At the plate, Jackson reached base twice on Purnell Swett errors as the Pinecrest bats put pressure on the Rams' defense.
"Last game against Richmond, I didn't bat as well so I tried to focus on at least putting the ball in place to help my teammates," Jackson said.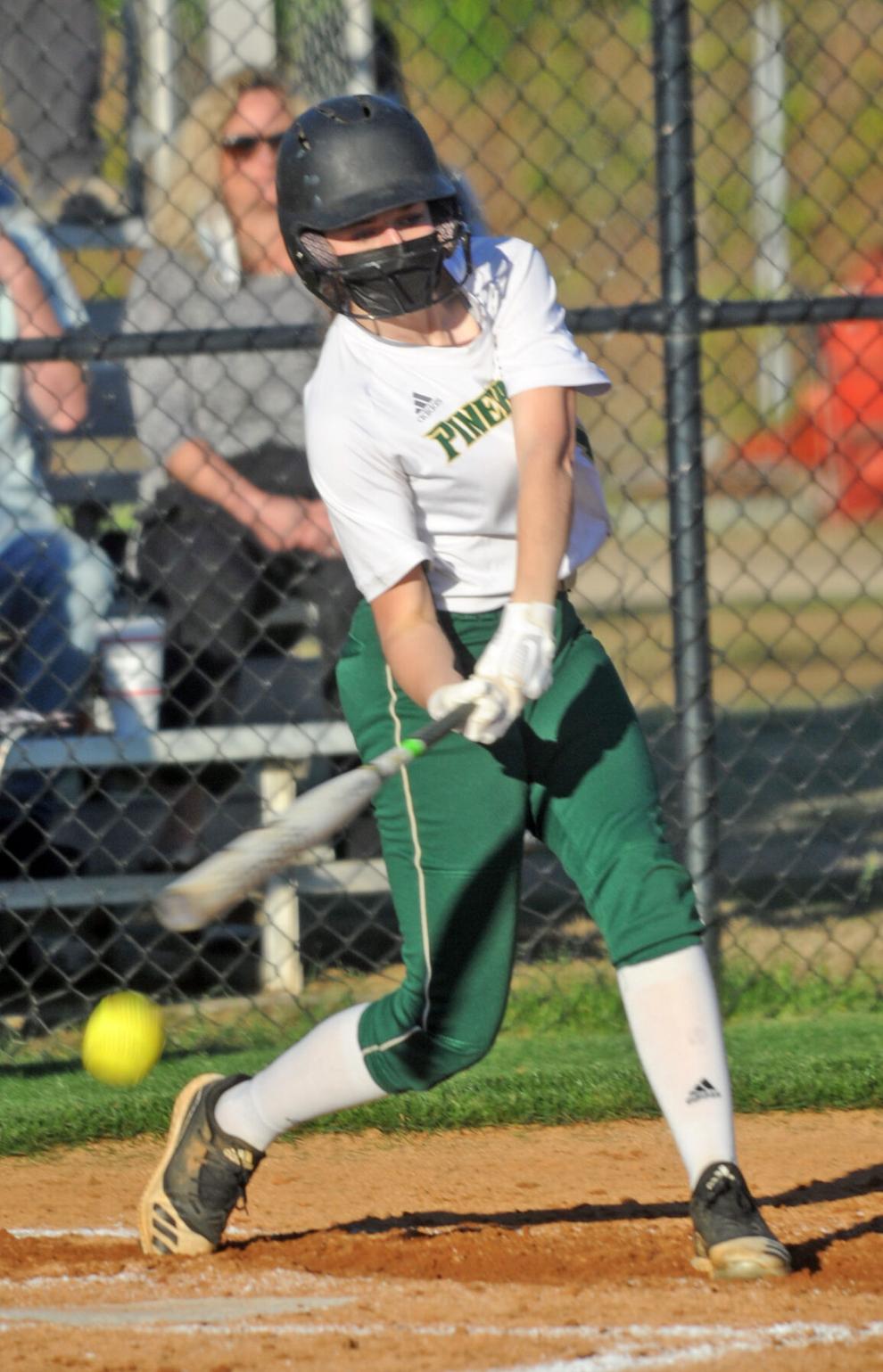 Summer Bullard, arguably one of, if not, the best pitchers in the conference struck out 12 batters in the win, but Pinecrest stood in as she popped the mit with fastballs and batters waited for their pitch.
"We just had to keep our eye down on it and just see it really," Jackson said.
Mills had a bloop single over the third baseman's head to lead off the bottom of the seventh. Errors from the Rams helped the junior get to third base before scoring on an error throw to second base from the catcher in an attempt to throw out a runner on the base paths.
Senior Amy Webb and sophomore Lilly Harris each had hits in the loss. Harris' hit broke up Bullard's no-hitter in the bottom of the fifth.
"Just them staying in there and fighting until the last at-bat, kudos to them," Ross said. "As the season closes out, I would like to see the kids keep that same accountability, same hard work coming to practice every day grinding and not letting the scoreboard dictate how they come out in practice and play."
Pinecrest plays at home against Lumberton on Monday.
Union Pines Tennis Downs Harnett Central
The Union Pines boys tennis team defeated a second Tri-County Conference foe in as many days as the Vikings won at Harnett Central Wednesday.
Union Pines' Luke O'Donnell and Caleb Downing earned straight sets wins in Nos. 1 and 2 singles before claiming an 8-0 win together in doubles.
Downing won his 28th career match in the contest.
Jake and Davis Moubry won their singles matches for the Vikings in straight sets and teamed up for an 8-4 win in No. 2 doubles. Aaron Scodius won his singles match without surrendering a point, and teamed up with Jack Carmichael for a win in doubles.
Union Pines improved to 4-0 and travels to Jordan Matthews Thursday.
Patriots Rout Rams in Soccer
A hat trick from Savannah Dunahay helped the Pinecrest girls soccer team to a 9-0 win over Purnell Swett at home Wednesday.
To go along with scoring from Dunahay, Keaton Clark added a pair of goals for Pinecrest (10-0).
Other goal-scorers were Abigail Kennedy, Morgan McGuirt, Lauren Landry and Kamden Lewis
Pinecrest hosts Lumberton on Monday.
Vikings Soccer Routs Triton To Cap Busy Week
Closing out its third match in three nights, the Union Pines girls soccer team defeated Triton 10-1 at home Wednesday.
Behind five goals and three assists from Emily Bowbliss, the Vikings (9-0, 5-0 Tri-County) took a 7-0 lead at halftime to close out the match with three goals, while allowing one goal after halftime.
Olivia Ivery added two goals and three assists, while Emma Ring added a pair of goals. Lillian Richards had the other goal for Union Pines.
Other assists came from Sage Doughtery and Alexis Robbins.
The Vikings travel to Lee County on Monday.