Cold shooting spells for the North Moore boys basketball team proved to be its demise against North Stanly on Friday night.
In a battle of teams undefeated in Yadkin Valley Conference play, the sharp-shooting Comets ran away with a 77-60 win.
"That first quarter, our shots were dropping a little more, then we would go through a rough patch," North Moore coach Crystal Leenheer said. "That second and third quarter we went through a slump where some of our shots weren't falling and we didn't know how to react to that."
North Moore (2-2, 2-1 YVC) held tight with North Stanly (5-2, 5-0 YVC) after one quarter, trailing 19-17, before the Comets outscored the Mustangs by eight in the second quarter.
In the first quarter, North Moore was paced by Cole Luther's six points and five from Javory Wall.
North Stanly's Dyson Bell heated up in the second quarter, burying a pair of triples and scoring 13 of his game-high 28 points. Bell's scoring carried over into the third quarter as a 38-28 Comet lead at the break was stretched out to 57-40 going into the fourth quarter.
Cody Patterson led North Moore with 20 points, 12 of which came in the fourth quarter. Wall had 12 points and Jaleak Horne added 10 points.
"They definitely fight until the end of the game. Yes, they have their ups and downs like every team, but when it comes down to it and even when things don't go our way, they keep pushing along," Leenheer said.
North Moore hosts South Stanly on Monday.
Mustangs' Second Half Not Enough
After being held to five points in the first half, some halftime adjustments helped the North Moore girls basketball team improve on the offensive end on Friday night in the 60-23 loss to North Stanly.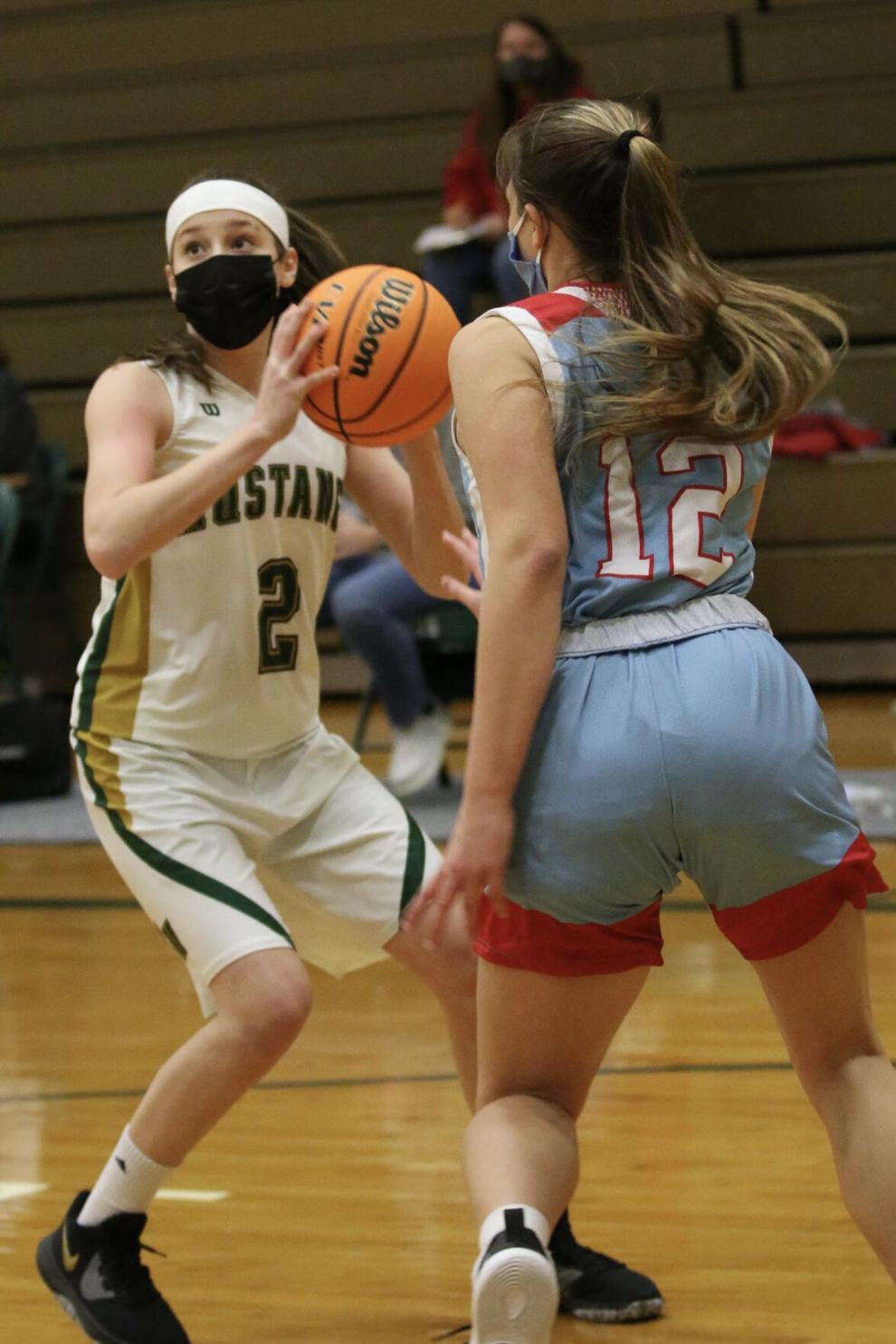 "A big difference was I had a freshman stepping up today and I started her there in the second half," North Moore coach Katelyn Sheffield said. "She put some leadership out there I was very happily surprised by. Also we did go over some defensive rotations and stuff like that. Everyone also was seeing places where we were open as well."
Freshman Ashlee Dyer scored all five points in the first half, a jumper from the left wing in the first quarter and a 3-pointer in the second quarter, and was the freshman added to the lineup that started the second half.
The Mustangs' (0-4, 0-3 YVC) offense came out with more life in the third quarter to post 11 points in the frame.
Junior Taleah Cochran-Chisholm scored her 10 points in the second and third quarter, and junior Abbie McNeill had a pair of 3-pointers in the third quarter.
North Stanly (4-1, 3-1 YVC) was led in scoring by Lexi Goode with 22 points.
North Moore hosts South Stanly on Monday.
Patriot Girls Get Revenge Against Rams
The Pinecrest girls basketball team avenged a nonconference loss earlier this season against Purnell Swett with a 54-47 win in overtime at home over the Rams.
Pinecrest (3-3, 2-1 SAC) outscored the Rams (3-2, 1-2 SAC) 21-13 in the fourth quarter, and then held Purnell Swett scoreless in the overtime period to claim its second straight Sandhills Athletic Conference win.
Emmie Modlin scored four of her team-high 20 points in overtime as nine Patriots scored in the win. Adding to the Patriots scoring total were Britteny Sparrow and Aniyah Jackson with seven points each.
Pinecrest hosts Lumberton on Tuesday.
The Union Pines girls basketball team remained undefeated with a 43-39 win over formerly undefeated Triton on Friday at home.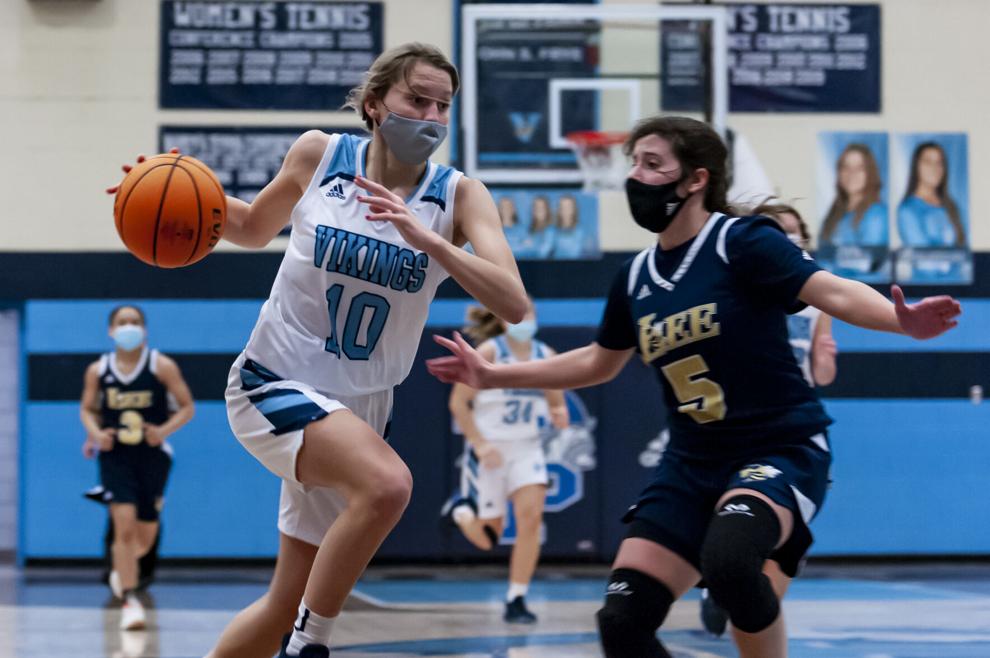 The Vikings (5-0, 3-0 TCC) outscored the Hawks 13-10 in the final period to claim the win.
Senior Emily Bowbliss had several fourth-quarter buckets that helped Union Pines close out the Tri-County Conference win. She finished with 16 points and three steals.
Junior Aaliyah Balser collected a double-double of 12 points and 17 rebounds. Sara Adams had nine points.
A'Shari Watlington led Triton with nine points.
The Vikings travel to Western Harnett on Tuesday for a doubleheader after the boys team sat out Friday due to a COVID-19 issue with the Triton boys team.
Haskell, Blue Fuel Pinecrest Boys to Win
A strong first-half showing on both sides of the ball helped the Pinecrest boys basketball team take control of Friday's home Sandhills Athletic Conference game against Purnell Swett for a 69-47 win.
Bradlee Haskell scored 29 points to lead the Patriots (4-1, 2-0 SAC), and Ian Blue added 22 points.
Pinecrest took a 31-14 lead into halftime and stretched it to 52-33 going into the fourth quarter behind eight points from Blue.
Pinecrest hosts Lumberton on Tuesday in a rematch of last year's 4A East regional final.
Terry Sanford Hands Union Pines Girls Lacrosse Opening Loss
The Union Pines girls lacrosse team dropped its season opener on Friday at home to Terry Sanford, 20-3.
River Britt led Union Pines with two goals and Shania Jones added one goal.
The Vikings travel to Jack Britt on Tuesday.