Whether it was for personal bragging rights or just wanting to start off her senior season strong, North Moore's Trinity Cockman had plenty of motivation for the season-opening cross country meet at home on Tuesday.
"I guess because I know some of the girls from the other schools it made me want to beat them," Cockman said. "I wanted to come out and beat my freshman year times. I've still got some work to do."
Cockman's time of 26:03 was good enough for first place in the meet that featured boys and girls runners from Chatham Central and Uwharrie Charter at North Moore.
After the first of three laps along the Mustang Mile, Cockman found herself in the lead pack, staying close to the lead. Midway through the second mile, she made her move to take the lead for good, holding on for the lead across the finish line.
"I learned that I can do a lot better than I thought I was," Cockman said of the race. "I haven't been in the lead since my freshman year. Being a senior this year it felt really good."
"Trinity just really gutted it out right there," coach Billy Kennedy said.
With a win under her belt to start an adjusted senior season, Cockman has a set of goals for her and her team.
"I'd like for us to be top three in the conference and I'd like to qualify for regionals this year," she said.
In the boys race, North Moore's Matthew Johnson posted the best finish on the team, coming in fourth behind a trio of Uwharrie Charter runners.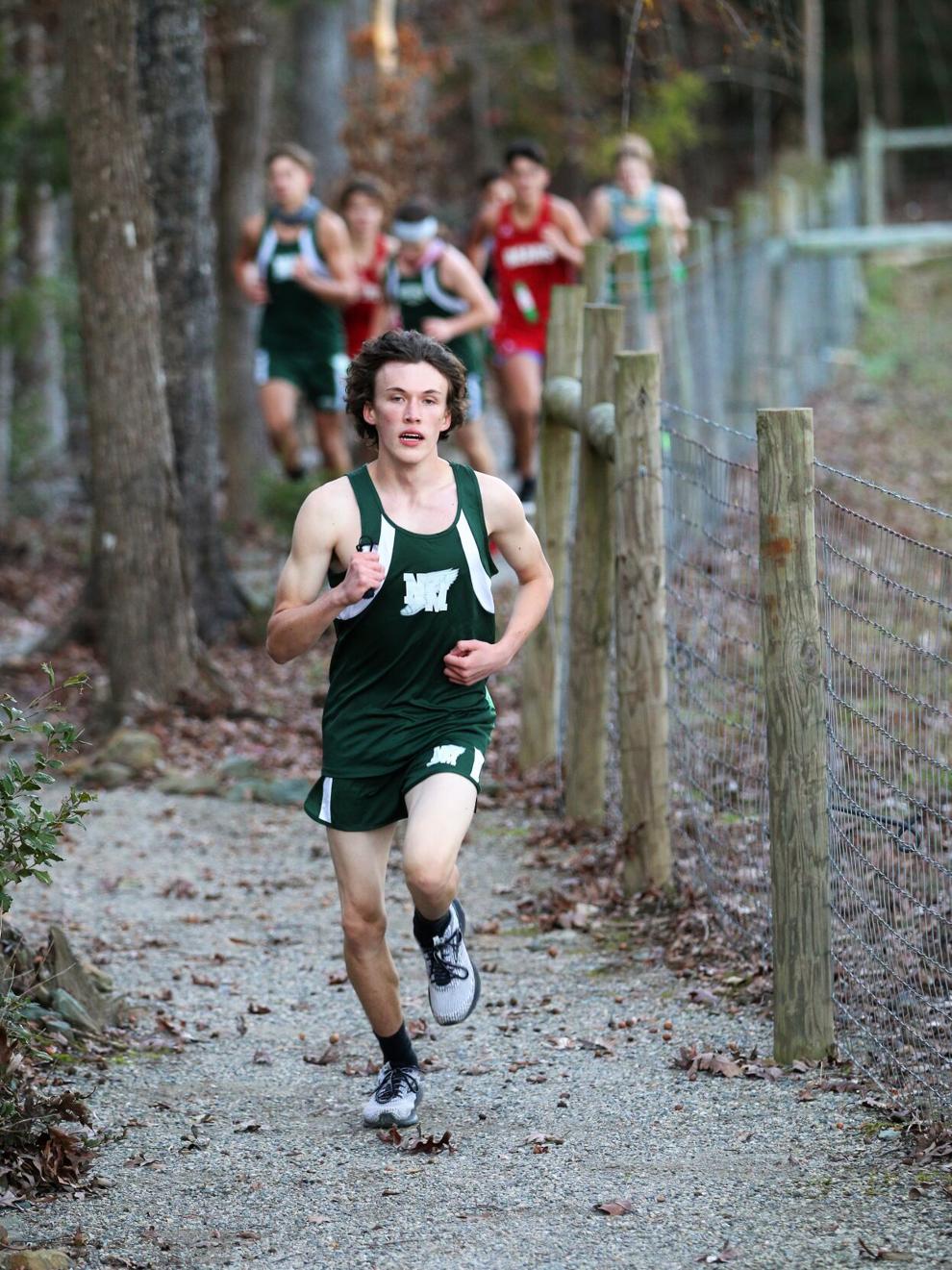 "I definitely did better starting off this year than I did last year. I feel like I'm going to build it up. It's not my best, but it can get better," Johnson said.
Johnson said entering the meet, he set a goal to break 20 minutes in the 5K, but fell nearly a minute short. Despite that, Johnson's time was near his personal-best that he set last year as a junior in his first year running cross country.
After the first mile, Johnson was among a few Mustangs that were leading the pack, but by the second mile he had fallen back behind the trio of Uwharrie Charter runners. After a different preseason that included less time to prepare for the season, the first meet provided a valuable lesson for Johnson.
"I definitely want to try and finish stronger," Johnson said. "I thought I could keep a pace and keep in the lead and then they came up on me and got in front of me. I can definitely get better and not allow that to happen, and maybe beat a few of them next time."
Several North Moore runners filled in the top 15, and now with times from their first meet, Kennedy has a baseline for the team to develop from.
"We've got four tough guys at the top. This was a good test to see where we are at, where we match up," Kennedy said. "Tomorrow, we go right back to work."
Earlier this week, the North Moore varsity volleyball team lost in four sets to Uwharrie Charter to open the season at home. The JV team lost in three sets.
The volleyball teams return home on Tuesday against North Rowan.
Pinecrest Opens With 3-Set Win
The Pinecrest volleyball team began its defense of the Sandhills Athletic Conference crown from a year ago with a win in three sets on the road at Seventy-First on Tuesday.
Scores for the match were 25-20, 25-14 and 25-20.
Leading the Patriots at the net was Chloe Modlin with 13 blocks and six kills. Her performance was added with seven kills and five blocks from sister Emmie Modlin, Seven kills and three blocks from Karsen Corbett and Grace Lyons with six blocks.
Defensively, Lexi Allen had 22 digs and Sophi Galford added 20 digs and a team-high 16 service points.
Madi Ringley had 17 assists.
Pinecrest returns home to play Richmond on Thursday.