Lining up a penalty kick early in the first half, Union Pines girls soccer senior Emily Bowbliss went against her normal routine when lining up the shot, and the play of Lee County goalkeeper Hannah Milford kept the ball out of the goal, but sparked something in the Vikings' forward that many teams have seen a lot of the last four years.
"You're never supposed to second guess where you always go, and I second guessed myself," Bowbliss said. "I was a little angry. I was like, 'OK, I need to make up for that,' and obviously I did with that first goal. I knew I needed to step up this week."
From there, Bowbliss looked to avenge the miss, and did so with four goals in a 10-1 win for the Vikings at home on Tuesday against the Yellow Jackets.
The matchup featured the last two undefeated teams in the Tri-County Conference as Lee County had opened the season strong, outsourcing opponents 15-1 over the first four games of the season.
"They were second in the conference and according to MaxPreps, they were fourth in the state," Union Pines coach James Horwath said. "We wanted to make a statement that we were No. 1 in the conference. Period. We were going to play hard regardless."
Against the play of the Lee County defense and Milford in goal, it took precision passing from the Vikings to score the 10 goals.
"We just had to figure out what they were doing and how they wanted to press us," Bowbliss said. "We figured out that we had to use short, connecting passes and obviously the top of the box was open where we got a few goals."
Several of the scoring chances for Union Pines (8-0, 4-0 Tri-County) came off corner kicks or quick passing.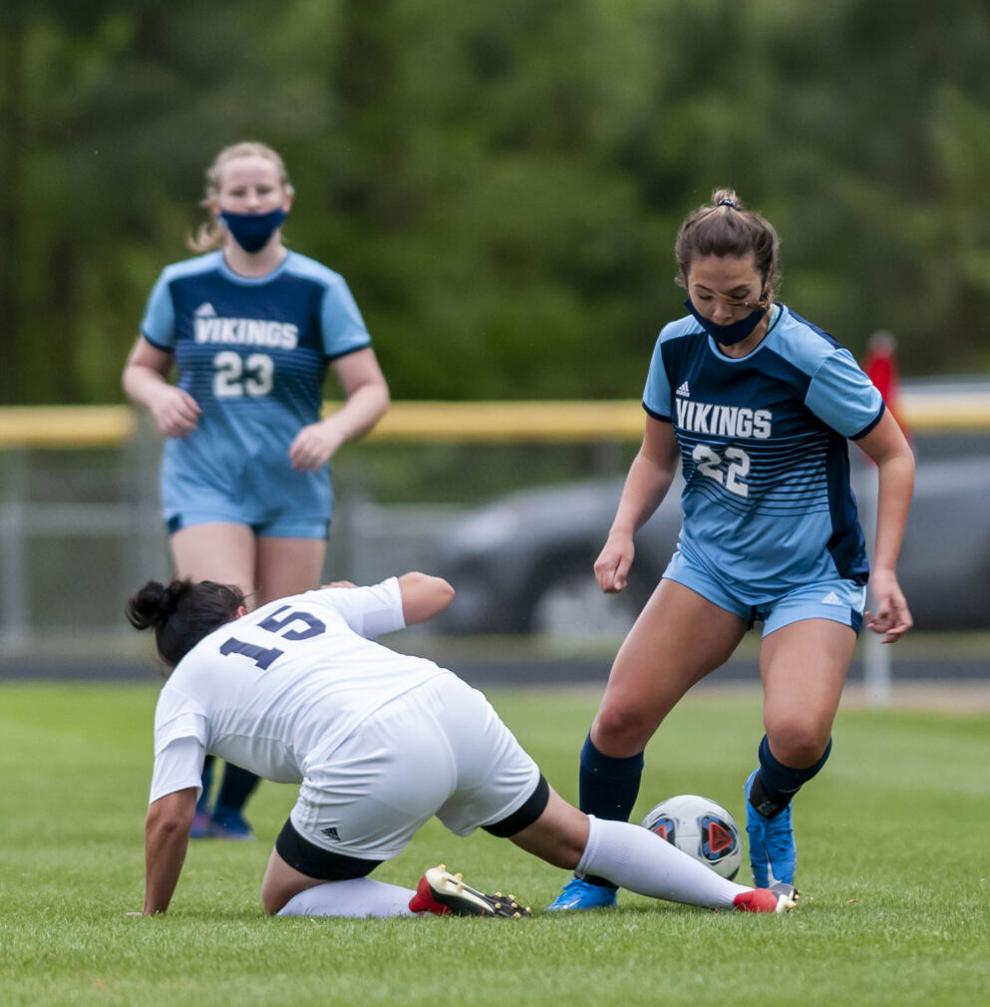 Bowbliss passed to Gianna Silvestri for a goal in the eighth minute to put the Vikings up 2-0. Then Bowbliss' influence led to the next two goals after her missed penalty kick. The first was one that the UNC Wilmington recruit said was a "pretty good" goal when she dribbled down the left side, and shook off a defender at the top of the 18-yard box for a strike that beat Milford in the top right corner of the goal. Bowbliss went for another scoring chance in the 18th minute, but the attempt to clear the ball after her shot by the Yellow Jacket (4-1, 3-1) defense bounced off a teammate and went to the back of the net for an own goal.
Union Pines took a 6-0 lead into halftime and built it to 7-0 on Bowbliss' third goal of the game off an Olivia Ivey corner kick in the 49th minute.
Lee County responded with a goal a minute later when Madison Perez headed home a goal on a perfectly placed pass from Gillian Garrison. It was the second goal that Union Pines allowed in conference play all season.
"It's just one of those things that happen. No, I don't like giving up goals, but that was one of those things where I'm not going to fault the keeper or the defense," Horwath said. "It was just a good play nonetheless."
Goals from Eva Reinhardt, Emily Bowbliss and Sage Dougherty closed out the match for the Vikings with a little more than five minutes left in the match.
"I will say that I am glad that the game was almost a complete full game because we've been ending a lot of games really early," Horwath said.
Horwath mentioned how this year's team features an added element on offense with players able to score on long strikes, as well as put the ball on goal in those attempts. Goals from Doughtery and Alexis Robbins came that method in the win on Tuesday.
"I think our offense has stayed the same from two years ago, but it's been us as players developing and obviously we are going to develop over the years," Bowbliss said.
Silvestri finished with two goals to go along with Bowbliss' four-goal performance.
The Vikings play their third game in three nights on Wednesday as they host Triton.
Union Pines Claims Tennis Win at Southern Lee
The Union Pines boys tennis team defeated Southern Lee 8-1 on the road on Tuesday.
The Vikings (3-0) dropped the No. 6 singles match but cruised in the other eight matches.
Luke O'Donnell and Caleb Downing each won their singles matches and teamed up for a win in No. 1 doubles. O'Donnell won his 34th career match in the contest.
Brothers Jake and Davis Moubry each won in singles play and claimed an 8-4 win in No. 2 doubles. Aaron Scodius won his No. 3 singles and No. 3 doubles match after teaming up with Jack Carmichael for the 8-1 doubles win.
Union Pines plays at Harnett Central on Tuesday.
Vikings Take First, Third in Tri-County Golf Match
Union Pines boys golfer Gage Hull carded a nine-hole score of 44 and finished one shot off the pace of Harnett Central's Hayden Mellott for medalist honors in Tuesday's Tri-County Conference golf match hosted at Carolina Lakes.
The Union Pines boys golf team finished six shots better than Harnett Central as a team to claim first-place honors for the team. On the girls side, Union Pines finished third.
Tommy Reinhardt posted a score of 46 and Konner Kinlaw and Landen Dougherty each shot a 47.
Sara Adams and Carolyn Coffey posted rounds of 48 and 49, respectively, as the only golfers to break 50 for the Vikings in the girls match. Union Pines finished nine shots back of Lee County in first place and eight shots back of Triton in second place.
Morgan Pettine added a 54 and Shawna McDonald had a 58 to close out Union Pines' team score.
The teams will compete at Quail Ridge next week.