Now is when the rubber hits the road for the Union Pines football team as it opens Tri-County Conference play hosting Harnett Central.
After splitting nonconference games, most recently with a loss last week to Forest Hills at home, the Vikings are aiming for a better showing the next five weeks where a loss could cost the team a postseason berth.
"In terms of trying to get a playoff seed, it has to be a conference championship or bust mentality, especially with the playoff seeding method that the state has implemented," Union Pines coach Lonnie Cox said. "It will be really difficult for a lot of 6-1 teams across the state to make the playoffs this spring."
Against the Yellow Jackets last time out, Union Pines' offense was held to six points after posting 47 against Cummings in the opener.
All of the scoring for Union Pines came in the fourth quarter, including one score off a fumble recovery and score from Dakota Spangler.
"We felt really good about Plan A going into the game with Forest Hills, and when they shut down Plan A, both our coaching staff and players went into a mode of panic," Cox said. "I take full responsibility for not having our team more prepared."
Cox also said that some missed opportunities and a lack of execution played a part in the stagnant offensive showing against Forest Hills.
Last season, the Vikings claimed a 27-24 win over Harnett Central to open conference play.
"Harnett Central runs a triple option attack, and it will be extremely important for us to play assignment football on defense this week," Cox said. "Defensively, they return a lot of starters and athleticism across the board. We will have to play really well on offense and execute better to have a chance to win."
The Trojans have dual-threat quarterback De'Andre McAllister behind center, a transfer from Southern Lee, and Jaden Bryant has moved from starting at quarterback last year to receiver. Devin Perry is expected to see a lot of carries out of the backfield.
On the defensive side of the ball, Kahlil McLean, E.J. Artis and Xavier Bailey bolster the front seven for Harnett Central.
Mustangs Return Home With Hunger
North Moore is coming off a nine-point loss to North Stanly last week in a game where the Mustangs controlled the ball, and showed flashes on offense that coach Andrew Carrouth wants to see.
Against the Comets, North Moore ran 18 more plays, and had an opportunity in the third quarter to take the lead before being stuffed at the goal line. The momentum from that showing has bled over into this week of practice preparing for South Stanly at home.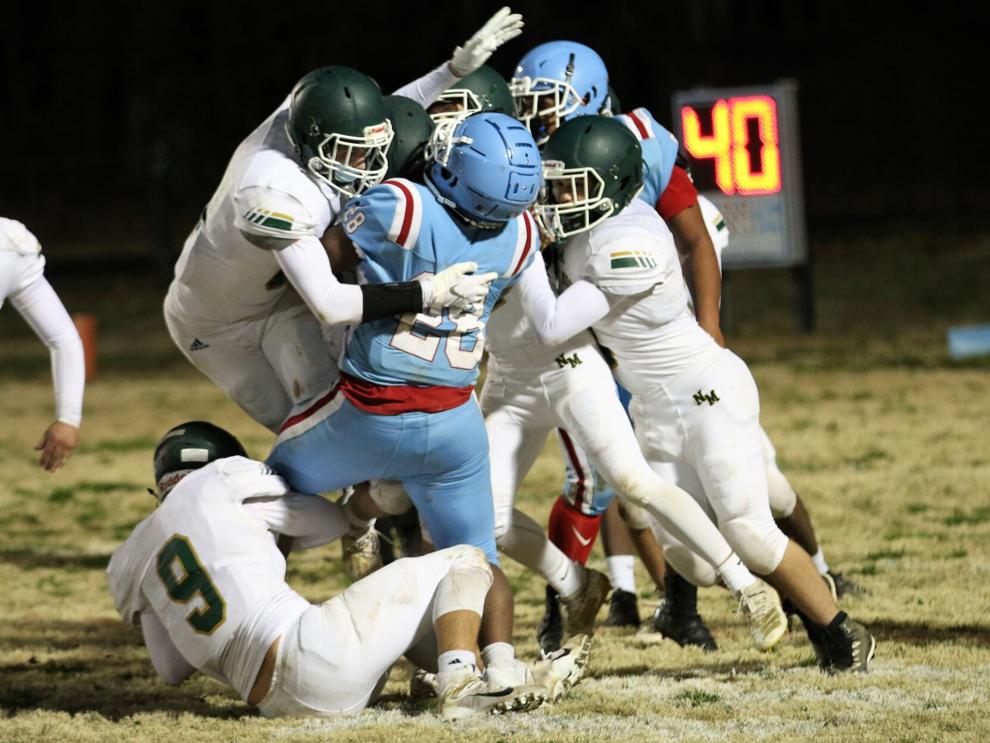 "The kids have come back real hungry," Carrouth said. "We talked after the game the other night that last week I thought he had three really good days of practice and one really bad day of practice. My challenge for them last week was to improve on that and have four really good days of practice. Monday was a really good day and we hope to follow that up with another good day around here because that's how we build it. It doesn't get fixed on Friday nights, it gets fixed on Monday through Thursday."
With two touchdowns and a safety on defense recorded last week, Carrouth said the offense is continuing to improve, and the defense has shown more toughness.
"It was good to see us get a little confidence offensively," Carrouth said. "Still not very clean with what we are trying to do, but we made some big steps the other night."
With the Mustangs' style of offense, Carrouth said he is starting to see his running backs understand that "four yards is a great football play."
South Stanly comes into the game at 1-1 off a loss to North Rowan last week. This team will provide a different challenge for the Mustangs than the first two opponents.
This will be the most advanced passing game that we have seen in the first three weeks so we've got to be ready for that," Carrouth said.
South Stanly freshman quarterback Drew Gaddy has passed for 280 yards and four touchdowns. Two seniors have been Gaddy's top targets, with Jaderian Smith collecting 128 receiving yards and Malik Kluttz has caught all four touchdowns.
"He's got a really good set of wheels on him and can really move if he gets threatened in the pocket," Carrouth said.
Pinecrest Hits the Road at Purnell Swett
The Pinecrest coaching staff has shouldered the blame for the miscues shown by the Patriots in the first two weeks of the season. The first week against Hoke County, the Patriots were able to pull out a win, but the mistakes were too much to hold off Richmond last week.
This week, Pinecrest goes to Purnell Swett, a team the Patriots haven't lost to since 2010, but the goal of getting better is where the focus is at.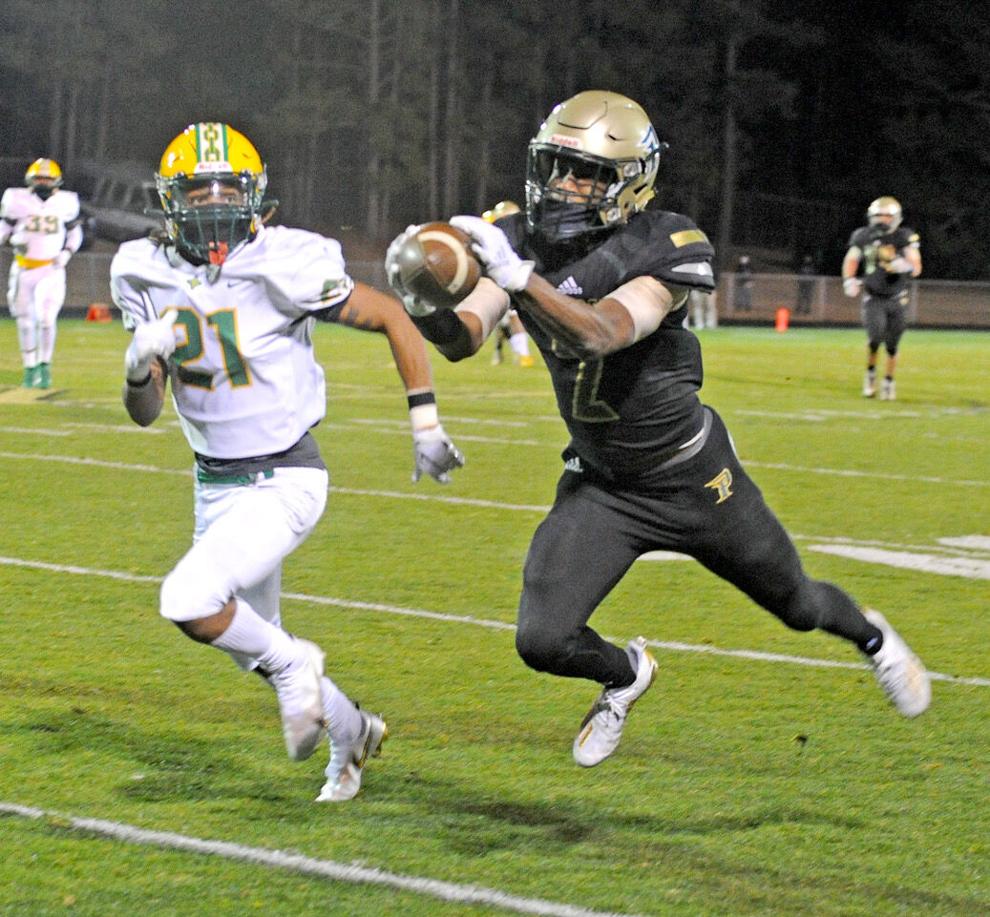 "The guys are hungry to get better. We've been very blessed to play two football games and in both of those games, there's been things that we as coaches need to emphasize more in practice that have come up in the games," Metzger said. "Obviously last game was a pretty big challenge, this week is going to be a big challenge, but we try to focus on us to control the controllables."
Purnell Swett went into COVID-19 protocol a few days into preseason practice, and missed the first game against Richmond. Last week, the Rams were able to play against Scotland, and lost 41-0.
"They are an extremely aggressive defense. They're flying around with a heavy blitz. They give you multiple looks on offense. That transfer quarterback is a tremendous athlete," Metzger said. "This is a physical team and they are hungry."
Nathanael Henderson, a transfer to Purnell Swett from South Carolina, takes over under center with a group of athletic receivers around him. Running back Zeke Snell is one of the leading returners from a year ago and will also see time on defense.
The Patriots' punt team gave Richmond two scores in the loss last week, and that area also has been a point of improvement entering this week.
"Obviously we want to alleviate that. It's been a challenging couple of weeks in that department so we have to fix those things," Metzger said.