To close out its home schedule, the Pinecrest football team gets a visit for another one of the storied programs in the Sandhills Athletic Conference.
After hosting Richmond three weeks ago, the Patriots opponent this week is Scotland sporting a 3-0 record as the Patriots look to stay in the conversation for one of the top two spots in the Sandhills Athletic Conference that would solidify an automatic playoff berth.
"As a high school football player, it's what you dream of," Pinecrest coach Chris Metzger said. "You're playing against a storied program that's undefeated and top 5 in the state, a lot's at stake with the abbreviated season."
Metzger said this group has been "lights out" for the last year preparing for situations like this through all the obstacles that have come their way. Even with that, the team boasts 180 student-athletes for a varsity team and two JV teams this fall.
"Their commitment has been unbelievable. We have the largest program in the state," Metzger said. "This game Friday night it's for the entire program. It's for all those that come before them."
This year's Scotland team brings a slightly different look with senior quarterback Tyler Barfield bringing an ability to pass to a team that has a history of a power run game. Barfield has passed for more than 750 yards and eight touchdowns this season.
Senior receivers Mandrell Johnson and Trey Chavis have been Barfield's top two targets this year.
The running game is led by senior Darrius Dockery and junior R.J. Nicholson with multiple touchdowns from the duo.
"The Barfield kid is doing an amazing job passing. They're throwing it around a lot to a lot of different guys," Metzger said. "It just forces the guys to read their keys, focus on the big picture and have great eye discipline."
Pinecrest (3-1) is coming off its biggest margin of victory this season after defeating Lumberton 52-0 on the road. In that win, the Patriots posted a 35-0 lead after one quarter.
"We focus on all four phases: special teams, offense, defense and the guys not in," Metzger said. "Having that phase (defense) at full strength will be unbelievable."
Scotland has won its first three games by an average of 37 points per game.
Pinecrest has won the meeting with the Scots the last two seasons, including a 36-28 win last year. Before that, Scotland had won the previous eight meetings.
Mustangs Take Win Streak to Spring Creek
After pulling away late last week against South Davidson, North Moore will see a lot of the same against Spring Creek on the road this week, looking to win its third game in a row.
"We've got to improve on because Spring Creek will be the same kind of MO that South Davidson had," North Moore coach Andrew Carrouth said.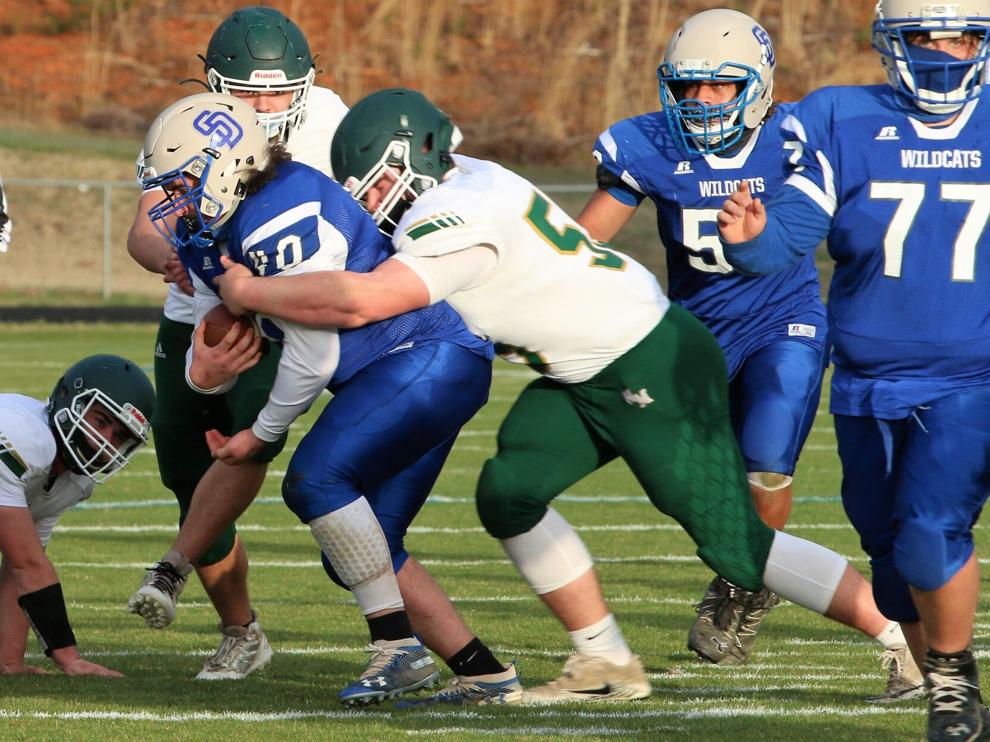 After playing South Davidson on Monday, Tuesday's practice for a short week ahead was focused on alignment and breaking down assignments for this week.
"A quick turnaround on this and that's the most important thing," Carrouth said. "They're more true Wing-T so they're going to pull guards and do all of that kind of stuff, but they are physical."
Spring Creek is the only non-Yadkin Valley Conference opponent on North Moore's (2-2) schedule. The teams met last year, and North Moore came away with a 40-0 win over the Gators.
Carrouth said this year's team is vastly different from the opponents last year.
With a conference matchup against North Stanly and a home game against Chatham Central coming after the Spring Creek game, momentum is building for the Mustangs. Focus is on each week, but there's still the thought of even more for the Mustangs.
"We kind of control our destiny. If we go out and take care of business in our last couple ball games then we might have a chance to play some more after that," Carrouth said. "We haven't talked a ton about the future, we're kind of focused on week to week. That's in the back of everybody's heads that if we go out and play the football that we know we can plan then we can reward ourselves with more stuff after that."
Vikings Looks To Rebound at Southern Lee
Moving on from its second loss of the season, Union Pines takes on Southern Lee on the road this week, and also is trying to keep its focus on the small picture in hopes it leads to a bigger goal.
"Our young men know that potentially two teams may make the playoffs out of our conference," Union Pines coach Lonnie Cox said. "Our goal is to go 1-0 every week for the next three weeks and get back into the playoffs back-to-back seasons."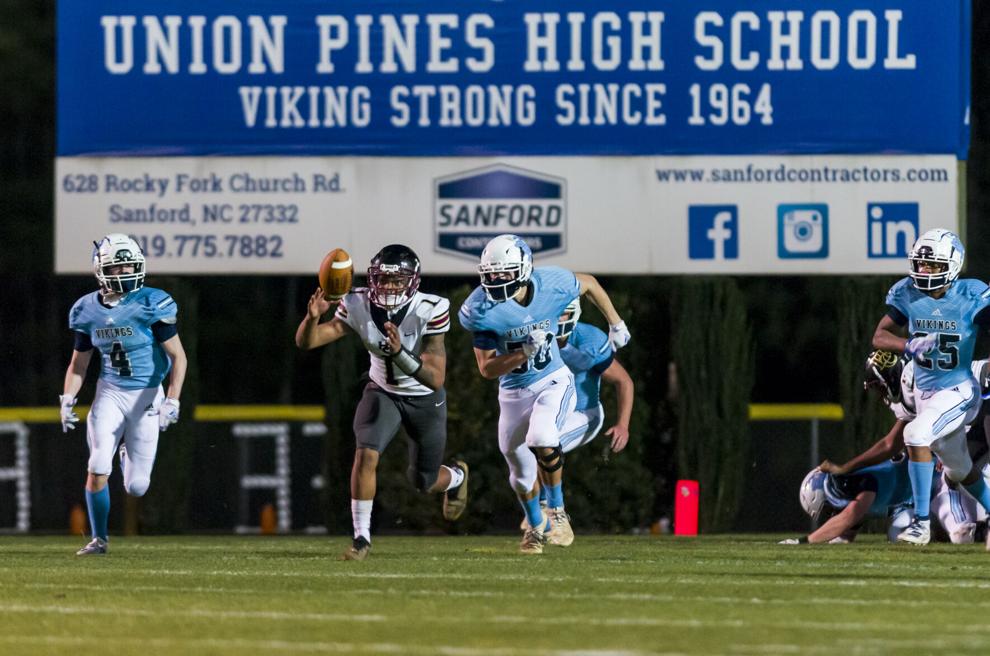 Union Pines hung close with Lee County early last week, but mistakes on the offensive and defensive side of the ball led to the blowout loss at home. Southern Lee is not a team that Cox and the Vikings are taking lightly.
Last season, Union Pines pulled out a 24-23 win.
"On offense, Southern Lee has a wealth of athletes and they do a good job of getting the ball into their hands," Cox said. "Kendal Morris may be the fastest and most elusive running back we may see all season; if he gets to the perimeter and has space, he will score."
Through four games this season, Morris is the Cavaliers' leading rusher with 343 yards and five touchdowns. In last week's 21-7 loss to Triton, Morris was contained to 22 yards on 13 carries.
Lee County rushed for more than 230 yards against the Vikings last week.
"We have to play better as a whole on defense," Cox said. "We did not tackle well on Friday, and we will have to do a much better job this Friday, especially since Southern has many athletes who can score when they get in space."
Junior John Wilson leads the Southern Lee defensive with 35 total tackles and also has a pair of sacks and two forced fumbles.
"Defensively, they are very similar to us in that they want to put extreme pressure on offenses and force them to make quick decisions with the ball," Cox said.
Cox is hoping to see more offensive production across four quarters on Friday.
"We flat out shot ourselves in the foot offensively against Lee County," he said. "From bad snaps, to bad reads, to a lack of execution, and ball security issues, we hindered ourselves from scoring points. Our focus has been to eliminate self-inflicted wounds."