The same message has been echoed for more than a week now and will continue to be used until next Friday for the Union Pines football team as it looks to secure a second straight state playoff berth.
The Vikings sit at 3-2, with a 2-1 record in the Tri-County Conference, and welcome one of the last two teams undefeated in conference play this Thursday with Triton visiting. The Hawks are 2-0 in Tri-County Conference play, and with two weeks left in the season, that's more than enough motivation for the Vikings.
"It is win or go home. We control our own destiny in that if we go 1-0 the next two weeks, we are going back to the playoffs," Union Pines coach Lonnie Cox said. "How much more motivation do you need than that?"
The game serves as the homecoming game for Union Pines as Triton comes in with a pair of conference wins over Southern Lee and Western Harnett. Both teams are working on a short week with games across the state being moved to Thursday, up from Good Friday as school will be out.
A matchup with Lee County awaits Triton on Monday, but Thursday's matchup features the two teams that are giving chase to the Yellow Jackets in hopes of getting a wild card spot.
"This will be a hard fought, physical football game with playoff implications on the line," Cox said. "The team that takes care of the football and sustains longer drives will win."
Union Pines is coming off a 40-7 win over Southern Lee on Friday, and had one of the better offensive showings in recent weeks.
"We had a much more balanced attack, as we had more rushing than passing yards," Cox said. "We were able to limit Southern Lee to four total possessions in the first half. That is an absolute ingredient for success, especially when our defense has played lights out."
Senior Kishon Davis rushed for 89 yards on 19 carries before being sidelined for an injury that led to freshman Russ Schaper toting the rock 15 times for 86 yards.
Union Pines scored two defensive touchdowns as Ahmad Jones and Josh Eberhart each had interceptions returned for scores. The Vikings' defensive unit will be tasked with assignment football to stop the run game this week as Triton runs a modern twist on popular formation. Through that, the Hawks look to control the time of possession battle.
"Triton is a spread, Wing-T team that uses constant misdirection to open up running lanes," Cox said. "They seek to limit other teams' offensive possessions and hang their hats on defense."
The Hawks' running game is led by seniors Malachi Batts and Kyle Dunkins, both with more than 200 yards rushing on the season. Batts has rushed for four touchdowns this season.
Freshman Javon Cowans rushed for 126 yards and a touchdown last week against Western Harnett.
Union Pines' 44-34 win last season over Triton snapped a six-game losing streak in the series for the Vikings.
Pinecrest Takes on Undefeated Jack Britt
A staunch Jack Britt defense awaits Pinecrest who is on a three-game win streak now with two weeks left in the regular season.
The most recent win for the Patriots came in a nail-biting 14-13 defensive victory over Scotland to stay in the playoff picture. The Sandhills Athletic Conference will have two teams as automatic qualifiers in the state playoffs, and the Patriots hope to be included in that group as opposed to sitting and waiting to see if they earn an at-large bid.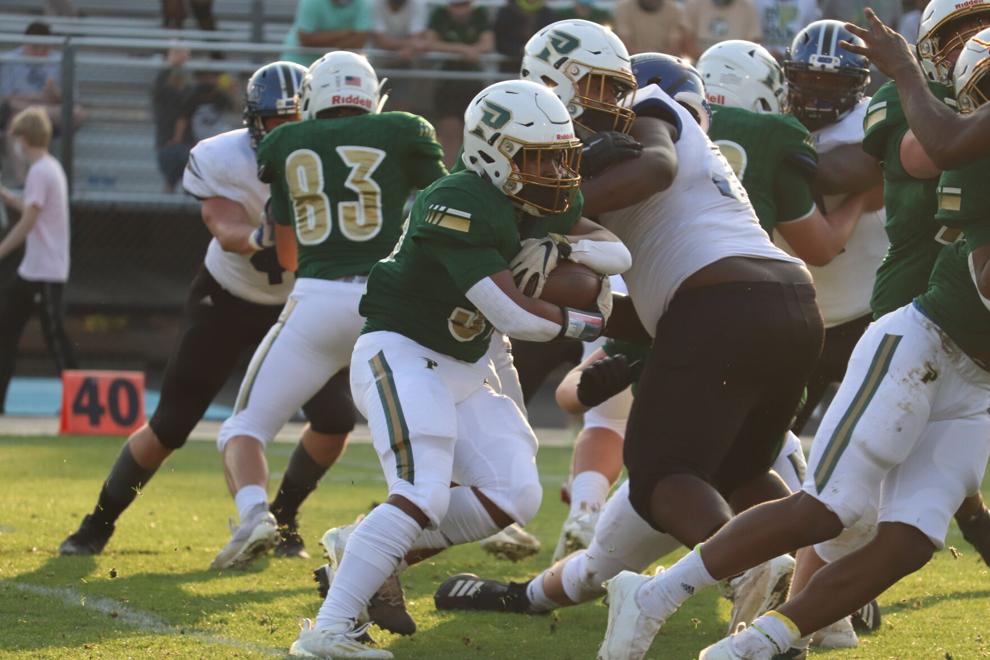 Richmond is 3-0 on the season currently and will miss the next two games due to being in COVID-19 protocol. The Raiders are scheduled to return to practice three days before its season finale against Purnell Swett.
"For us, every game is like the playoffs. Our guys understand how important it is for us to approach the next two games and make sure we do all the little things right," Pinecrest coach Chris Metzger said. "These guys have a professional approach to their preparation and they understand how tough it is to win in this conference. The biggest thing is their desire to win."
Jack Britt is another team in that situation as the 3-0 Buccaneers have had their bout with COVID-19 protocols that paused team activities after the opening game of the season. The Bucs have won their three games by a combined score of 67-2, holding the offenses for Hoke County, Purnell Swett and Seventy-First scoreless.
"They have a really good defense. They are fast, physical and well coached," Metzger said. "Statistically on paper they have the best defense in the state right now. It's them and Richmond undefeated at the top of our conference so this is another big game for us."
Pinecrest's offense went through changes at quarterback in the win over the Scots as Week 1 starting quarterback Braxton Barber was deemed ready to return to the field in the second half of Friday's game after suffering an injury against Richmond in Week 3. The run game accounted for nearly 200 yards, including 111 yards coming from Savion Kiser.
Jack Britt's defense, led by seniors Isaiah Mercado, Ronald Logan Jr., and Justin Broadhurst.
Pinecrest won the meeting last season, 17-15, over Jack Britt and has won the last three contests between the teams.
Pinecrest sits at 4-1 this season.
Mustangs Get Rematch With Comets
To go along with all the other changes to a typical football season that has come this year, North Moore and North Stanly will face off for the second time in five weeks on Thursday in New London.
North Stanly was the last team to defeat the Mustangs when the teams filled voids in their schedule to play in Week 2.
"It's been a good learning tool because with our unique offense and nobody does what we do, everyone lines up differently against us," North Moore coach Andrew Carrouth said. "Now we've got a carbon copy of how we think they will line up against us. The last time we played it was Week 2 for us and it was the first game for North Stanly so obviously there will be some differences."
That game counted as a nonconference affair for both teams, and this one will carry weight in the conference standings and a possible playoff spot.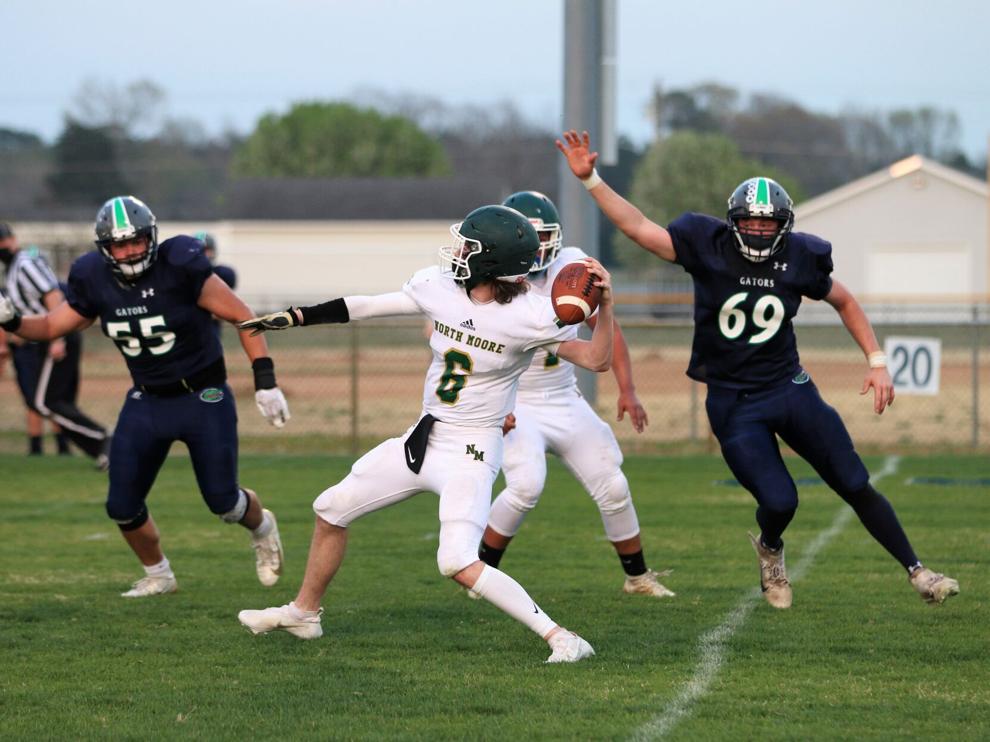 In the loss at North Stanly, North Moore had a chance in the third quarter to take the lead on the Comets but were stopped just shy of the end zone. North Stanly won the contest 24-15.
Carrouth credited early turnovers last time that put the Mustangs in a 17-point hole. North Moore also came out and was able to take advantage of being in a little better game shape in the last meeting, something that Carrouth said won't happen this time around with both teams well into conditioning.
Since the meeting, both teams have gone in an upward trajectory. North Moore has won its last three contests by an average margin of victory at a little more than 34 points per game, and North Stanly's margin of victory has been 34 points per game, including a 15-0 win over North Rowan last week in a meeting of the last two undefeated teams in the Yadkin Valley Conference.
"This group has had so much adversity thrown at them this season and they don't blink," Carrouth said. "There have been changes, but they don't blink. They just want this opportunity to go out there and play and that's the sign of a good football team."
The Comets' offense is based around the three-headed rushing attack of senior Christain Barber, sophomore Cameron Smith and junior Kyree Dykes. The trio has rushed for nearly 700 yards and 10 touchdowns.
The 24-15 defeat to North Stanly earlier this season was the closest margin of defeat for North Moore in the last five years.