There's something magical about the playoffs in nearly every sport., from Cinderella runs from lower seeded teams that seem to win in improbable situations game after game, to comebacks that are hard to explain.
Pinecrest girls soccer coach Corey Rice was somewhat at a loss for words when describing what his team had accomplished minutes earlier after a 2-1 comeback win over Ashley in the second round of the N.C. High School Athletic Association 4A state playoffs at home Thursday.
"I don't know if it's the field, but something happens here. Everybody was saying in the huddle that we're a playoff team," Rice said. "If you look at our record, we have eight losses, and that's the most losses of my Pinecrest experience. We have a different mentality in the playoffs and we make stuff happen."
Pinecrest travels to No. 3 Chapel Hill Monday in the third round. Start time is yet to be determined.
There might just be something about playing Wilmington-area teams in the playoffs that has provided two memorable comebacks. Last year in the 4A East regional final against Hoggard, Pinecrest scored four goals in the final 11 minutes of the game to defeat Hoggard and advance to the state championship game.
The opponent was different in the second-round win, but the lessons from that comeback were fresh for many of the Pinecrest (15-8-2) returners.
"Hoggard really showed us that when we all work together and put in the extra effort and intensity first, it can really go our way," junior Savannah Dunahay said. "As my coach says, it's the fight before the game."
No. 11 Ashley (16-3-2) took the lead with more than 14 minutes to go on a strike from senior Mackenzie Milliman.
Still with a zero on the scoreboard, the sixth-seeded Patriots had a prime chance after a foul was called on the far right wing of the field, just outside of the 18-yard box for a free kick.
Dunahay stepped back several paces from the ball, stared up into the sky and took a few deep breaths before powering through an arching pass into the mass of people just in front of the goal.
"I was visualizing, because it's really important to me to visualize how I'm going to hit the ball and how it was going to work out," Dunahay said. "I was aiming for the back post, because usually when it's all crowded, it's going to hit off someone and go in. Everything's under pressure and that's usually when it works out."
Her visualization became reality as the ball went through the outstretched arms of Screaming Eagles goalkeeper Molly Maguire, redirected off the head of Pinecrest freshman Anna Depenbrock and then off an Ashley defender to find the back of the net with 7:41 left.
"It brought a sense that we can do this and we can come back. We can go on and win this championship, or have the chance," Dunahay said.
It was a new ballgame from there for the Patriots.
"Sports are emotional. You could see the emotion get sucked out of them as soon as we tied it up," Rice said. "I felt like that was our best soccer when we tied it up."
With fresh life and an extra pep in their step, Pinecrest looked for the go-ahead goal, and found it less than five minutes later on a look ahead pass from the midfield to senior Keaton Clark, who chipped a shot over Maguire in goal that caromed off the crossbar and down into the goal to silence the Screaming Eagles.
"It's such a good feeling to be mindful and not think of any other life distractions," Rice said of the playoffs. "Just feel the flow of the game, and these big games, there's so much excitement and energy. We're able to dial it in and focus, and do stuff that's magical."
Ashley added pressure offensively and had two shots in a matter of seconds stopped by Pinecrest keeper Haley Kallgren and the right upright with more than a minute to go to protect the lead.
Union Pines' Season Ends to Williams
The Union Pines girls soccer team was defeated by Williams in the second round of the N.C High School 3A state playoffs after the Bulldogs struck fast and early for the 2-1 win Thursday in Cameron.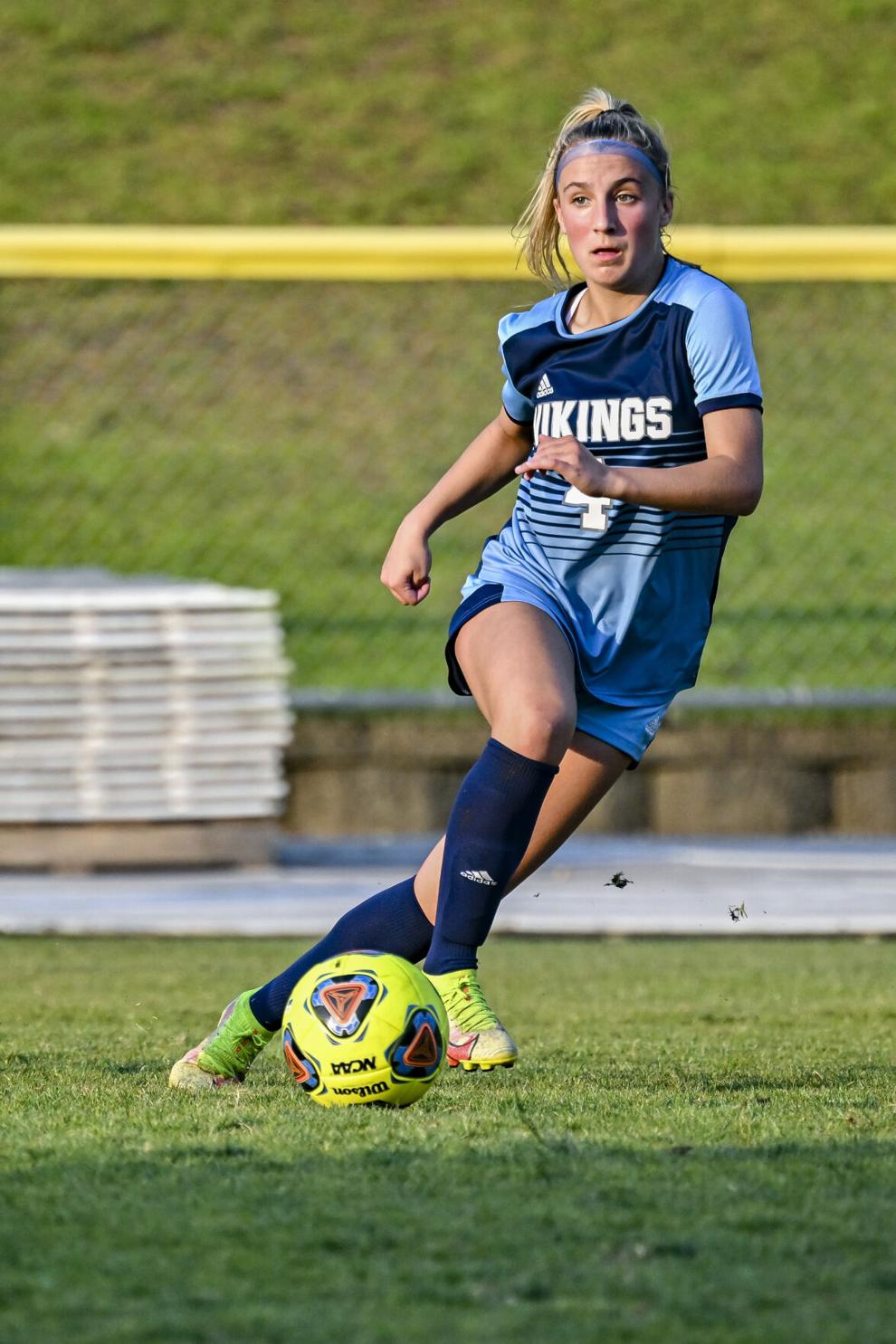 "I think they did an outstanding job. A lot of teams fight through injuries, and there were various moments throughout the season where we were down starters. They fought well for everything they had, and we had our opportunities to put them away and hate to say it but that's the game," coach James Horwath said.
The Bulldogs (14-5-2) and the Vikings (19-4-2) were scoreless and neither side could produce a goal until the 34th minute when Oliva Vandre scored on a kick tha,t sailed over the Vikings goalie to give the Bulldogs the lead.
The Bulldogs extended their lead on a free kick by a Bulldogs player to put Williams up 2-0. With 10 minutes to go, Union Pines' Taryn Pekala broke free from two defenders and knocked it in to give the Vikings their first goal of the game, but the defense of the Bulldogs was too much as they held on for the win.
"She is a strong-willed player, and she works hard and there are some things she still needs to learn. She's a dynamic player and she'll grow into that, which is good," Horwath said.
Three seniors have played their last high school game of their career. Taylor Leach, Lexi Robbins and Gianna Silvestri have all left their mark on this program, Horwath said.
"Leadership, energy and I'm extremely proud of them and be able to watch them grow and develop as players. Taylor is going to play DII. That's great and Lexi and Gianna have other opportunities going for them I just feel bad because it's still going to hurt no matter the round and their leadership and energy is gonna be missed next year and Eva Reinhart is gonna be a senior with leadership on her mind," Horwath said of his seniors.