In a second half where the Pinecrest football team's defense shined, two plays by junior Noah Hartford epitomized the "bend but don't break" mentality that the defense plays with.
"He's been so close so many times. To finally make that play is pretty special," Pinecrest coach Chris Metzger said.
Hartford finally found himself in the right place at the right time, moments after the Patriots took the lead with less than two minutes to go in the game, as his outstretched hands reeled in an underthrown ball by Scotland quarterback Tyler Barfield to seal a 14-13 Sandhills Athletic Conference win at home.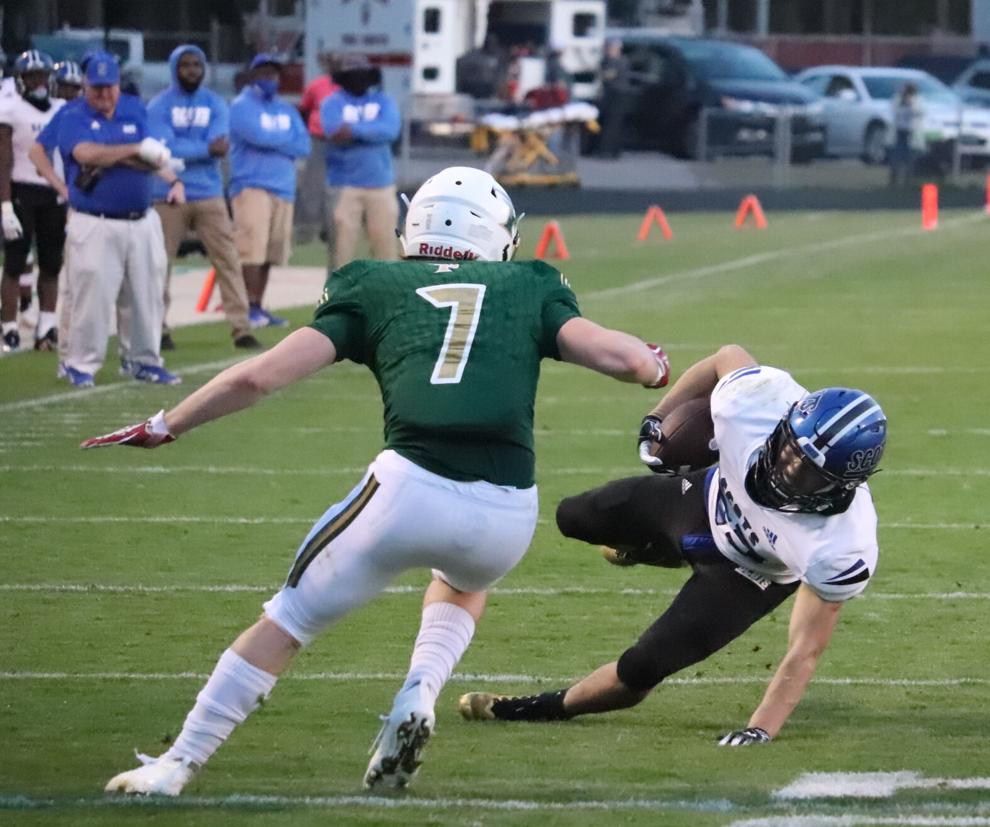 Hartford's interception was the second of the second half for the Pinecrest (4-1) defense that limited the Scots (3-1) to no points and less than 100 yards of total offense after halftime.
"They came to play. I'm really super proud of the guys," Metzger said. "It was a bend but don't break defense. They went through some adversity. The defensive staff did an unbelievable job of having the guys prepared."
Both teams failed to score in the first and third quarters of the defensive battle, and the only scoring in the final quarter came as Pinecrest marched down the field with less than six minutes to go. With the offense looking to milk the clock trailing 13-7, Pinecrest used heavy doses of running the ball, and didn't attempt a pass until late in the series.
After missing the last two games nursing an injury suffered in the second half of the loss to Richmond, Week 1 starting quarterback Braxton Barber went under center in the second half.
"I told the coach, 'my ankle is feeling great.' I went in a little shaky, but we put it together in the end and won the game," Barber said. "As soon as I stepped in, the offensive line was like, 'we've got your back, you follow us and we will win this game.' And that's exactly what we did."
Fighting through some discomfort, Barber connected with Semet Cobb for a 35-yard touchdown pass with 1:33 left in the game, and Jeff Yurk kicked the extra point through to put the Patriots on top.
"We saw something we liked and we took it and we put it in to put the game away," Barber said. "You give him the ball, he's going to make a play."
Cobb scored both touchdowns for Pinecrest in the win, with his 8-yard screen and score from quarterback Brodie Karres tying the game at 7-all midway through the second quarter.
"I left everything out on that field," Cobb said. "We as a team, we made history. We did this together with our defense, offense all the way to the third string, fourth string; we would not have been able to do this without them."
Cobb had 50 yards receiving to lead Pinecrest. After catching passes from both quarterbacks in the win, Cobb said chemistry was there no matter who was throwing the passes.
"Nothing has changed. During October, me, Brodie and Braxton had a 7-on-7 team going on," Cobb said. "Me and Braxton; me and Brodie, we have the chemistry going on. Nothing changed."
Both of Scotland's scores came out of the wildcat formation. Last year's starting quarterback turned receiver Mandrell Johnson scored from 24 yards out early in the second quarter, and Johnson handed off to Trey Chavis for a 4-yard touchdown run on the drive following the first Cobb score. A missed extra point from Scotland on the second touchdown loomed large in the contest.
On Scotland's first offensive drive of the second half after starting with a short field off a Pinecrest fumble, Hartford made his first turnover-forcing play. Barfield scrambled under pressure and floated a pass into coverage that Hartford batted to senior linebacker Nick Garbark in the shadows of the goal line.
Both teams jockeyed for field position the remainder of the half before Pinecrest's scoring drive.
Barfield passed for 157 yards and had two interceptions.
Senior running back Savion Kiser had 111 yards rushing to lead Pinecrest.
The win is the third straight win for Pinecrest in the series over Scotland, and also keeps the Patriots one loss back of Jack Britt and Richmond in the Sandhills Athletic Conference standings.
Pinecrest plays at Jack Britt on Thursday.
"I'm going to go home and celebrate. Tomorrow I'm going to get back after it," Cobb said.
Defense Leads to Offense in Union Pines Win
Union Pines' defense once again played a big factor in a victory for the Vikings as three touchdowns came off Southern Lee turnovers in the 40-7 Tri-County Conference win.
Senior Ahmad Jones had three interceptions in the game, with two coming back for touchdowns in the win for Union Pines (3-2). Josh Eberhart had an interception for a touchdown as well against Southern Lee (2-3).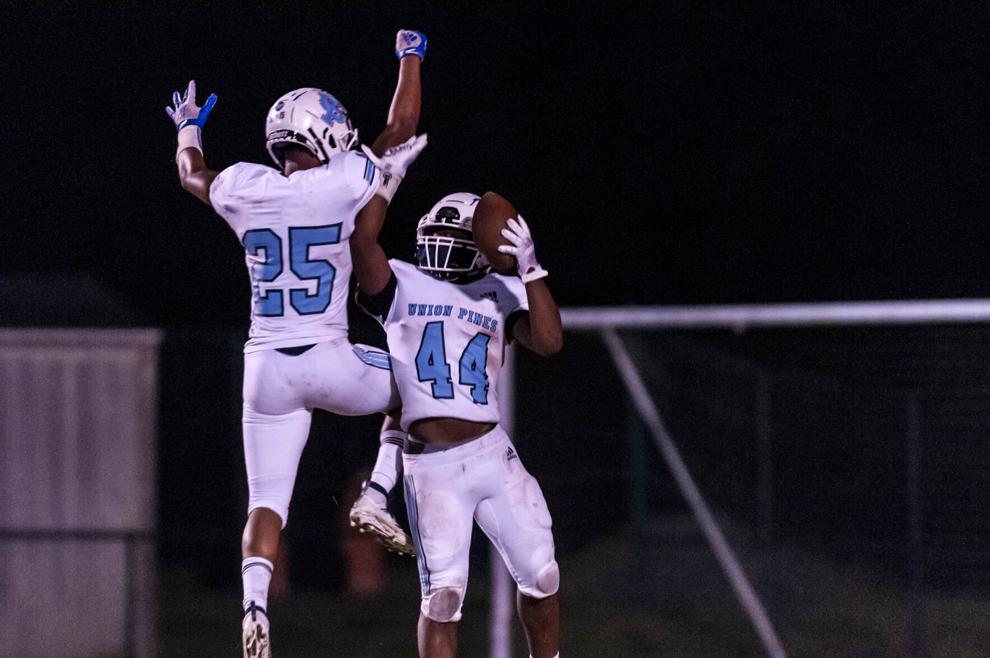 "Our defense dominated tonight. I'm really proud of how well we bounced back," Union Pines coach Lonnie Cox said. "We ran the football much better tonight and we were able to limit their possessions, especially in the first half. Takeaways and running the ball well are absolute ingredients for success."
Russ Schapher scored two rushing touchdowns and Micah Monaghan connected with Kelby Wright for a passing touchdown.
Sean Blatz connected on two field goals early.
Union Pines will play at home against Triton on Thursday.
Mustangs Keep Rolling At Spring Creek
Justis Dorsett continued his scoring tear as of late with another strong outing in North Moore's 48-16 win at Spring Creek.
Dorsett followed up his showing from the win at South Davidson on Monday with three touchdowns against the Gators on Friday. North Moore (3-2) built a 27-0 lead after Dorsett's second touchdown of the game with 5:23 left in the second quarter.
"I'm proud of them after they were smacked in the mouth at the start of the game last week (Monday)," North Moore coach Andrew Carrouth said. "We wanted to be the more physical team out there tonight."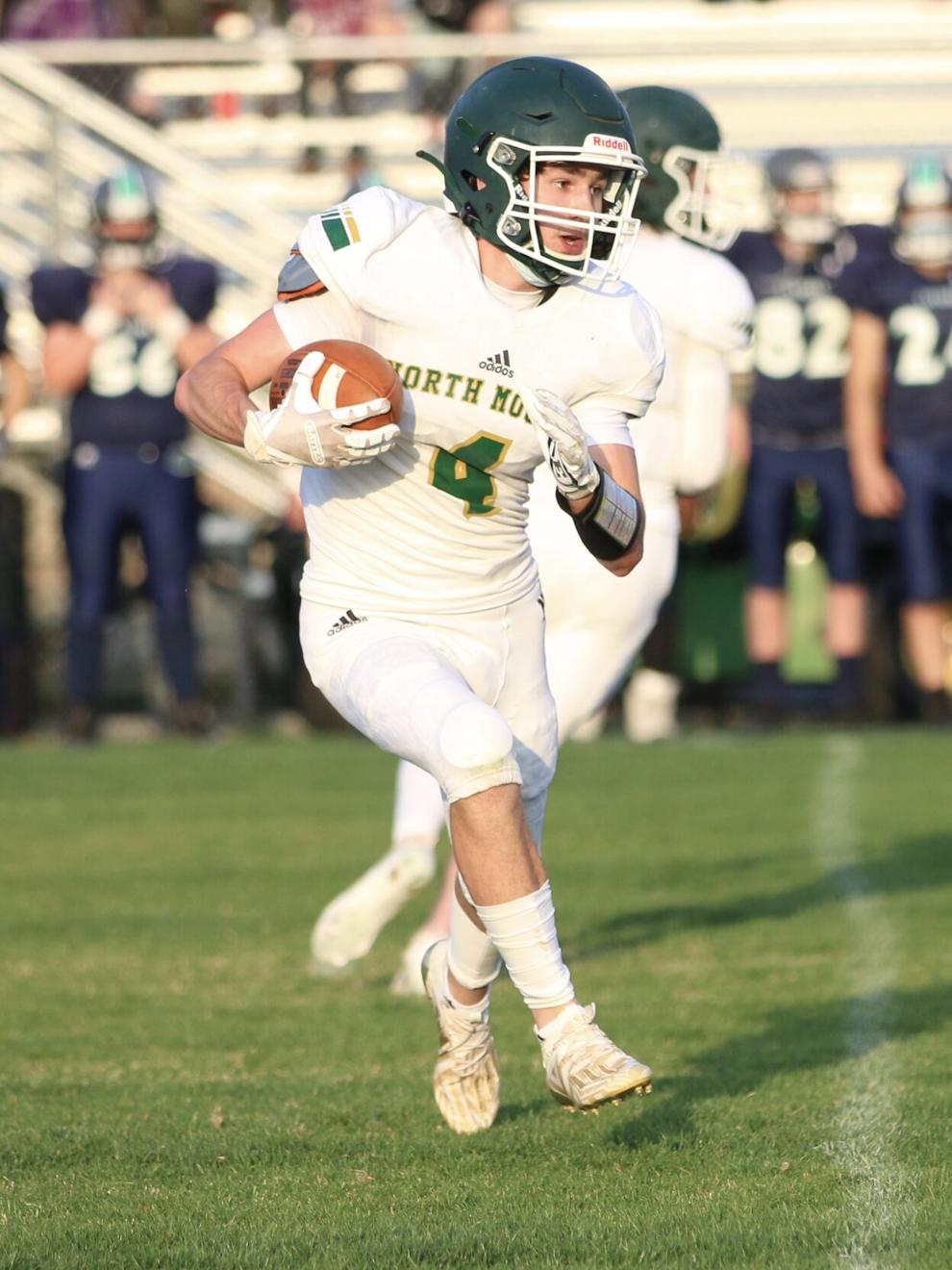 The lead grew to 34-8 at halftime after a third score from Dorsett.
Isaiah Cassidy scored two touchdowns in the first half and Jaleak Horne added another score in the first quarter.
North Moore's Dakota Morgan tossed three touchdowns in the win, two to Dorsett and one to Cassidy. The passing burst came after adjustments were made by the North Moore staff.
"Spring Creek was able to take some things away that we wanted to do," Carrouth said. "Dakota had a big night throwing the ball and a lot of that goes to the offensive line for giving him time and good protection."
Brian Loza scored early in the third quarter to make it a 41-8 lead. One final score came from Javorey Wall with two minutes left in the third quarter to cap the Mustangs' scoring.
North Moore goes to North Stanly on Thursday, the last team to defeat the Mustangs in Week 2. With North Stanly defeating North Rowan, a lot is on the line for the Mustangs who have one loss in Yadkin Valley Conference play.
"These guys have earned a chance to play in a big ballgame," Carrouth said. "This is our chance to continue to play for a conference championship."