In what came as a surprise to many in Week 1 of the high school football season when the days were longer and the temperatures were higher, the Pinecrest football team defeated the reigning state runners-up, Rolesville, on the road.
The temperature will be a lot cooler the second time these two teams meet to kick off the N.C. High Schools Athletic Association's 4A state playoffs, and the Patriots again have something to prove, but this time at home.
"I think people now, the kids specifically, feel like we need to let people know that it was not a fluke," Pinecrest coach Bob Curtin said. "They are still a great team, but we are a really good team and when we do things collectively and in unison, we are a tough team to beat. We will prove that again this Friday night."
Kickoff is set for 7:30 p.m. in Southern Pines.
A lot has changed in the 11 weeks since the teams faced off when Pinecrest pulled out a 40-36 win. No. 13-seeded Pinecrest's (8-2) offensive scheme has changed at quarterback with sophomore Mason Konen filling in due to injury. Rolesville closed out its tough conference play with a pair of close losses to Heritage and Wake Forest. The 20th-seeded Rams (5-5) finished in fourth place, two losses behind a three-way tie for first place, in the Northern Athletic Conference.
The Patriots run game has remained front and center for the offense behind a bulldozing offensive line through the transformation of the offense.
"It's no longer a power option, but we've got three or four really good running backs, two exceptional ones," Curtin said. "They can spread the field laterally a lot better than we used to."
The two "exceptional" backs are junior Nahjiir Seagraves and senior Xavier Dowd. Dowd has a team-best 11 touchdowns and 790 yards on the ground, including one touchdown coming in the Week 1 win. Seagraves has more than 760 yards rushing and 10 scores.
Knowing each time he steps on the field it could be his last snap at the high school level, Dowd is prepared to find another gear to lead the Patriots.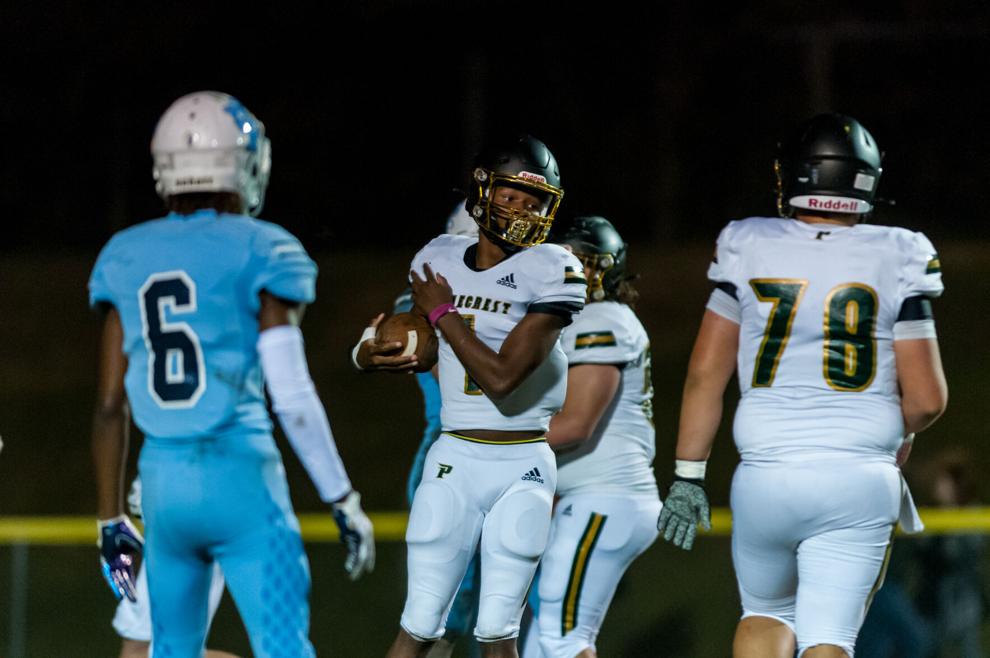 "We've just been trying to see basically who the best is. We've got to show each other who is best," Dowd said of the healthy rivalry he and Seagraves share. "We've got to go hard and take no plays off. We have to finish until the game is over."
Rolesville has refined its execution on both sides of the ball this season, but the one constant for the Rams has been the offense that has scored less than 34 points in one game this season.
"They execute some plays a lot better than they did in Week 1. Their routes are more crisp. At least against Heritage and Wake Forest, they showed they've got some good deep routes they run to near perfection," Curtin said. "They don't run it a whole lot, but it's enough to stretch the whole field."
Senior quarterback Byrum Brown has passed for more than 2,300 yards and 28 touchdowns, and is the team's second-leading rusher with more than 800 yards.
Junior Noah Rogers has been Brown's top target with 14 touchdowns grabs.
The senior rushing duo of Antonio Crim Jr. and Davon Dunn have accounted for a combined 23 rushing touchdowns.
The Rams' defense has allowed opponents that finished with a winning record to score more than 36 points per game on average.
While this is the first game of the playoffs for Pinecrest, the team has carried a playoff mindset into its last five games that came after back-to-back losses to Grimsley and Richmond.
"That was a midseason adjustment that we had to talk about. When you lose two games back-to-back to quality teams, you talk about finishing games, establishing dominance up front and then not coasting and letting teams creep back," Curtin said. "With Rolesville, they put a lot of points up so they've always got the opportunity to be in a game."
In that two-game skid, the Pinecrest offense struggled to find itself while working through the quarterback change. Now the Patriots are comfortable with the direction and style the offense takes the field with.
"We're doing way better than the two losses. We've done a lot to improve from those two losses," Dowd said. "I'm not going to be playing with them. I've just got to finish hard and strong."
The Patriots last hosted a playoff game in 2019, a 26-9 loss to Reagan. The last home playoff win for Pinecrest came in 2018 against Panther Creek.