Scoring points on seven of its 11 offensive drives, and posting its first shutout of the season, the Pinecrest football team started to show signs of being closer to the form the team wants to be at Lumberton on Saturday.
And the timing is important with a matchup with Scotland at home this week.
"It's getting closer. We're playing one of the winningest programs in the state next week. If we want to get to that level, where these boys have set their goals, we've got to go out there and compete and play the game of our lives," Pinecrest coach Chris Metzger said following the 52-0 win on the road over Lumberton.
The Patriots (3-1) scored a touchdown on its first six offensive possessions, all of which came in the first 20 minutes of the game, to take a 42-0 lead over Lumberton (0-2) before the Pirates defense got a stop and Jeff Yurk missed a 38-yard field goal.
With a fresh rotation of players on both sides of the ball, Pinecrest kept continuity as the team as a whole had more than 300 yards of total offense, and the defense held the Pirates to under 50 yards of total offense.
"It's great to get to play everybody. We're blessed to have 180 kids in the program. Those younger kids getting to play and the older kids getting to play is huge," Metzger said.
In the first quarter where the Patriots scored quickly thanks to short punts leaving a short field for the offense, four touchdowns came from Brodie Karres. Karres, who scored on a 2-yard quarterback keeper to start the scoring barrage with 10:12 to go in the first quarter.
Karres passed for two touchdowns, the first to Semet Cobb for a 38-yard score and the second to Cullen Martin on a 24-yard screen, over the final six minutes of the first quarter as the Pinecrest advantage grew to 35-0 in the closing moments of the opening quarter.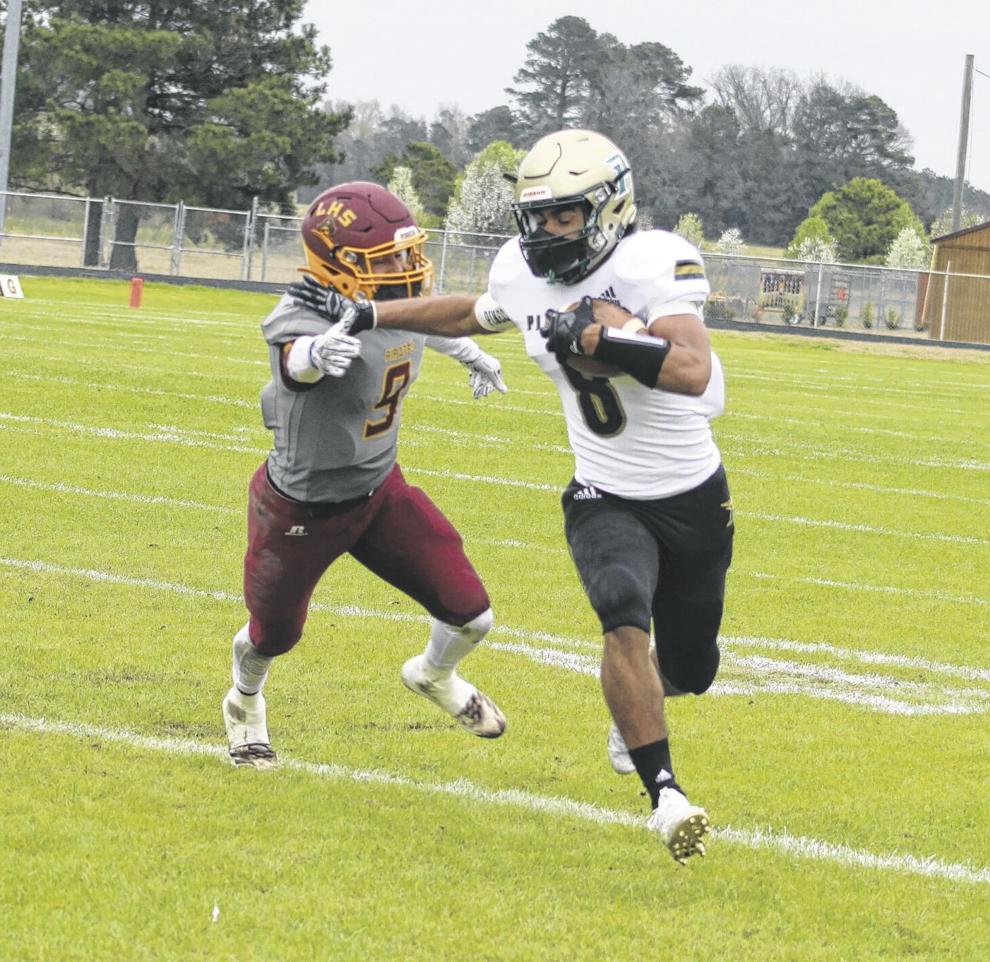 Xavier Dowd scored a rushing touchdown for Pinecrest in the first quarter as well.
In the opening half, Lumberton's offense was limited to 11 yards passing and in total lost 16 yards rushing.
The Pirates had two drives that lasted more than four plays, operating under the direction of backup quarterback Darral Echard, who stood in for older brother Russell, who was nursing an injury.
"They had a really good passing attack and we wanted to neutralize that," Metzger said. "His brother is a really good player, probably not as seasoned as him. We felt like we could get after him early. Once the coaches saw that, that was a focal point and the defensive coaches did a good job with that."
Echard went 4-for-16 passing and was hit for a loss on five rushing attempts.
After Pinecrest's offense came off the field without points for the first time with less than four minutes to go in the second quarter, the defense stepped up.
Senior linebacker Bruce "Mac" McFadden stepped back in coverage and snagged an errant pass from Echard, and returned the interception 25 yards for a touchdown to make it a 49-0 lead that carried over into halftime.
McFadden and fellow senior linebacker Gibson Macrae's disruption played a big part in the overall defensive effort in the win.
"It's great to have him and Gibson back. We didn't have them a couple weeks ago," Metzer said. "Just to have them both in there really benefits us.
"We just watched a lot of film, and just knew the blocking schemes and we put a few systems in, a spy system, and that really benefited us."
Yurk got redemption for his earlier miss late in the third quarter when he drilled a 31-yard field goal with the running clock ticking down to push the advantage out to its final margin.
Seven Patriots got a carry in the win, led by Bryant Spearman with 87 yards on five carries. On the offenses' final, and longest, scoring drive, the junior had all 75 yards on three plays as he found the end zone on a 1-yard dive with eight minutes to go.
Karres had 52 yards rushing on three carries, and also passed for 62 yards on two completions.