After playing the likes of the four state-playoff level teams in the final six weeks of the football regular season, Pinecrest prepares for a team that is just as capable as the Richmonds, the Scotlands and the Jack Britts to open the state playoffs.
The green-and-gold clad Patriots open the 4AA N.C. High School Athletic Association football playoffs at Apex Friendship on Friday at 6:30 p.m. North Moore plays at defending 1AA state champion East Surry at 7 p.m.
"That's the blessing to be in the Sweet 16. That's the mindset. We're in the Sweet 16 and every week is 1-0. And how do you get 1-0? You pay attention to details," Pinecrest coach Chris Metzger said. "They know that this is an undefeated football team that plays in a very sound conference where they have won every game."
No. 8-seeded Pinecrest was one of the final teams in the state playoff field with a 5-2 record in the regular season. After seven games of talking on some of the state's best teams in Sandhills Athletic Conference play, the Patriots from Apex Friendship welcome Pinecrest for the first home playoff game in the school's short five-year history.
"This is a loaded team," Metzger said. "They've got a lot of momentum and for us it's incredibly important that we go up there and take care of business. We've got to get off the bus with the right mindset to go 1-0. We can't worry about anything but that."
Apex Friendship (7-0) won the South Wake Conference by using a solid passing attack and stifling defense, Metzger said. That set of Patriots is the top seed in the 4AA East.
Senior quarterback Sam Lersch passed for more than 1,700 yards and 17 touchdowns. Seniors Payton Bloom and Drew Miller each had 500-plus yard receiving years and they combined to grab 13 of the team's 19 passing touchdowns.
Metzger said it's a "very complex passing attack."
The defense has held opponents to less than 13 points per game, and has forced 17 turnovers, including 12 interceptions. Former North Moore head coach and Union Pines assistant coach Greg Simmons is the defensive coordinator for Apex Friendship.
"Very similar to a Richmond and a Scotland," Metzger said. "I think it's important that we've had that experience and to come out on the right end of that experience. It's important that we put together four quarters and we win the turnover battle."
Pinecrest is coming off a 28-0 win over Seventy-First, a game that Metzger said was treated like a playoff game as a win was needed to secure a playoff spot for the Patriots.
When Pinecrest made the playoffs in the 2018 season, Pinecrest opened the run with a win and claimed three wins on the road before falling in the regional final. A playoff run this year from the Patriots would have to come on the road as well, but with less of a following at the games than two falls ago.
"We've just got to go on someone else's field and focus in between the white lines," Metzger said. "All the other stuff, we can't let that affect us."
Mustangs Ready For First Playoff Appearance Under Carrouth
For the first time under coach Andrew Carrouth and the first time in the high school career for all the players on the roster, the North Moore football team heads to the state playoffs.
Coming off a historic win over Chatham Central to lock in the playoff spot, the seventh-seeded Mustangs' first-round matchup is a test with a road matchup at No. 2 seed East Surry.
"Anytime that you have the opportunity to go to the playoffs, it's special," Carrouth said. "Especially this year with a reduced number of teams in the playoffs, it's really quite the honor.
"We're going to make sure we try to enjoy every bit of this week and prepare as well as we can to play a really good football team on Friday."
The Cardinals (6-1) claimed the Northwest Conference title, with their only loss coming to 2A powerhouse Reidsville early in the season.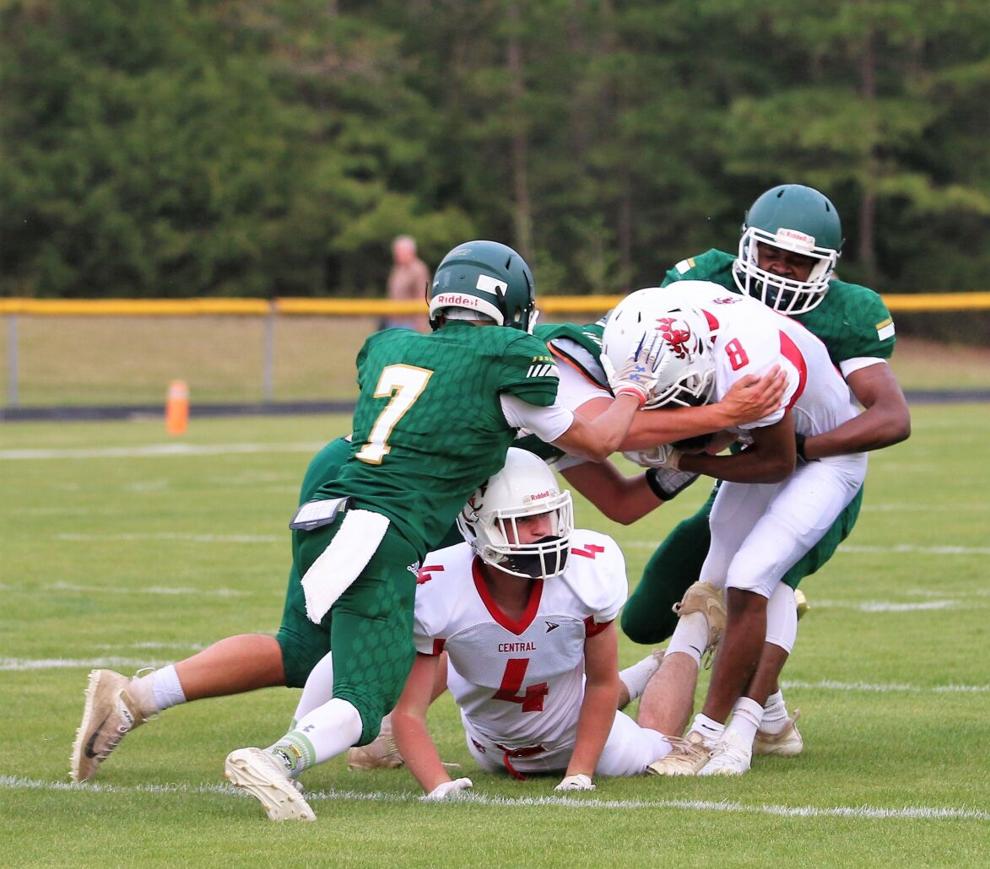 East Surry's offense features sophomore quarterback Folger Boaz, the little brother of Jefferson Boaz who led the team to the state title last year. The younger Boaz has passed for 1,090 yards and 11 touchdowns this year. The team also runs for an average of 150 yards per game, led by senior Luke Bullington's 670-yard total with 14 touchdowns.
A major part of both facets of the offense features Benji Gosnell, a junior tight end who has committed to Ohio State.
"We will get a spread offense that is very physical," Carrouth said. "It will be something that I don't think we can compare to anything we've seen all year."
North Moore (4-3) rushed for more than 600 yards in the season finale against Chatham Central, with a state-record-tying eight rushing touchdowns by Justis Dorsett. Carrouth expects the Cardinals will look to meet the Mustangs at the line to limit that part of their offense.
"They're really well coached. They don't make a lot of mistakes on their own," Carrouth said. "Defensively, I think they are going to stack the box on us and try to put as many people at the point of attack as they can and try to stalemate us up front. It will be a different defensive line than what we've seen this year."
Chatham Central passed for more than 400 yards, and now with another pass heavy team coming up, Carrouth said that small changes need to be made to limit the deep ball on defense.
"We've done a really good job of rallying and tackling, and we want to make sure East Surry has long drives," Carrouth said.