After the four-team conference tournament was canceled in the final week of the girls lacrosse regular season, Pinecrest and Union Pines decided to play one last time this season on Wednesday.
The game provided both teams a chance to play some younger players, and allowed some players to play in different positions. Among those was Pinecrest defender Kate Van De Car who scored four goals in the 12-9 Pinecrest win.
"I have to thank my coach for the opportunity. I've been dreaming of getting goals in a game, Van De Car said. "I wanted to help my other teammates get goals as well. I didn't want it to just be me. I wanted to share the excitement."
After transferring to Pinecrest following her sophomore year, Van De Car has only seen time on the other end of the field with the Patriots. Coach Cameron Vestermark said that breaking down how offenses operate on defense might have played a part in her success attacking the goal.
"You think that your defenders so much you think they understand it," Vestermark said. "It had me thinking, 'I've been playing her at defense all this time. Maybe I should've played her on offense.'
"Defenders don't get a whole lot of spotlight. There's not a whole lot of stats, they don't get pictured a lot, and just to see her shine and see her take it was fun."
Two of Van De Car's goals came in the six-minute stretch in the second half where the Patriots pushed a 7-5 lead out to 10-6.
The last time the two teams met, Union Pines coach Tim Ripley was pleased with his team's first-half performance as they trailed by three goals at the break before the Patriots ran away in the second half. With the same spread at halftime on Wednesday, Union Pines was able to hang around in the early stages of the second half.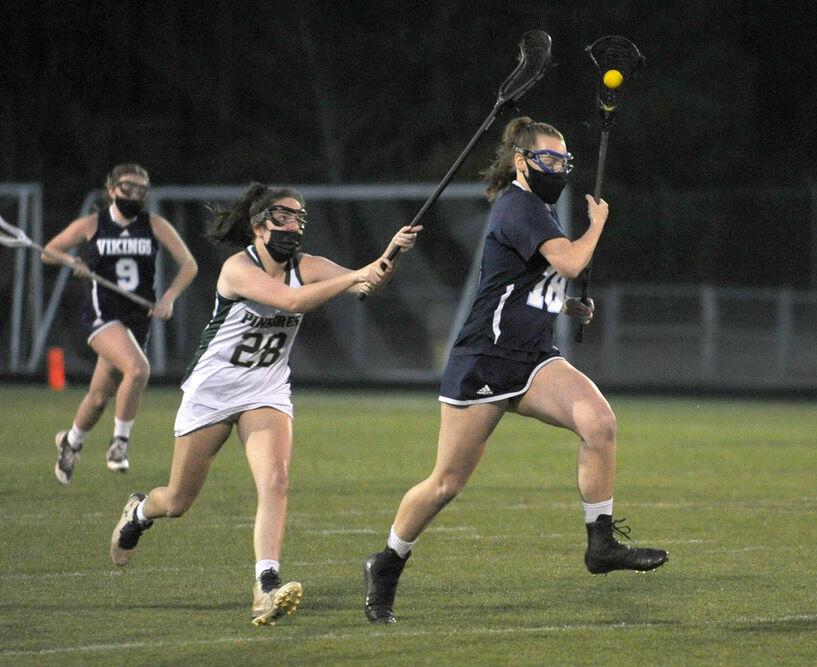 "Overall, this was a fun game," Ripley said. "We wanted to go out on a win, but we played them three times and it was good every time."
The Vikings scored first in the second half with a goal from Gabby Wood with 18 minutes left to make it a 7-5 Pinecrest lead. Following a goal from Van De Car, Union Pines cut the lead to 8-6 on a River Britt goal.
Pinecrest was playing a lot of younger defenders in the match, and Vestermark said seeing the showing put on by the Union Pines attack was a good experience for the younger players.
"Our girls are learning that's what they have to expect when a team is down at halftime. If you want to win as a team, you have to push forward," Vestermark said. "I saw so much heart. Some of these girls have sat behind some of those starters for most of the season, but it shows how much they have grown."
Reece Hicks scored twice and Allie Hirst scored once over the final 11 minutes of the match as Pinecrest stretched out its lead to 12-8 with less than three minutes to go in the match. Jillian Manzo scored the final goal for Union Pines.
In the first half, Hirst posted a hat trick in the first 12 minutes of the game as both teams went back and forth scoring. The freshman midfielder had four goals in the win.
Goals from the Vikings' Melody Ripley, Wood, Janie Spicer and Jane Crosser helped the team stay within striking distance early on.
Two goals from Julianna Schultz aided the trio from Hirst and the pair of scores from Ven De Car before the intermission to give the Patriots a 7-4 lead.
Carmen McDowell had a goal for Union Pines as the program concluded its second season.
"We've got some rebuilding to do, losing a lot of seniors, but we're starting to create a culture where lacrosse is becoming a normal sport at the school," Ripley said. "We've got players coming up from the middle school that know we have a team. For a second-year team to finish third in the conference, I feel good about that."
Pinecrest will wait for its playoff seed and first-round matchup that will be revealed on Saturday.
Pinecrest Soccer Blanks Hoke County
In the penultimate game of the regular season, the Pinecrest boys soccer team claimed a 5-0 win over Hoke County on the road on Wednesday.
Senior Nick Vences scored twice, once off an assist from Gerald Ofosu and another on a penalty kick.
Seniors Max Hildebrand, Gray Smith and Johnny Grgurevic each scored a goal as well.
Pinecrest closes out the regular season at Richmond on Thursday.