The Union Pines cross country teams dominated from start to finish on Wednesday at home for its senior night and season-opening meet.
The Vikings hosted Triton, and Emily Bowbliss and Hudson Hayes were first-place finishers for Union Pines over their teammates on a course that coach Nat Carter felt was a good test to start the season.
"Our course is probably one of the tougher ones that we have to run on," Carter said. "We will get a better picture next week."
Bowbliss started her senior year with a time of 20:57, and was the first of 13 Union Pines runners that crossed the finish line before Triton's first runner made it to the end.
"My sophomore year was kind of like my big year and now I'm just trying to finish everything out and run good and hopefully get in the 19-minute range," she said. "It was exciting to run this. Our course is different this year. Normally it's not a fan-favorite course, it's very hilly and hard, but I thought this race went really well."
In her last cross country race last season, Bowbliss finished 91st in the state 3-A championship in a time of 21:04. Making a return trip to regionals and states is goals that Bowbliss has set for herself.
"I think if everyone starts running their best and we start peaking, we can probably make it to regionals and hopefully to states as a team," Bowbliss said.
"Emily, she's just a natural athlete," Carter said.
The race provided a look at the future for the program as Carter said he saw a lot of promising younger runners in both the varsity and JV races.
Rounding out the top-five finishers for Union Pines was sophomore Laura Caviness in 23:46, senior Rebecca Strong in 23:57, sophomore Eva Reinhardt in 24:12 and freshman Clara Kellner in 24:18.
Hayes' finish in the boys race was a change in the typical finishing order for the team as he edged out fellow junior Giovanni Rincon.
"I was a little bit surprised with the guys. Gio has been running No. 1 mostly for us, but Hudson has been really training. With him coming in first, that was really impressive," Carter said.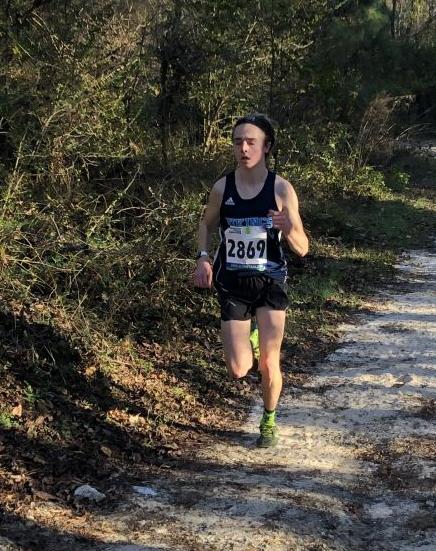 The top finish comes on the heels of a preseason where Hayes took advantage of the lack of things to do. Hayes was clocked in a time of 17:51.
"I've been just trying to train really hard and get faster," Hayes said. "I was just wanting to get better and get higher up on the team."
With his personal focus on getting back to states and posting a better finish, he also wants to see the team continue on the successes from past seasons.
"I want to qualify for states and get in the top 30 and maybe get a time of 16:30," Hayes said. "I think we are capable of qualifying for states as a team this year and then keeping up our conference streak.
The top 11 runners for Union Pines finished before Triton's first runner did.
Union Pines' top-five finishers with Hayes included Rincon in 17:54, followed by junior Ender Limb in 18:13, senior Richard Hoover in 19:51 and junior Ryan Yarter in 20:21.
"This helps get the guys some experience with meets before they go to something bigger," Hayes said.