Watching Ashanti Fox and Latrell Allmond playing basketball for The O'Neal School this season, the pair showcase their athleticism, skill and the intangibles that a star on the hardwood exudes.
They look confident and calm on the floor, even in high-pressure situations, mirroring the demeanor a veteran high school junior or senior would display. But when looking at the youth in their faces, it's obvious the pair aren't seasoned veteran high school players. In fact, they have more time in high school ahead of them than behind them.
"It's so fun as a coach to watch development. To see what Ashanti is becoming and to see what Latrell will become is so much fun," O'Neal boys basketball coach Jeff Haarlow said. "As a coach and as a teacher, that's what you want to see, that development."
What helps them lead the Falcons in basketball this season is that both Fox and Allmond spend their weekends and summers competing on the AAU circuit with high-level programs.
Fox, a freshman and two-year starter at O'Neal, plays for the Carolina Flames, and eighth-grader Latrell Allmond is a member of Team Loaded 2026.
They take those lessons from the tournaments and translate over into their games against the local competition.
"You've just got to stay focused. Playing with bigger talent and then coming to private school 2A competition, you've got to stay focused," Fox said. "I think I bring the enthusiasm and the energy to this team."
Competing in some of the most competitive AAU leagues in the country has led both players to see the floor and the game better when they come back to play for O'Neal.
Fox, a 5-foot-6 guard, adjusted well to the varsity level to be one of the leaders for the Falcons last year as an eighth-grader when the team made a run to the second round of the NCISAA state playoffs.
Her ability to drive through traffic and score or pass off the dribble has been a big factor in the success of both her and her team over the past two seasons. That is just scratching the surface on what the lightning quick lefty brings.
"She's a very talented athlete, one of the most talented I've seen come through here in terms of her explosiveness and how she can attack the rim. I think the next level for her is her decision making," O'Neal girls basketball coach Lulu Brase said.
"She brings the ability to be a combo guard. She can play point, she can play the two and I think she's at her best when she's running the floor at the two. The big thing for her is to evolve as a jump shooter and to become consistent there."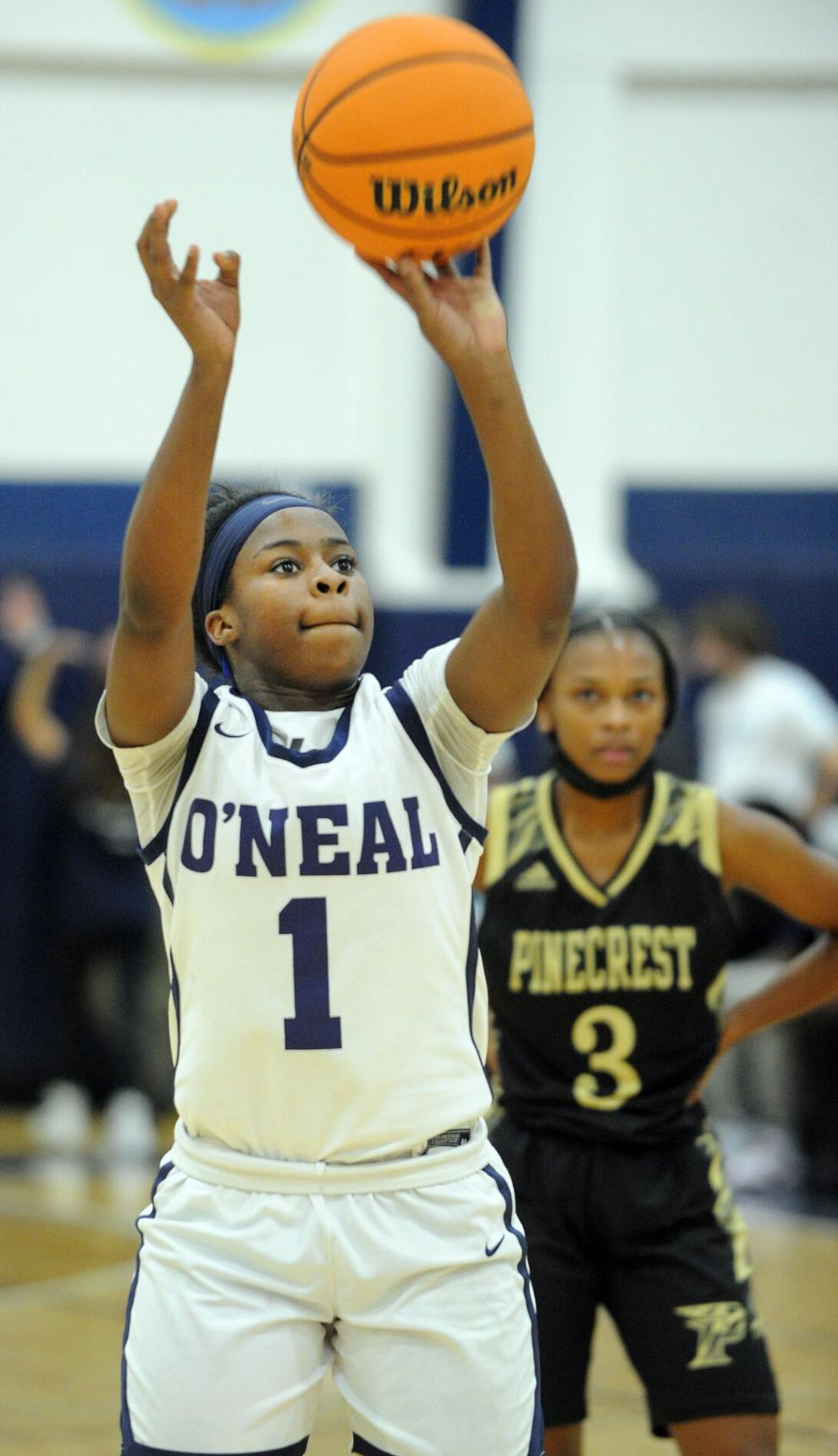 Brase added that her young guard is one of the best on-ball defenders in the area, in her opinion.
Fox has been around the process of college recruitment and understands that one-dimensional players aren't the ones that college coaches go out looking for.
"I like playing defense because college coaches don't look at just offense. They look at what you can do on defense," Fox said. "If you can't stop nobody on defense, then they don't want you.
"I feel like I can do everything. Drive, shoot, pass, play defense, get charges."
Fox' ability to keep her cool in high-pressure situations, and also be a leader for the team in those moments, make her stand out on the court when the gym can get loud. That all goes back to her AAU experience, Brase said.
"She's played in a lot of big games. Although she is young in age, she's got a lot of experience, especially in the AAU circuits, of playing in competitive games and what we would call big games," Brase said. "In those moments, she's able to bring a little bit of calm, a little bit of experience on the court in that sense. An environment is never going to get to her, which is something that makes her special."
The transition that Fox quickly learned through last season is where Allmond finds himself now in his first year with the Falcons.
Towering at 6-foot-6 with the ability to stretch the floor with his outside shot on occasion, Allmond stands out, but still has parts of his game he would like to develop over the next few years.
"I'm just trying to get used to the fast-paced movement. Everything is moving faster so I've got to get used to that," Allmond said. "Other than that, I was already playing at a high level. Just had to get used to the fast-paced ball."
Haarlow said that Allmond brings an energy to the O'Neal boys basketball program he hasn't seen in his four years at the helm of the program. It's been a rare occurrence to have such a young player to lead and be a source of energy for the Falcons, in his eyes, and leadership comes naturally to Allmond.
"We try not to put any of that on him, but he's a natural leader and he makes everybody around him better," Haarlow said. "He brings a post presence. He's somebody that can score in the paint. With his basketball IQ, he really understands the game and knows how to play. He makes everyone around him better and he happens to be 6-6, 6-7. He's a special kid, no doubt."
The feeling of being a leader is reciprocal for Allmond and the older players on his team, which includes nine juniors or seniors.
"It's actually a great deed. They can get some knowledge from me, and I learn a ton of knowledge from them," Allmond said. "I'm new to this system, so they help me go out in practice to run the sets right and being in the perfect spots to score the ball."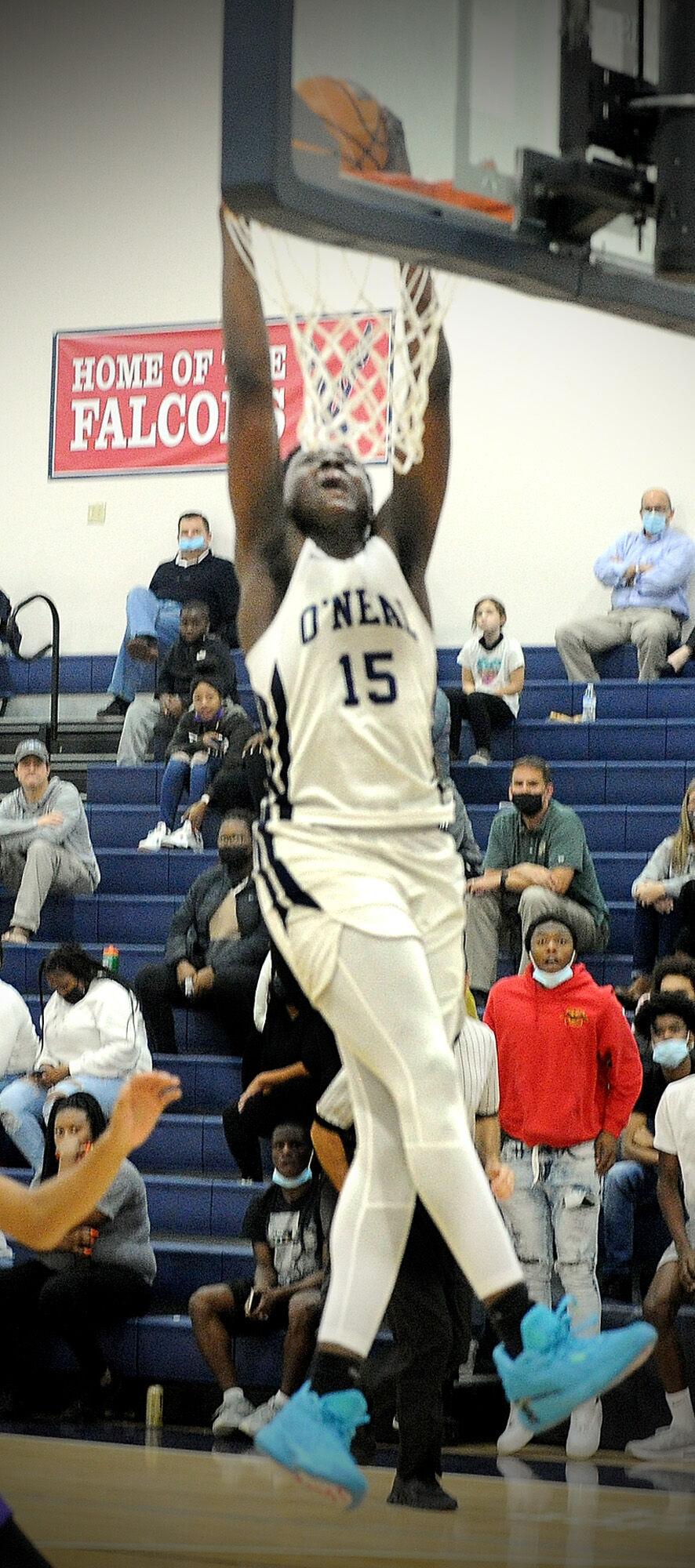 Allmond began turning heads last summer, growing more than four inches to stretch his frame. Around that time was when he first was able to dunk the basketball while still a student at Southern Middle School.
Adding into his growth spurt is that the Allmond family revolves with the rotation of a basketball. His mother, Latasha Allmond, played high school basketball at Pinecrest, his older brother helped to develop his game further in recent years, and he quickly began to catch attention of basketball evaluators that now have him ranked inside the top-10 nationally in the 2026 class across several scouting services.
"I've been going through that this whole summer. Me traveling basically all across the U.S. traveling playing basketball, eyes are looking everywhere," Allmond said. "But that doesn't really change my game at all."
Both players have goals set for high levels of college basketball and possibly professional basketball after that, evident with their understanding of their game and what needs to develop both in their physical and mental game before graduating high school. Fox understands she needs to work on her right-handed dribbling a little more to make her hard to stop on the drive, and Allmond wants to become more consistent with his outside jumpers.
"I need to be a better jump shooter, obviously. That's what makes me so versatile. Once you get that jumpshot down pat, it's kind of hard to guard somebody like that," Allmond said. "I'm just trying to give the defense something so they don't know what my next move is."
Their coaches see them as standout players that don't usually come through the programs, or in the area, that often. But just because there are high hopes for the future, both see the time as now to find success for O'Neal basketball.
"I want to win a state championship. I think we could get it this year if we try hard enough," Fox said.