Many members at the Country Club of North Carolina are working the 73rd U.S. Junior Amateur championship in a volunteer capacity to make the championship operate smoothly. Others are taking in the championships as spectators.
And then there's some like Ken Dyer who are donning the red caddie bibs to provide local insight of the club's Dogwood and Cardinal courses to visitors to the club. But how Dyer came about being a caddie came from his connection to his former club in Pittsburgh as he was on the bag for 18-year-old Aidan Oehrle.
Dyer was a member and a friend of Aidan's father, Scott, at Longue Vue Club in Verona, Pennsylvania. When Aidan shot his round of 69 to qualify, Scott knew who to call.
"It was about a month ago and my immediate reaction was, 'I'll help. I'll caddie,'" Dyer said.
Dyer has been coming to CCNC since 1985 to compete in tournaments, and he moved to the club earlier this year after being a member for more than three years.
An incoming freshman at Lehigh University, Oehrle missed the cut after two rounds of 81 and 78, but used the knowledge of the course, and the greens from Dyer to close both rounds with back nines of 37 and 39.
On the greens, especially, was where Dyer's help came in very useful.
"He helped me a lot with the grain because I'm not used to it being from Pittsburgh," Oehrle said. "It was kind of hard to know what to do so we spent a lot of time the nights before we were out here 2 to 3 hours working on speed."
And even with the 47 year difference between Dyer, 65, and Oehrle, 18, the mood was light with friendly banter Tuesday when the two would sit back and look over a shot.
"It was all about golf, but I think now I've made a new friend," Dyer said.
While Dyer has known the family for a while, Friday was the first time that he and Aidan had met.
"I trust him. I don't know him as I just met him this week," Oehrle said. "A heard a lot of good things and everyone said to have a good time with him."
"And we had a great time," Dyer said in response.
Subway Feed Volunteers Through the Championship
Through wet and rainy conditions Monday, and the muggy heat on the sunny days ahead in the forecast, nearly all of the on-course volunteers for the 73rd U.S. Junior Amateur championship are battling the elements to help with the operations of the championship with long shifts without being able to leave their post.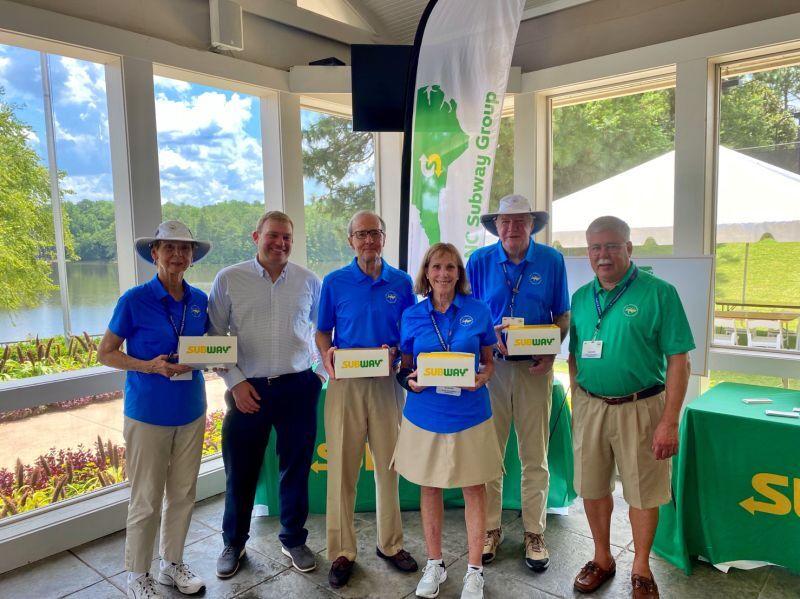 A donation of 2,000 meals for the more than 600 volunteers of the championship by Subway helps those volunteers throughout the entirety of the championship.
"CCNC is grateful to Tim Mann and Subway for its support," said Don Hunter, chief operating officer for CCNC. "Volunteers are a vital cog in coordinating all of the player and competition services for a large-scale event like the U.S. Junior Amateur."