Being a member at Pinehurst Country Club, Patty Moore is very familiar with where not to hit golf shots on Pinehurst's No. 2 course, but on the front nine of Monday's final round of the PGA National Club Championship Moore's ball gravitated to those spots she looked to avoid.
"I definitely had an advantage being from the golf course," she said. "Sometimes it will bite you where you know you're not supposed to hit it. Nobody else was putting a big move on."
Despite the unlucky breaks on the front nine, Moore used a second-round 70 on Saturday in the event to run away with a nine-stroke victory over fellow Pinehurst member Toni Notaro for the Senior Women's Division, who posted the low round of the final round with an 80. Moore's three-round total was 237 to Notaro's 246. The event brought in more than 300 club champions from across the country. Moore was the overall club champion for Pinehurst, while Notaro was the senior champion.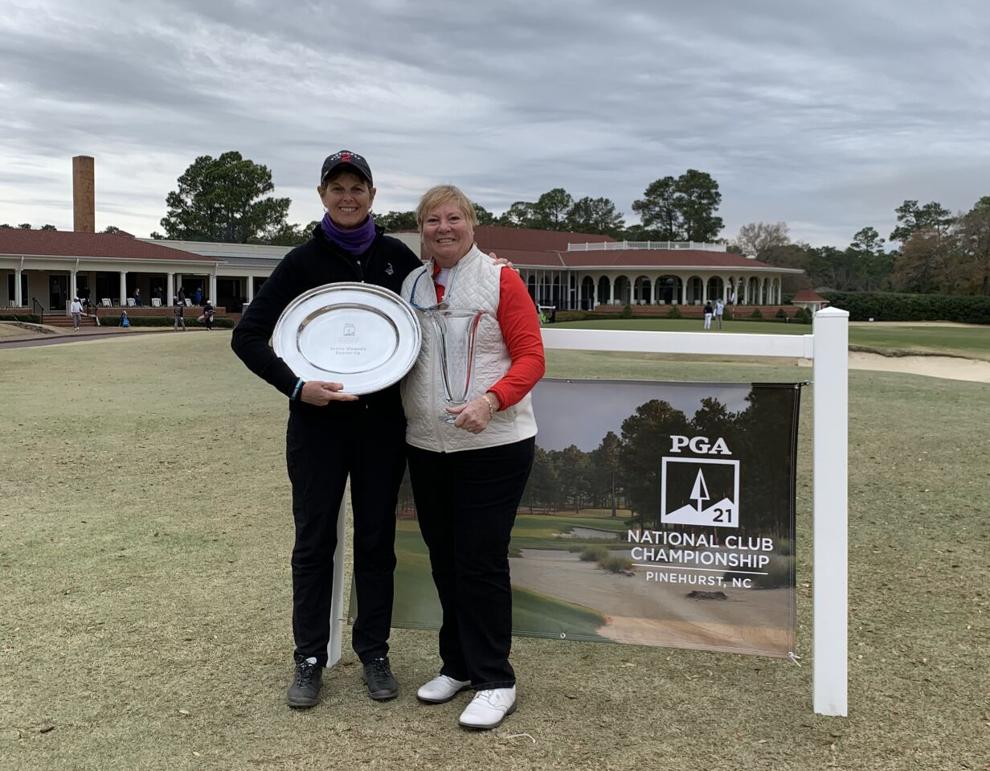 In the inaugural championship, Moore wasn't sure what to expect entering the tournament, but said there was a sense of pride in playing at her home club.
"I had no idea what the strength of the field would be," Moore said. "I didn't have any expectations honestly. I didn't want to embarrass myself, being as I was from here."
Even with the rocky front nine, Moore went out in a 44 that included two double bogeys, and she righted the ship over the final nine holes to hold off any chance of a collapse. She entered the final round up nine strokes on the field.
"I didn't want any big numbers. I didn't keep a master scorecard so I didn't know how the other girls were doing particularly," Moore said. "When we turned, we kind of compared scores. I knew I didn't have a very good front nine but they hadn't caught up to me too much. I relaxed a little bit and I started playing a little better on the back."
The second-round 70 played a big part in building up the lead for Moore, on Pinehurst No. 6 which she says with a laugh has quickly become one of her favorite courses at the club.
"That was like everything went right," Moore said. "Five birdies, three bogeys, putts dropping from everywhere, not missing too many greens. It was so easy compared to today."
Notaro's 80 on No. 2 came after she had a rough go in the second round played on No. 6 on Saturday with an 87.
Playing in the group behind Moore, the runner-up said that she watched the impressive play on and around the greens from the champion at a distance Saturday.
"I saw her sinking those putts, and when Patty gets going, she's like a ball rolling downhill. You can't stop her," Notaro said. "Patty and I have played a lot of golf together, and I knew she would be a formidable opponent. I'm so happy that Pinehurst was able to shine in this."
Entering the final round looking to make up some ground, Notaro kept the approach simplistic on the challenging tract.
"I just wanted to keep the ball in the fairway and try and hit the middle of the green," Notaro said. "The condition's are a little tough with the cold, but certainly home cooking helps."
In the other divisions, Katie Kirk from TPC Piper Glen in Charlotte won the Women's Division. The Men's Division was won by Stephen Behr from The Golf Club of Georgia, and Coleman Tidwell from Idle Hour Golf and Country Club won the Senior Men's Division.
As far as local competitors in the other divisions, Pinehurst's Chuck Wilkins finished in a tie for 16th in the Men's Senior Division, and Jason Richeson came in a tie for 30th in the Men's Division.