Being what some would call a late bloomer of sorts to the sport of volleyball, Carley Modlin has made the most of the last five years of playing the sport locally.
The 6-foot-1 middle hitter started to gain momentum in the sport during her sophomore year at Pinecrest High School, and last week became the first NCAA Division I signee from the Sandhills Community College volleyball program.
All of the progress made is thanks to a work ethic that stands out as much as Modlin's play on the court.
"Her work ethic is unbelievable," Sandhills coach Alicia Riggan said. "I can tell her to do anything and she does it. She might not like it at the time, but she will never complain about it.
"That's why she will be successful at the next level."
With her thunderous attacks and towering blocks, Modlin takes over at the net, and has done so for the last two seasons for the Flyers. But this season brought an extra long lead in to the season, and a workout regime implemented for the team by Ryan Riggan has shown with improved power across the board for Sandhills.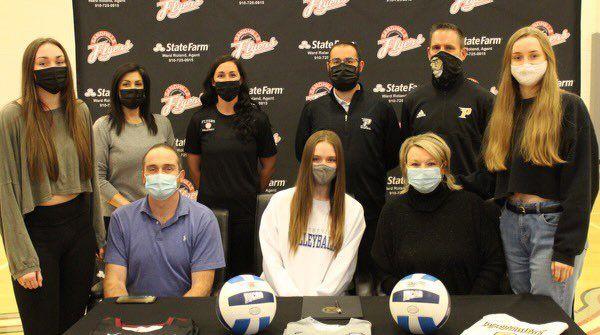 That's where Modlin's work ethic has flourished.
"He just pushes us everyday in the weight room," Modlin said. "It's definitely made a difference. You can see it from the start of the season when we were at Spartanburg Methodist to now. We're just so much stronger. We're hitting the ball a lot harder and blocking a lot stronger and I definitely thank him for everything that he has done for us weight wise."
Like most things, COVID-19 changed a lot about this season, including Modlin's decision to come back as she was eligible to graduate early in December. Because UNC Asheville's season was moved to the spring as well, it allowed for Modlin to come for a repeat performance after an All-American freshman season.
After a season where Modlin toted a lot of the offensive load, Alicia Riggan said that getting film to colleges was easy, even when it came to getting the first Flyer to the Division I level.
"It was just deciding what's your top five schools and where can you see yourself going to school and who's going to pay for you to play volleyball," Riggan said.
"I think what happened (with the signing) is great for our program. Seeing how I can go the JuCo route and still continue to play, or I can go straight into the workforce."
After playing very sparingly as a freshman in high school, Modlin saw more time with the Pinecrest JV team as a sophomore and was brought up for the varsity team's playoff run in the final season for longtime Pinecrest coach Barbara Foxx.
Volleyball started to pick up in the offseason after that year for Modlin.
"The opportunity for travel opened up a lot of doors as well, and then being so welcome to me starting late, because usually you start young in volleyball," she said. "I feel like they helped with my development a lot."
Modlin's senior year at Pinecrest included her posting 256 kills and 72 blocks during her conference player of the year season.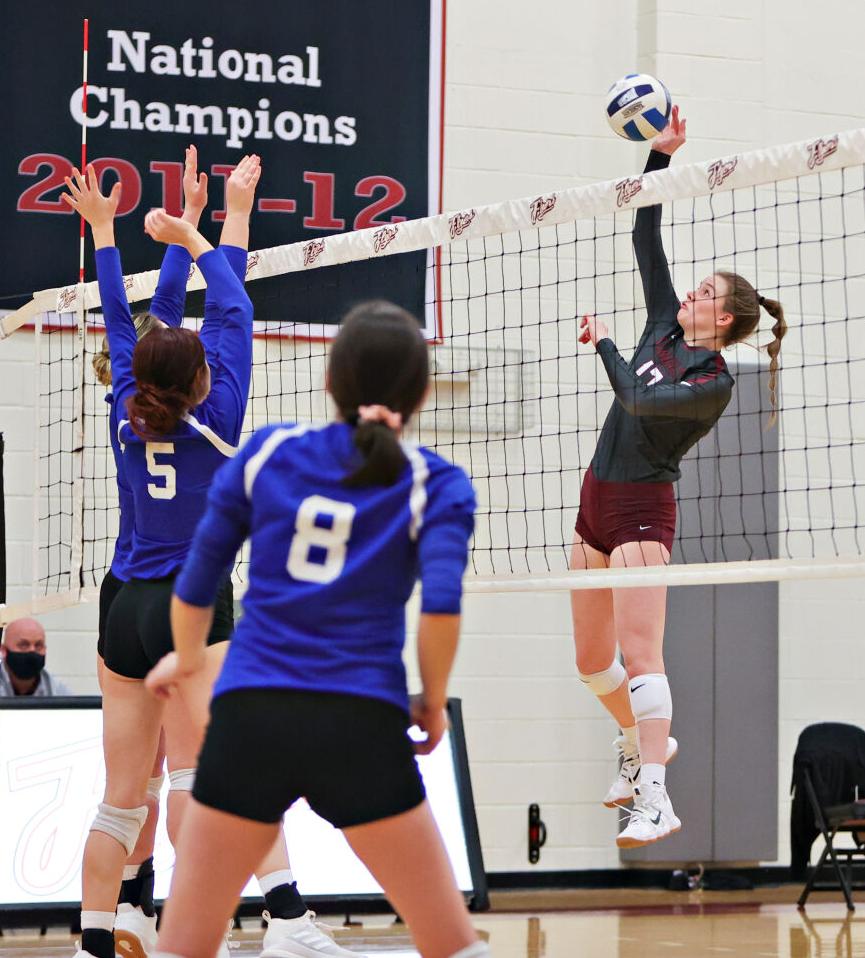 Recruiting out of high school brought many NCAA Division-II and Division-III schools calling for Modlin, along with Sandhills Community College.
"I don't necessarily think that having big offers means anything. Coming here was my best option and it opened so many more opportunities like out of school instead of being forced into a choice," Modlin said. "I kind of wanted to stay closer to home. Sandhills felt like home."
Riggan said that Modlin's choice to go with what many would say would be the smaller option of the choices she had, was her way of looking to see what she could accomplish in two years.
"She kind of took a chance on herself to come to Sandhills," Riggan said. "She bought into our coaching style and the way we play. Last year, we fed her anytime we possibly could. She's our horse, she's our go-to."
Modlin's coach said that Division I volleyball was always her goal, and she worked toward extensively toward that goal the last two years.
Playing for the Flyers has broadened Modlin's approach at the net in more ways than one.
"Usually I like to hit to the right side a lot so I'm just opening up my vision of the court and being able to hit certain spots on the court that I wasn't before," she said. "I'm getting stronger, hitting people in the face, that's a good feeling."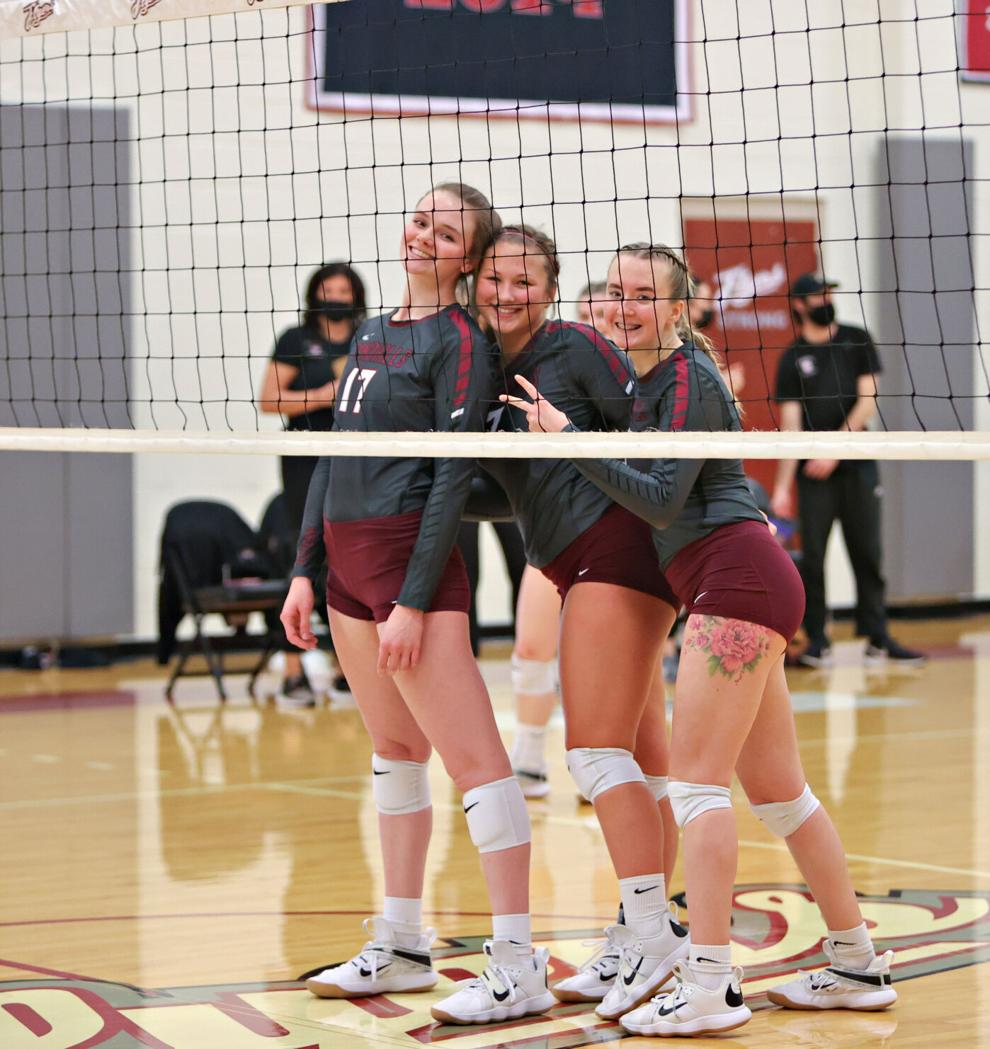 A NJCAA Division III Honorable Mention All-American and Region 10 Player of the Year last season, Modlin has embraced the challenge that comes with being a standout as a freshman. This season also adds another level of difficulty with Sandhills playing up a division in the NJCAA with Division III not holding a national championship this season.
Currently, Modlin finds herself among the top hitters in NJCAA Division II Region 10 for the kills, hitting percentage and blocks statistical categories.
"This year has definitely been more difficult because we are going into another division. Trying to earn those spots with people who have already been in that division is going to be difficult, but I think if I just keep pushing and trying," Modlin said. "I'm hoping to at least make all-region, and if region player of the year comes along, that will be great."
Along with taking on tougher competition, Riggan said that playing new teams this year also brings an element of surprise.
"Everyone's up for you and because we moved up to Division II, a lot of these schools don't play us so it's kind of to our advantage that they still don't know," Riggan said.
The development around Modlin has benefited the middle hitter, as well as the team in general. Other hitters Morrigan Denman, Khalie Jones and Christen Clontz have kept other teams honest at the net, leading to a barrage of threats at the net for the Flyers.
"While she'll get the ball, we also give it to our outside or our right side and she does a phenomenal job that she doesn't get upset," Riggan said. "She gets that it's not about her, it's about the whole team. If she sells her job, that frees up the block for the outside, and the next time outside sells their part, she goes up with one blocker to no blocker."
All the accolades and the hop up to Division II aside, Modlin has kept the same approach this season, just like last year.
"I'm aggressive. I don't like to take a lot of crap from the other team," she said. "If someone is talking junk through the net, I just try to prove them by hitting balls."
And with that, her game has said more words than needed.