Closing with three birdies over the final five holes, O'Neal sophomore Alex Lapple was able to make up for coming up short last year at the N.C. Independent Schools Athletic Association Division II girls golf state championships on Monday.
Lapple posted an even-par 72 on the Player's Course at Bryan Park, to claim the individual state championship, while The O'Neal School girls golf team came up 11 strokes short of repeating as the team state champions.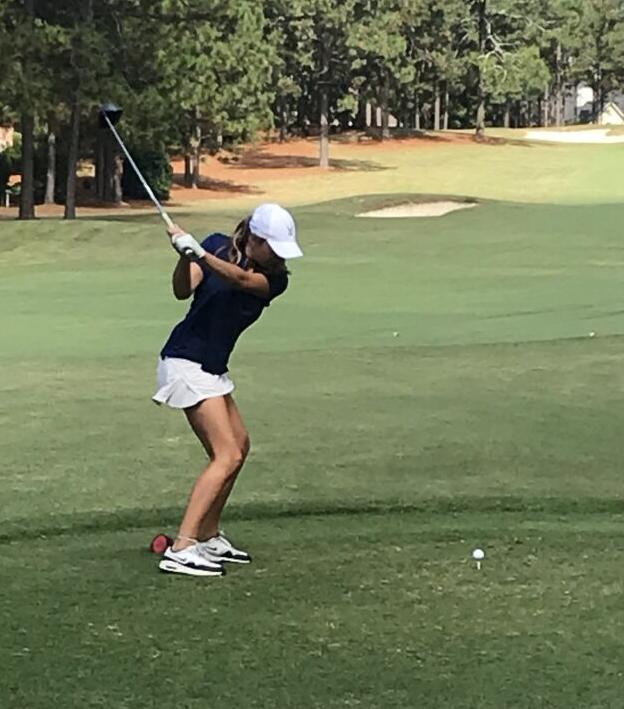 Wayne Country Day won the title with a combined score of 231 to O'Neal's 242.
The Falcons rebounded well and challenged the field throughout the match. Head coach Jeff Haarlow shared, "we had a lot of weird bounces today and the girls kept fighting to make it an interesting last six holes or so. I'm so proud of this team and all they've accomplished this fall."
Lapple, who finished seven strokes off of the lead at the state championships last year stayed true to the course on Monday in Greensboro. She had a four-hole stretch she played at 4 over in the middle of the round, but her play to start and finish the round helped her claim the state title.
Her round got off to a quiet start with one birdie on No. 2 and the rest pars leading up to the seventh hole. On No. 7, Lapple posted a double bogey, and followed with bogeys on Nos. 9 and 10 to fall to 3 over for the round.
Closing out the round, Lapple had birdies on Nos. 14, 16 and 17.
Lapple's round was included with Lauren Kuhn's 84 and Mary Earhart's 88 for the team scoring in the event.
The other two competitors for O'Neal in the event were Mary Haarlow with a 97 and Audrey Kim with a 98.
Athletic Director James Franklin shared, "this team works when no one is watching them. They always find a way to be competitive, and continually played with great accomplishment this year."
It is this work ethic and drive that has led to strong showings each year in this program's short five-year history. With no seniors on this 2020 team, the Falcons look forward to next fall and another quest at a NCISAA State Championship.
The O'Neal girls golf program has already produced two state champions in its four years of existence. Last year's NCISAA champion and former Falcon Nicole Adam is currently a part of the UNC golf program.