With 34 wins on the LPGA Tour, including six wins in majors, Betsy King's golf career has reached some heights in the sport that most don't get to experience.
That's not how the 1995 inductee into the World Golf Hall of Fame feels she has made the biggest impact in her life, however.
"I feel like the most impactful things I have done in my life have been through Golf Fore Africa, not out on the Tour. I'm thankful that I had a great career, and it's given me a platform to do things like this," King said. "I feel like I was born a competitor; I loved playing sports."
Golf Fore Africa is a nonprofit that King founded in 2007, shortly after her first trip to the continent in 2006.
On that trip, one experience still remains with her and her drive to provide clean water to remote parts of Africa.
"Probably the one story that sticks with me most was when we visited a family and we met a woman whose husband passed away with HIV/AIDS. When we arrived at the home, she had five children and they were cooking one egg for the entire family. I had just not seen poverty at that level," King said.
She said that worldwide about one in 10 people don't have access to clean water, and in Africa that number is close to 50 percent.
Her nonprofit, which is fueled by the graciousness of golfing professionals, and clubs like the Country Club of North Carolina, that hosted an event last week while the U.S. Women's Open was in town, to help King fulfill her mission.
The new goal for Golf Fore Africa is to raise $50,000 to bring a mechanized water system to a health clinic and a school in Zambia. The system brings clean water, western-style toilets and showers for thousands.
"We're all about bringing clean water to those villages. Once you do that, whether you do that through a hand pump or a mechanized system, it's life changing," King said. "Obviously the health of the entire village improves and economic opportunity does better too."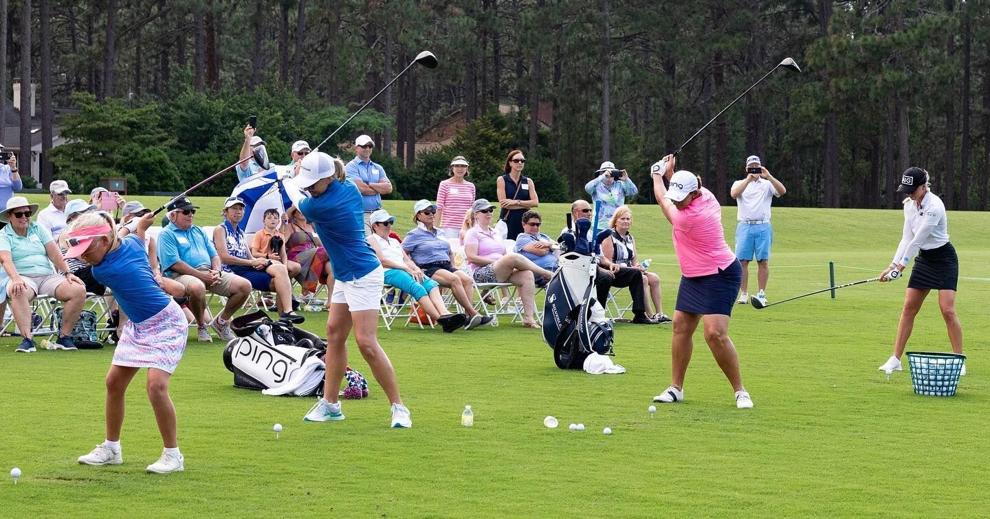 King's event at the club brought four current professionals — Angela Stanford, Sophia Popov, Ally Ewing and Sarah Kemp — to host a golf clinic on the driving range and practice facility.
"As a professional golfer playing on the tour for 28 years, I know how charitable golfers are," King said. "The need was so great and I know that there's need here, but oftentimes here there's places to get help, and over there there isn't. They don't have unemployment or food banks."
Stanford, a 22-year veteran on the LPGA Tour, has come to the aid of King on several occasions.
"I've known Betsy ever since I was a rookie on Tour in 2001. Betsy was always really nice to me and I played for her in the 2007 Solheim Cup, she was my captain. She started Golf Fore Africa and I wanted to help her out in any way I could. It's a great thing that she's doing," Stanford said. "The one thing I always say about Betsy is, 'It's easy to follow somebody with passion.' Betsy has a tremendous amount of passion to bring water to all parts of Africa."
The last 15 years the nonprofit has provided clean water to 420 communities and King has made almost 25 trips to see the changes clean water has made to the rural areas.
"Every time I go, I'm changed again, and I feel honored and thankful to be able to be part of Golf Fore Africa and to make a difference," she said. "We want to keep going forward."