Being a competitive golfer at my core, I've always thought a good heated round of match play is the best way to build your competitive muscles. Growing up in Pittsburgh, I cut my competitive teeth in the state's junior golf association match play events. As a beginner, my greatest rivals were some of the nation's top amateur players, such as Judy Oliver III and Carol Semple. Playing against a person versus a score always brought the best out of me. Bottom line is, if you're going to compete, you need a rival!
Heading south to North Carolina for college, I entered into the biggest rivalry of all, Duke versus Carolina. Attending the Duke-Carolina basketball games were some of my fondest Blue Devil memories. There is nothing like thousands of Duke crazies huddled together in Cameron Indoor Stadium screaming at the top of their lungs, "Go to hell, Carolina, go to hell!"
It was a great cheer, even for this devoted Christian woman. I confess, I don't often slide off a true witness of my faith, but I just couldn't help joining in with the herd cheering on our team. It made me feel alive and in total unity with my basketball brethren.
The other day, however, I discovered a different kind of rivalry. I was having a bite to eat at Nature's Own, my standard "go to" for lunch. You can't beat their tuna or turkey spinach wraps for $4.75.
I was struggling with the stress of moving. Things were not going as well as planned. Worn out to the core, I looked up from my meal only to discover a smiling face. "How are you today?" he asked. "Not so good," I replied, exhausted.
"What can I do to help?" the twenty-something year old inquired. "Would you like to
join us?" He pointed to his table of friends.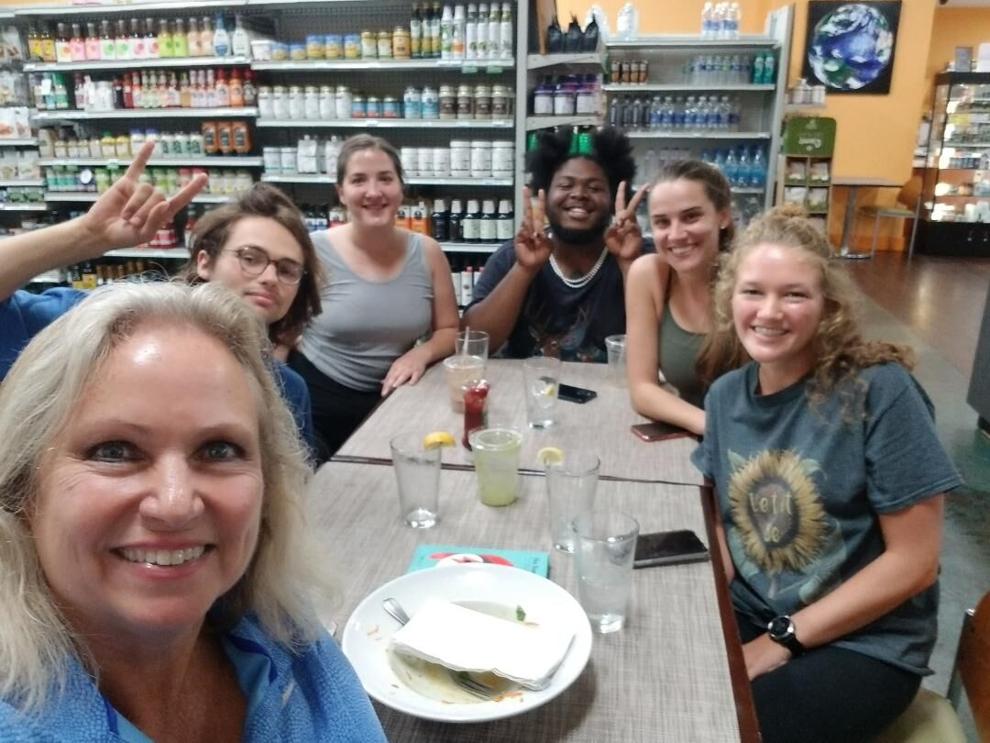 As I lifted my gaze, I gladly got up from my seat, and shifted to the table of millennials. They were obviously of the same tribe. Welcoming the positive, free-wheeling energy of youth, I immediately felt a flow of oxygen filling up my mental and emotional lungs.
It was a beautiful feeling to be welcomed. "What are all of your names?" I asked. As we went around the table sharing our names, I landed on the young man's name who made the warm invitation. "I'm calling you The Mayor!" I think you have a future in politics with
your gifted ability to reach out to people.
"So how is it that y'all are friends?" The mayor replied, "We all love skateboarding."
"What is it about the allure of skateboarding?" I asked. "I'm a golfer, and have never tried the sport."
What ensued was a lively discussion about the virtues and vices of skateboarding, a sport up to this point I've had no insight about. As each contributed to the discussion, I found myself comparing the sport to golf — it was an odd comparison. If I had to pit skateboarding against golf in a match play event, here's how the match would go from our conversation:
"Skateboarding is scary. You can fall and hurt yourself." In golf, your ball, not your body, can land in a bad spot. Skateboarding, one up, for danger.
"It's hard." So is golf. Even.
"Everyone has a different point of view. One person may see a ledge and run the whole thing out. Another may want to get on the ledge for a second." Golf is hit it down the fairway and on the green. Two up for variety of approaches.
"Someone might say, I've never done this move before and I want to overcome my fears."
In golf you overcome your fears of hitting a ball in the air. In skateboarding, you're overcoming your fear of your body going through the air. Three up for risk factor.
To play golf, you have to play offensively, not defensively. You have to not look at the hazards, but the target. In skateboarding you have to play both and calculate risk and safety more equally because you don't want to get hurt on purpose. Four up for complication.
As I played the rivalry out in my mind, the mayor chimed in. "The act of skate-boarding is purely motivated. There are no coaches, no rules, no judges, no points, no competition.
"You are doing it because you love to and it's fun. You do it with friends. Everyone is welcome. Everyone has a voice and they will all be heard. It's the sickest. It's the best. It is forever. It's an adventure. It's a free spirit sport," said the philosopher.
"Every day is a thrill. You never know what is going to happen and generally, you are going to get hurt. It's the adventure, the thrill of pushing to the edge—and doing it where you're not supposed to when people or cars are in the way. Your heart is beating. It makes you feel alive."
What can I say after that? Maybe I took up the wrong sport. Ok, the skateboarders won for a second. But can you skateboard at 90?
I sure did enjoy my discussion and meeting my new friends. In fact, they so lifted my spirits that I decided to do something afterwards. I went dancing!
Veronica Karaman is a performance coach, speaker, author and professional golfer. Contact her at truechampionacademy.com. The Champion's Way: Core Foundations for Achieving Peak Performance in Sports and Life book is available on Amazon.com. Text 757-407-1907 for a free performance coaching consultation.