Even among equestrians, polocrosse can be a bit of a head-scratcher.
The sport has only gained a following in about a dozen countries, and whether it's better described as mounted lacrosse or polo on steroids is the subject of some debate.
But in a few weeks, the three North Carolinians representing the United States at the quadrennial World Cup will have better things to worry about.
Greensboro residents Rahul and Sarah Desai and Kat Liner, a graduate of The O'Neal School, can regularly be found practicing with the Carolina Polocrosse Club at the Pinehurst Harness Track. But next month, they'll comprise nearly half of the eight-member national team in Queensland, Australia.
On the international level, polocrosse is a horse sport of a different color. None of the athletes make their living playing it, and when they travel abroad to play — which they do for at least a few weeks every year — the host country supplies them with horses.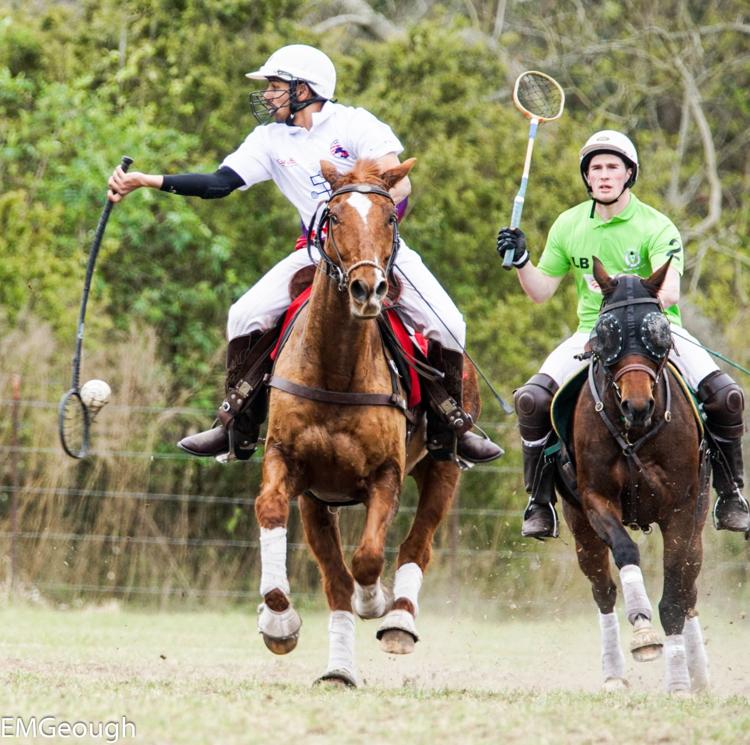 In addition to Kat Liner and the Desais, Lone Star players Rob Shuttles and Stephanie Shuttles, Tennessee Valley teammates Braxton Hamlin and Megan Waggener, and Karl Balogh from the Sugarloaf Mountain club in Maryland round out the U.S. national team.
They've only played together a handful of times, the first of which was last May in Pinehurst shortly after their selection. Most recently, they spent a weekend in Alabama playing a test match against the Irish national team.
"We've tried to play together as much as possible to build our chemistry and teamwork," said Sarah.
"I think one of the strengths of this team is that we're all very versatile. Sometimes in the past it's been very set what person's going to play what position, but we have a lot of people on this team that can really play anywhere and adjust the team for what we need for any particular situation."
Polocrosse is based on techniques used a century ago in England to teach beginning riders balance in the saddle and control of their horses. But it gained popularity in Australia in the 1930s and clubs in the United States began to form in the 1970s.
Instead of hitting the ball with mallets as in polo, players carry long racquets. And the field is 160 yards by 60 — about a fifth the size of a polo field — so the six horses in the game at any given time are forced in to closer quarters and an accelerated pace of play. Three players from each team take the field at a time — one on offense, one on defense, and one who can alternate as needed.
The American players will compete against teams from seven other countries at the World Cup: their Australian hosts, the defending South African champions, Ireland, New Zealand, the United Kingdom, Zambia and Zimbabwe. All eight teams feature an even split of men and women.
Of the eight, the United States is ranked seventh based on the results from the 2015 World Cup in South Africa. Currently, 46 clubs are registered with the American Polocrosse Association, a quarter of which are in Texas.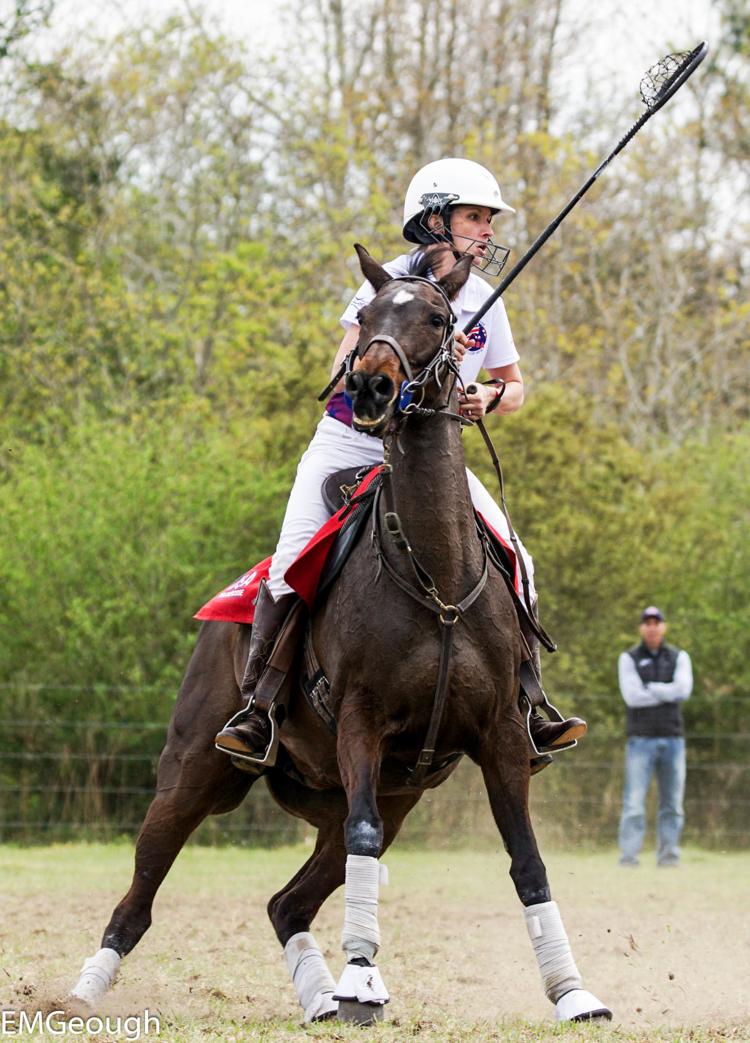 Over the first three days of the tournament, the U.S. team will play matches against Zambia, Australia and Zimbabwe. The results will determine the initial semifinal bracket.
All members of the U.S. team have international experience, and the Carolina representatives have competed multiple times in South Africa and Australia. Kat spent six weeks this past summer in South Africa working with U.S. team coach James Hackland.
The experience, and influence of various styles of playing has only added to their versatility.
"You get to ride different people's horses and learn different playing styles which is super helpful," said Kat. "The Australians play a carry game so they'll carry it down the field and not do very much passing, then the South Africans will launch the ball down the field. It's crazy, but I can go either way."
Rahul Desai figures he has 17 years as an active player under his belt — having given it up for several years in 2000 after his family immigrated to the United States from Zimbabwe.
"As a young kid my best friend at the time was pretty heavily involved in sports, so whenever I was with him on the weekends we were always around polocrosse," he said.
"I took a small break just because I didn't know polocrosse even existed here."
He met Sarah through polocrosse. A North Carolina native, she and a friend discovered it through a demonstration at the U.S. Pony Club Championships.
"It was a bunch of kids with racquets and fun accents — I think they were from Ireland or Australia — so we bought a couple of racquets and brought them home to North Carolina," she recalled.
Kat started playing in 2007. Growing up outside of Whispering Pines practically next door to Muddy Creek Farm, owned by polocrosse enthusiasts Beth and Chuck Younger, it was kind of hard to avoid for long.
"One day they were out in the field practicing before I had a lesson and I wanted to try," she said. "I used to event a lot and I did a lot of horse showing, but this kind of prevailed."
Making the international team has meant treating polocrosse as a profession — without neglecting actual jobs. Both of the Desais work as physician assistants, and are raising a toddler into the mix. Kat is a sophomore exercise and sport science major at the University of North Carolina at Chapel Hill.
"It's always been cool and exciting that both of us were named to the team, but at the same time it's been challenging," said Rahul. "I work in the hospital on kind of a goofy schedule and Sarah works a much more professional schedule in a private practice. But it's kind of a once-in-a-lifetime deal for both of us, so we got to work."
For the last year, they've all kept up daily work with their racquets while riding as often as possible. As national team members, they've also adopted structured exercise programs, nutrition plans and work with a mental skills coach.
"You're riding as many horses as you can, becoming a competent and capable rider who can ride multiple different types of horses," Rahul said. "You're given a horse and expected to play your top game regardless of what horse you're on."
Every Friday, they submit notes on how well they've stuck to the plans.
"Our coach is very big on holding each other accountable, which I think has put pressure on everybody to do their part," said Sarah. "There's that expectation that everyone should be working on their fitness, working on their diet, working on their racquet skills."
The World Cup will run from April 22-28, but the teams will arrive a few weeks beforehand. They draw their horses on the 13th and have the following week to get used to them.
"You can be the best player in the world but if you can't get to the ball because your horse isn't cooperating you're kind of useless," said Rahul. "So you hope that you get good horses that have some experience and are capable of playing at that level."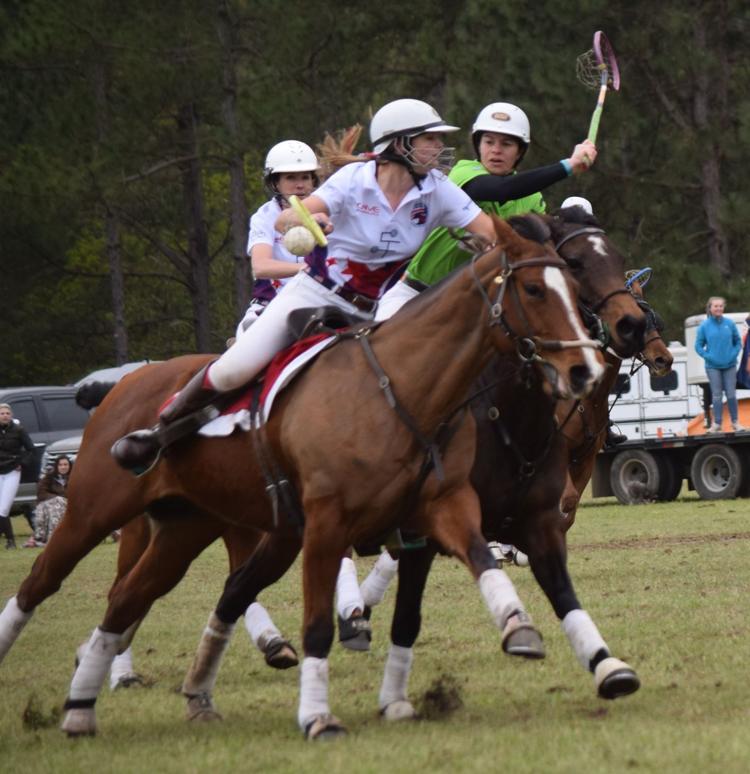 As equestrian sports go, competitive polocrosse is a sport that any horse has the potential to be good at. The strengths that Kat describes in her Australian Stock Horse, Playmate, don't have much to do with breed.
"She's super forward and always wants to go, and she's so handy," Kat said. "She'll turn on a dime and stop really quickly, which is really what you want: something that will listen to you and react."
It's also is downright affordable compared to eventing or dressage, as are the much more frequent opportunities to travel abroad.
"My entire family can play for a quarter of what it would cost me to show one day in a dressage show," said Sarah. "Literally anybody can do it, there' s a level for everyone and it's intended that way. It's very family-oriented, everybody comes and camps out. It's a big social thing."
"You make such good and close friends throughout the country and internationally," Rahul added. "If you want to fly to the UK or South Africa all you have to do is call and you have multiple invites for a place to stay, a horse, they'll feed you … that's not the expectation, but it's kind of the understanding in the sport."