Judy Kelley wasn't even out of her teens when she made a choice that would shape the course of her life.
It was 1956, and she had a shot at a place on the Canadian squad that would compete at the international women's field hockey championship in Australia.
But horses were already in her blood, and they've been her lodestar ever since. Over the next 20 years, she competed across North America and won some of the most coveted awards in the hunter arena.
Kelley, née Mangin, rode Boyne Valley to the AHSA Horse of the Year title in 1969. In 1976, around the same time she made her way to Southern Pines, she and Mrs. A.E. Cunningham's Vital Victory won the Working Hunter Grand Championship at the National Horse Show at Madison Square Garden.
Earlier this year, the National Show Hunter Hall of Fame named Kelley among its 2020 inductees.
As a child, Kelley would regularly walk with her mother to the old fairgrounds in Oak Bay, British Columbia and feed the horses a carrot.
"That was our exercise because we lived about a mile and a half away and I was an obnoxious child," she recalled.
She didn't talk her way onto a horse until age 10. Though the occasion could hardly be described as auspicious –– Kelley found herself watching the school horse take an impromptu roll in the dirt –– it didn't dissuade her.
The Victoria Riding Academy soon relocated, and Kelley went with it: after school and for seven or eight hours a day on the weekends, she cleaned stalls, helped make hay, and rode.
She led trail rides, broke young Thoroughbreds for the track, and showed anything she could swing a leg over: "all stages, sizes, and attitudes."
Kelley developed something else on British Columbia's provincial field hockey team: a kind of raw athleticism and "get it done" attitude that translated to equestrian sport.
"Typical me, I was just athletic and strong and not really thinking about all the logistics of field hockey," she said.
"But then I had to choose between being on the team and going to California, and I decided the horses probably were a better option."
Kelley took a job at the Stanford Riding School in Northern California at the age of 19. It didn't take her long to realize that she was still in the hinterlands of hunter/jumper competition.
That worked out in her favor, as it turned out: she learned through trial-and-error, and won just about everything anyway.
"We just rode by the seat of our pants with no trainers. We got off and fixed the jumps and put the rail back up again. It was very unsophisticated and I never ended up having a trainer at any point in my life," said Kelley.
Kelley won her first big jumper class out of Stanford on a catch ride named Calico Cat.
"One of the old trainers saw that I was an ignorant, brave foolish kid," she said. "He put me on this horse and I just hung on and steered. He was just so strong that I just kind of sat there, which I guess is what the guy hoped I would do."
Kelley made her big move east in the 1960s. She took a job at Battle Creek Hunt Club in Michigan, her home base for what she describes as the most important years of her riding career.
Though she still rode her fair share of difficult mounts, working for 1962 AHSA Horseman of the Year Max Bonham constituted a definite step up in the world. The owners were supportive, the horses would jump anything, and the indoor competitions were the stuff of legend.
Boyne Valley, a Thoroughbred, belonged to Canadian owners Mr. and Mrs. J.E. Cottrelle.
"He went everywhere. He did all the local shows and then we went indoors and ended up at the Royal Winter Fair, which is where his owners were so that was thrilling for them," Kelley said.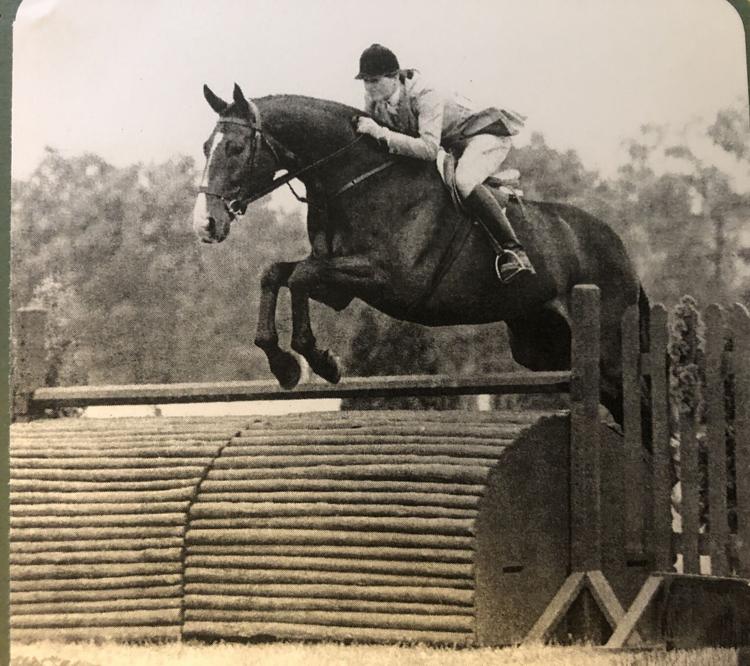 The Royal Agricultural and Winter Fair in Toronto was established in 1922 and to this day features goats, chickens and Clydesdales alongside seven-figure show jumpers as the world's largest combined indoor agricultural exhibition and horse show.
"It was a big thing for people to get to the Royal. In the front boxes men had to wear their tails and top hats and the women all wore long gowns and their best jewelry, then up further everybody else was there and it was a full stadium all the time," said Kelley, who described the live orchestras as particularly fabulous.
"They played along with whatever kind of prancy horse was going on. Boyne Valley hated that. He couldn't stand the music."
Fewer riders specialized as hunters or jumpers in the 1960s. Kelley rarely turned down a ride, though she might have had second thoughts if she'd given herself the time.
Though Kelley's wins in the hunter ring are the ones immortalized in silver and newsprint, jumpers like Touch N Go were an important part of her career.
"She was a very strong goer; she never turned a hair at anything. We won a couple of big classes with her, all through Harrisburg, Washington, New York and Toronto we went in almost every class there was," Kelley said. "You don't do that anymore; you have one horse that goes in one class. Anyway, this one never got tired. Maybe she did, but we just went in all of those classes and we won our share.
"You'd get excitedly nervous, especially when I was jumping six feet. I didn't know what I was doing really, I just kind of ran on down there. I think a lot of people knew more of what they were doing than I did."
Kelley moved to Southern Pines in the mid-1970s. She worked for Joey Darby before Dave Kelley, who she would later marry, offered her a place at Elaine Boylen's Lanson Farm.
"East was the place, especially New York, Toronto, Connecticut, where you always sort of dreamed about going," she said. "But I had this offer and it was a pretty good place to be."
This year's Show Hunter Hall of Fame induction ceremony was postponed due to the coronavirus pandemic, and is now scheduled for June 1, 2021 at the Merion Cricket Club in Haverford, Pennsylvania.