Justin Dunn owes a lot to horses — especially Mustangs.
When his four years on active duty in the Navy were up, Dunn started a company in south Texas restoring fire- and water-damaged properties. After hurricanes Katrina and Rita devastated the region in 2005, he had plenty of spare cash and wanted a way out.
Within three months, horses gave it to him.
Dunn had grown up around his grandparents' horses in Oklahoma, and he'd always had an affinity for the animals. So he sold the company, bought property in Colorado and started a trail riding outfit.
"I made a promise to myself I would never work for a dollar again," said Dunn. "I'll do what I love and get paid."
From his ranch in Guffey, at an elevation of 8,600 feet and "35 miles from a gallon of milk," Dunn led more than 5,000 people on guided trail rides and pack trips in the mountains. His string of horses numbered up to 16 at any given time.
"On a shoestring budget, I got free horses. But if you know anything about horses, you know free horses come with a bunch of issues. So I evolved into a horse trainer," he said.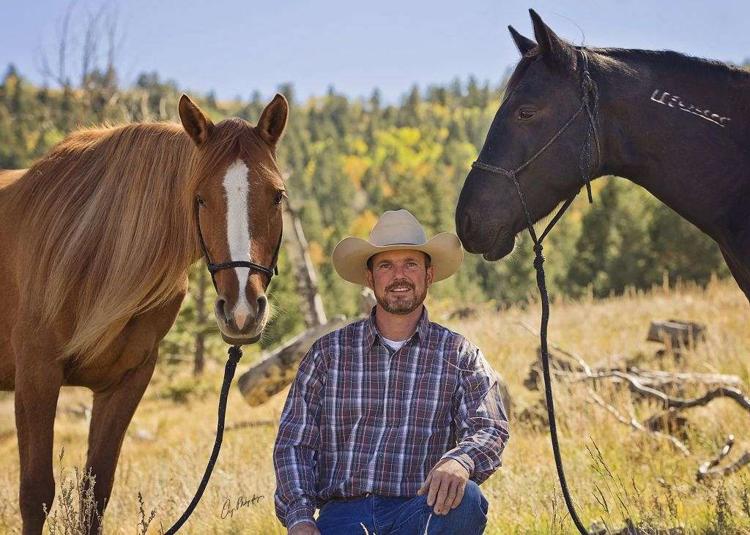 That's easier said than done in Colorado, where cowboys eager to volunteer as crash test dummies aren't exactly in short supply.
"I used to ride a motorcycle with a saddle and I'd go to all these ranches and train horses," said Dunn. "They called me on the worst of the worst. People don't call you for easy stuff. They'll call a plumber before they call a horse trainer."
Over the years, he gained some national notoriety through "Mustang makeover" events designed to promote the breed among equestrians with the skills to train them.
The Bureau of Land Management estimates that 88,000 wild horses and donkeys live on managed land in 10 western states. That's about three times the sustainable number, given the needs of other wildlife and privately-owned cattle grazing on the same federal property.
The equines have no natural predators, so herd sizes can double every four years. The BLM removed more than 11,000 equines from the range in 2018, but only a fraction of those were adopted or sold into private homes. Thousands of others languish in pipe corrals — draining meager resources better spent managing the population still out on the range.
"We have such a valuable resource sitting out there in holding pens, threatened with slaughter," said Dunn.
Over the last decade, "makeover" competitions have grown in popularity. Trainers have a set period of time, usually about three months, to take an unhandled Mustang and train it to ride. The horse and rider who execute the most elaborate routine — Dunn Harley competed in Fort Collins in 2012 as Zorro with his horse Harley, but jumping over a hotrod wouldn't be unprecedented — usually win.
Since his first experience training a Mustang 15 years ago, horses with names like Whiskey and Moonshine have shown Dunn that the horses it takes weeks to touch have the most to teach him. Whiskey was mishandled by his original adopter and changed hands several times — once for a tank of propane — before he escaped his enclosure and again ran wild in a Wyoming national forest for several weeks before he materialized on a friend's property.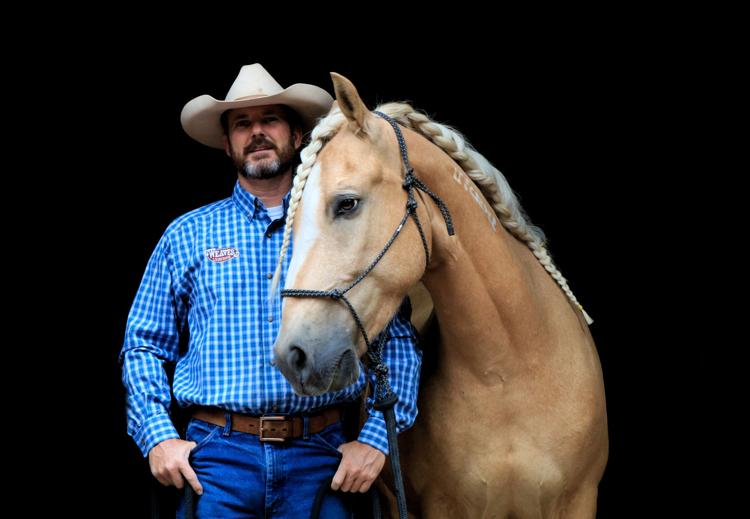 Dunn advocates training without the use of whips or spurs, and designed a bitless bridle now manufactured and marketed under his name by Weaver Leather. Mustangs he starts from scratch, who have never been handled by anyone else, are his favorite training project.
A video of his two-year-old daughter Emma leading a compliant chestnut named Cinnamon down a snowy Colorado lane has amassed millions of views since it was posted five years ago. What most people don't know is that Cinnamon had only been off the range for a month when the video was taken.
"A mustang analyzes everything. From the very second that they're born, they're taught to think to survive — unlike a domestic horse that loses that acute sense of awareness, in my opinion," said Dunn.
"If no one's ever messed with them before I get them, they are so easy to train because they pay attention to every little detail. They cause you to be a better horseman because you have to pay attention to yourself and what you're presenting."
Now, he wants to both give back to the breed he loves while also paying forward some of what Mustangs have taught him about himself.
Dunn and his family moved to Aberdeen last year, and he hopes to open the American Mustang School there in the spring of 2020. Despite the name, training the horses will be primarily a means to the end of training people. Dunn envisions teaching people how to train wild horses, and offering therapeutic services to veterans and active duty military with his string of nine horses.
What Dunn calls his "five-part series" of exercises to evaluate each horse as an individual has made him a better horseman.
"It's mechanical-looking, but the person that understands the concept is getting a deep understanding of the horse," he said. "It's establishing a clear line of communication and creating a willing partner," he said.
Over the years, Dunn has noticed that Mustangs can be counted on to respond accordingly when his thoughts are disorganized or he brings external baggage to a training session.
"That's why they're so valuable in therapy. People are usually depressed worrying about the past, or anxious worrying about the future. They bring that to a mustang and he's going to be all over the place," he said.
"All the while, the person is mind-training himself to be able to control their thoughts, emotions, attitudes, actions. Because that mustang is acutely aware of that, whether the person understands it or not. They're paying attention to the unseen things in a human: the chaotic, incoherent vibrations that people carry around."
The American Mustang School will start students off with an introduction to horses on the ground, eventually teaching them riding in and out of the arena, confidence over obstacles, and ultimately overnight pack trips. To that end, Dunn is negotiating the use of 2,000 nearby acres near the farm he's developing in Aberdeen.
He hopes to secure enough sponsorships to offer the program to veterans and active military members at no cost, and eventually do the same for first responders and parents of children with mental illness. As someone who has dealt with the death of close friends to suicide and helicopter accidents, Dunn sees his horses — five of them BLM Mustangs — as helpers for people who need to open doors in their minds long closed by trauma.
"Horses won't judge you: they don't care if you're rich, poor, black or white. Social injustices and what people label things, horses don't care about that. Our school is allowing people to heal, and feel and think without any of those labels," he said.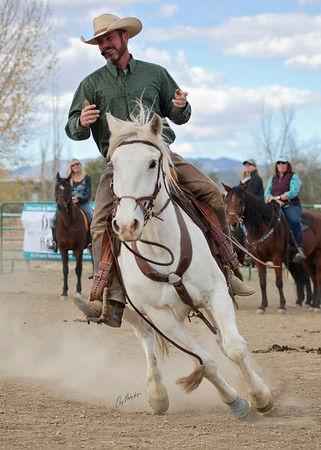 "You can come through that gate and it's a safe place to make a mistake, it's a safe place to ask questions, it's a safe place to engage in a conversation with a horse and feel feelings and think thoughts you may not have otherwise."
The program's structure will include an introduction to horses before progressing through training, therapy, and developing confidence over obstacles in an arena. Dunn envisions overnight pack rides as the final step in the journey.
"I've seen wild horses do things for people. Magical things happen. A hard-charging military guy who hasn't cried in a couple of years will break down and bawl. Children who are suicidal come play with a mustang and leave with stars in their eyes," he said.
"I have the perfect string of horses, and the perfect methods. It's got to be passed on and shared. What good is gathering all of that information and experience, changing my attitude and outlook on life, if I can't share it? There's nothing more gratifying than helping somebody come out of a dark place."
The American Mustang School will hold an open house this week including demonstrations with Dunn's Mustangs. It will run from 9 a.m. until noon on Oct. 10 at 200 Vivien Way in Aberdeen.