Union Pines High School has a "special place" in Chad Hill's heart.
He landed his first head coaching job in 2007, taking the helm of the Vikings' varsity baseball team. He left after the 2015 season to become head baseball coach at Scotland County.
Five years later, Union Pines tugged at those heartstrings when the school needed a new athletic director to replace the beloved Bobby Purvis, who died of cancer in May.
While leaving Union Pines for a bigger 4-A high school was a difficult choice, the decision to return was much easier.
"This is place is so special to me," Hill said Wednesday in a telephone interview, two days after the school board approved his hiring as athletic director. "I felt like the time was right in my career to make this move. I look forward to building on the success that has been achieved here."
Hill acknowledged that it will be difficult to follow Purvis, who served as athletic director for 10 years and held many other coaching roles during his more than three decades at Union Pines — including head coach of the boys' basketball, girls' basketball and track and field teams, and as an assistant football coach and baseball coach.
"Bobby Purvis was mentor to me," Hill said. "I learned a lot from him. I want to build on what he has done."
Purvis was an assistant coach for Hill during a few of his early seasons
Union Pines principal Andy McCormick said Hill was "a natural fit" for the job, noting that he had worked with Purvis during his nine seasons as head baseball coach and knows the school well.
"He had great success with our baseball program," McCormick said. "We look forward to him helping to continue the success of our athletic program. I am really excited."
Like Purvis, Hill graduated from North Moore High School in Robbins, where he played football, basketball and baseball.
Baseball was Hill's route to college. He graduated from Catawba College in 2003 with a degree business administration. He played shortstop on the baseball.
He spent three years playing professional baseball for independent league teams in Indiana and Missouri.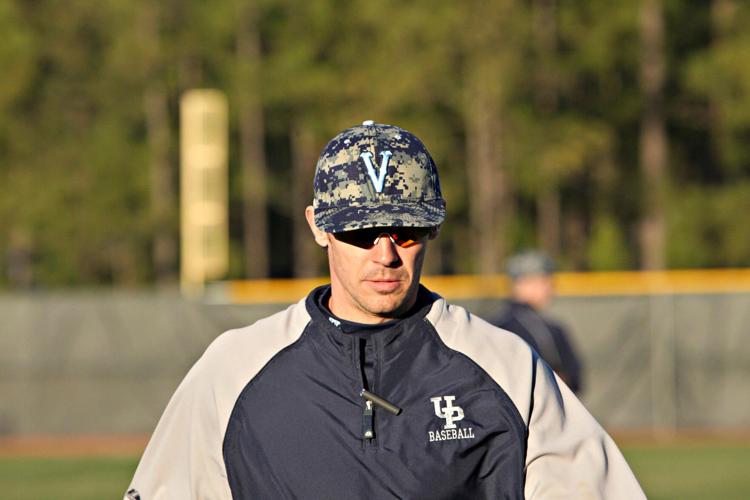 In the summer of 2006, Hill was offered a CTE teaching job in marketing at Union Pines. He was also an assistant coach for the football team and head coach of the junior varsity team.
He became head baseball coach in 2007 at the age of 24. The rookie coach led Union Pines to a 20-5 record, a top-10 overall regular-season state ranking, a Cape Fear Valley Conference regular-season crown and a trip to the second round of the playoffs. The school is now a member of the Tri-County 3-A Conference.
He joked that while it was not too difficult for him to take a job at school that is a longtime rival of North Moore, i"t was much tougher for my dad to switch colors."
"We had a lot of battles with Union Pines," Hill said of his high school career as a Mustang.
In his nine-season stint at Union Pines, Hill led the Vikings to two conference championships, one conference tournament title and six trips to the state 3-A playoffs.
During his tenure the Vikes accumulated 125 wins and 93 losses and Hill was selected as the conference coach of the year three times (2011, when the Vikings went 20-8 and advanced to the third round of the playoffs; 2012 when the Vikings went 16-9 overall and 10-2 in league play to claim the Cape Fear Valley Conference (CFVC) championship; and, 2014 when Union Pines went 15-11 overall and 7-5 in CFVC play before winning the league tournament as the three seed in their third consecutive trip to the tourney final.)
Hill was also a two-time Region 4 assistant coach at the State Games of North Carolina High School Baseball Tournament, before being selected as the Region 4 head coach at the 2014 event.
Hill resigned in July 2015 to take the Scotland High School job.
"I was proud of the success we had," Hill said of his nine seasons as the Union Pines coach.
He noted some of those improvements in an interview with The Pilot in 2015 — a completely resodded state-of-the-art playing surface; the construction of a fully-covered practice facility with multiple batting cages; vastly improved stadium lighting and sound system; and a renovated outfield fence that includes an upgraded scoreboard and a towering 32-foot-tall Blue Monster in right field.    
"I truly feel that our facilities and our program have continued to grow upwards these past nine years and will continue to trend upwards in the future." Hill said in that interview. "I feel as though our program is definitely on the rise."
Hill was replaced by Eric Marion, who served as one of his assistant coaches for six seasons. Marion is a 2005 graduate of Pinecrest High School, where he played under Patriots' head coach Jeff Hewitt, who also serves as athletic director.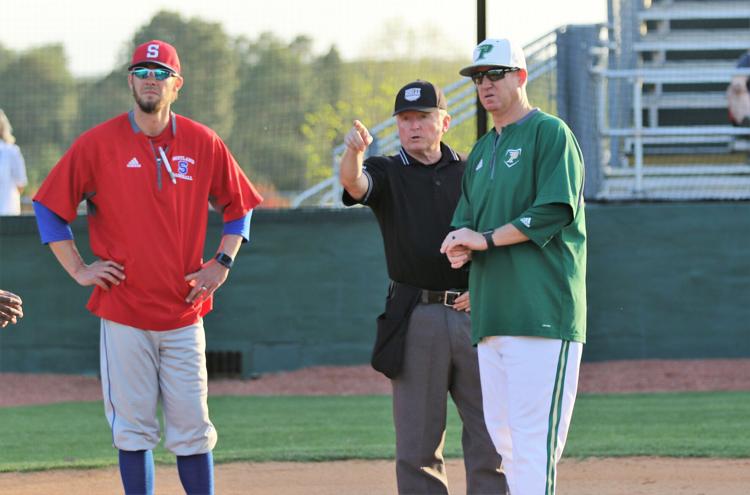 Hewitt and Hill faced each other twice each year in Sandhills Athletic Conference regular season play and several times in the conference tournament.
Hill said he looks forward continuing the rivalry with Pinecrest, as well as North Moore. Hill said it was nice to be back on the Union Pines campus and to see all of the improvements in facilities and other changes since he left five years ago.
"It has been great to see what has been done here and all of the upgrades," he said. "I am super excited about this opportunity."
But he acknowledged that the suspension of summer sports activities and the uncertainties about fall sports "has been very difficult" as he begins his new job.
"I've had to be the bearer of bad news," he said of keeping coaches updated on what is happening. "We all look forward to sports starting back at some point."