For most high school athletes, it's been more than a year since they ran cross country or played volleyball competitively with the start of the 2020 season pushed back.
A preseason filled with speculation and slight pessimism for some took one step closer to the start of the season this week, Nov. 16, as volleyball and cross country had their first official practice.
"I think for them, it actually gives them something to look forward to," Union Pines volleyball coach Toni D. Boney said. "Before you were practicing for like a month-and-a-half, and there was no guarantee the season was going to start. We had a start date, and a lot of people were saying, 'We had a start date before and it kept getting pushed back.' Yesterday the energy was really good in the gym."
Union Pines completed a perfect run though the Tri-County Conference last season, before falling in their opening match of the N.C. High School Athletic Association state playoffs. With several returners from that squad, the Vikings will spend the next two weeks figuring out a plan of attack for Nov. 19.
"We have to figure out who goes where on the court," Boney said. "We've got a new freshman in and some sophomore that we pulled up from JV from last year, and we have our returners, and now it's like putting a puzzle together."
Pinecrest, the other volleyball team that claimed a conference championship last year, spent the first few days figuring out personnel for the team through tryouts, and will hit the ground running with its complete roster next week.
"We are going to work specifically on defense, specifically on offense," coach Scott Shepherd said. "You sort of saw some of it when they were playing today. You could see some, but it wasn't completely there for us."
Winning the Sandhills Athletic Conference after a 13-1 record in league play last year, and an appearance in the third round of the state playoffs, the Patriots are expected to return a bulk of its roster from a season ago.
Through the uncertainty and bizarreness of this preseason, Shepherd has seen his team come together through the situation. There have been a lot of changes that have occurred during the preseason workout period, and now more stability has come in recent weeks.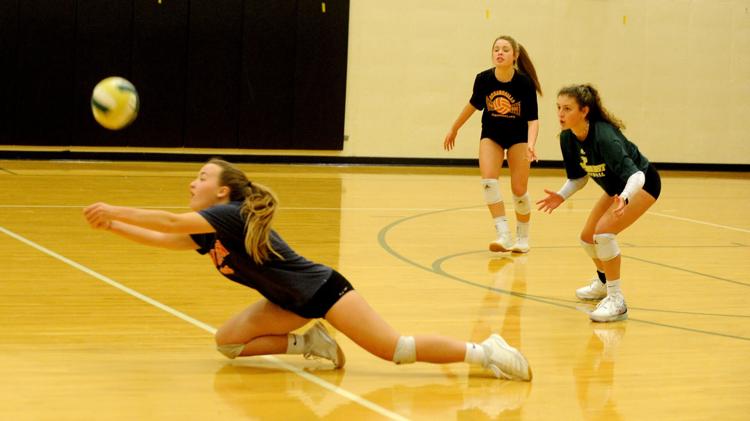 "It's been hard to ramp them up when every three weeks there was a change," he said. "Every three weeks there's a change, but so far we've been through about an eight or nine week period where there haven't been any changes, so people are starting to get excited. To be honest, they are getting bored to not be able to get in the gym and run offenses and get used to each other as a unit on the floor."
Cross country teams in the county are using the next few weeks of regular practice to fine-tune details of racing in practice as the conditioning for the most part has taken care of itself in the preseason workouts.
"Now the next focus is really trying to build their fitness levels and teaching them the basics of competition," Pinecrest boys' coach Mike Devine said. "Everything from how you run the terrain, how you react to people in groups and today when they were running down around the corner, we encouraged them to talk to each other. Cross country can be a lonely sport, running 5 kilometers on the grass, but there's power in the team."
"We're more focused on racing type techniques now, whereas prior to Nov. 1 it was our preseason working to get in shape," Pinecrest girls' coach John Buchholz said. "Some of these kids when we started could not run this course without a fair amount of walking. Most of them can get the whole thing done now."
Pinecrest boasts the strenuous Elk's Club Course that helps prepare the team in some of the hardest conditions, and with four races scheduled there, it prepares the runners for a familiar site this season.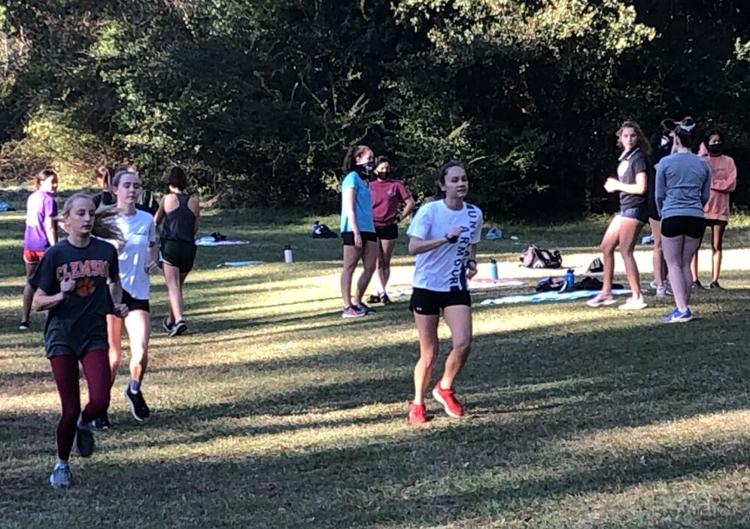 "The nice thing about having the first three meets here, is our kids are used to the hills and stuff," Buchholz said. "It's a good course to race on."
Devine has seen the boys' runners buy in during the workouts, and that has led to a productive start to the preseason practices.
At North Moore, the cross country team has also bought in and is seeing results.
"I think for the most part, everybody is about it definitely," coach Jasmine Wray said. "Everybody is working on getting better and everybody has gotten better. People are getting in better shape. There are kids that run on their own."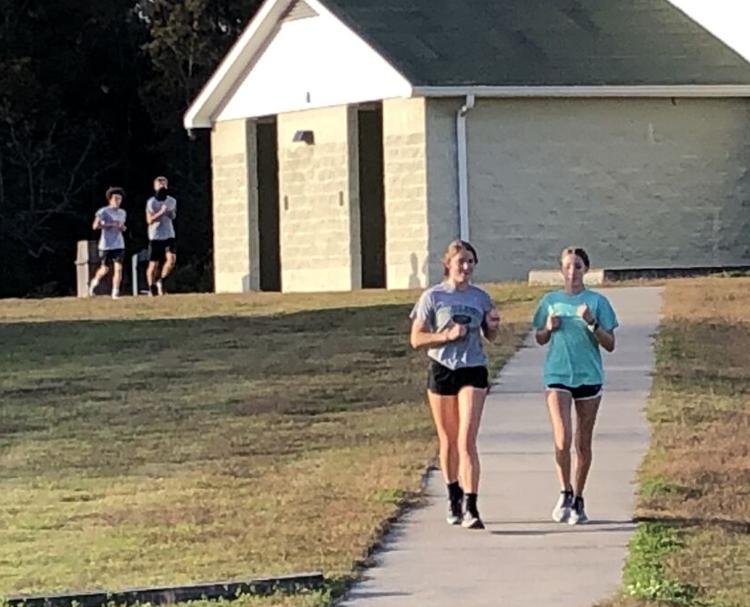 Outside of practice, many of the runners have started weekend workouts in small groups to prepare for the closely approaching season.
"We are adding more running to get them prepared to run the race distance of 3.1 (miles) and eventually we will add more miles than that so they will be in better shape," Wray said.