Climbing out of two Richmond leads, the Pinecrest football team showed fight against an opponent that it had historically struggled against.
Taking the defending Sandhills Athletic Conference champions to overtime, Pinecrest was stopped by the Raiders as the visitors claimed the 42-35 win in Southern Pines on Friday.
The Patriots trailed by as much as 21 points in the game, and needed a late drive in the fourth quarter to knot the score after the Raiders went up eight points with 8:36 left in the ballgame.
"The guys just battled for 48 minutes. We are super proud of them," Pinecrest coach Chris Metzger said. "It stings but we've got to get better from it. Too many missed opportunities."
Midway through the second quarter, Richmond (1-0) had already built up a 21-0 lead. On the drive following a C.J. Tillman touchdown run for the Raiders, Pinecrest (1-1) strung together its best drive of the game up to that point, using the passing and rushing of quarterback Braxton Barber.
Barber was 3-for-3 passing on the drive with 45 yards passing and rushed for 15 yards, including a five-yard dive with 2:27 left in the half to score and make it 21-7.
A fumbled snap gave the ball back to Pinecrest after defensive lineman John Connor Veeneman fell on the loose ball.
Penalties helped the Patriots get down to the Richmond 5-yard-line with three seconds left to set up a touchdown pass from Barber to Aaron Scott as time expired to give Pinecrest momentum into the locker room. A targeting call on the next to last play of the drive ejected Tillman, one of the Raiders' top defensive players, from the game.
That momentum carried over into the early stages of the third, and it also came with a fair share of lucky breaks. Pinecrest's defense allowed one touchdown in the second half.
"We didn't miss a beat. When we were down, Coach (Antwon) Murchison came over and talked to us and made it clear that we were still in the game," junior safety Brodie Karres said.
"No one got down. We were all still hyped up and ready to get back out on the field to cheer the offense on. Once the offense going on a roll, that really hyped things up and gave us the extra push."
The Patriots forced Richmond to punt with nine minutes to go in the quarter, but a mishandled snap by punter Mack West was scooped up by Pinecrest's Nick Garbark for a touchdown to tie the score.
Pinecrest's defense followed by getting its first three-and-out of the game the next series. A seven-play, 25-yard drive ended with Jeff Yurk nailing a 45-yard field goal try with 5:54 left. The 24-21 lead was Pinecrest's first of the game.
After another three-and-out, Pinecrest drove again to try and push the lead out by three more points, but a false start forced the Patriots out of field goal range. That miscue loomed large when the snap on the following play sailed over the head of Yurk, and was returned 40 yard for a touchdown by Jamari Broady, the second of his two fumble recoveries.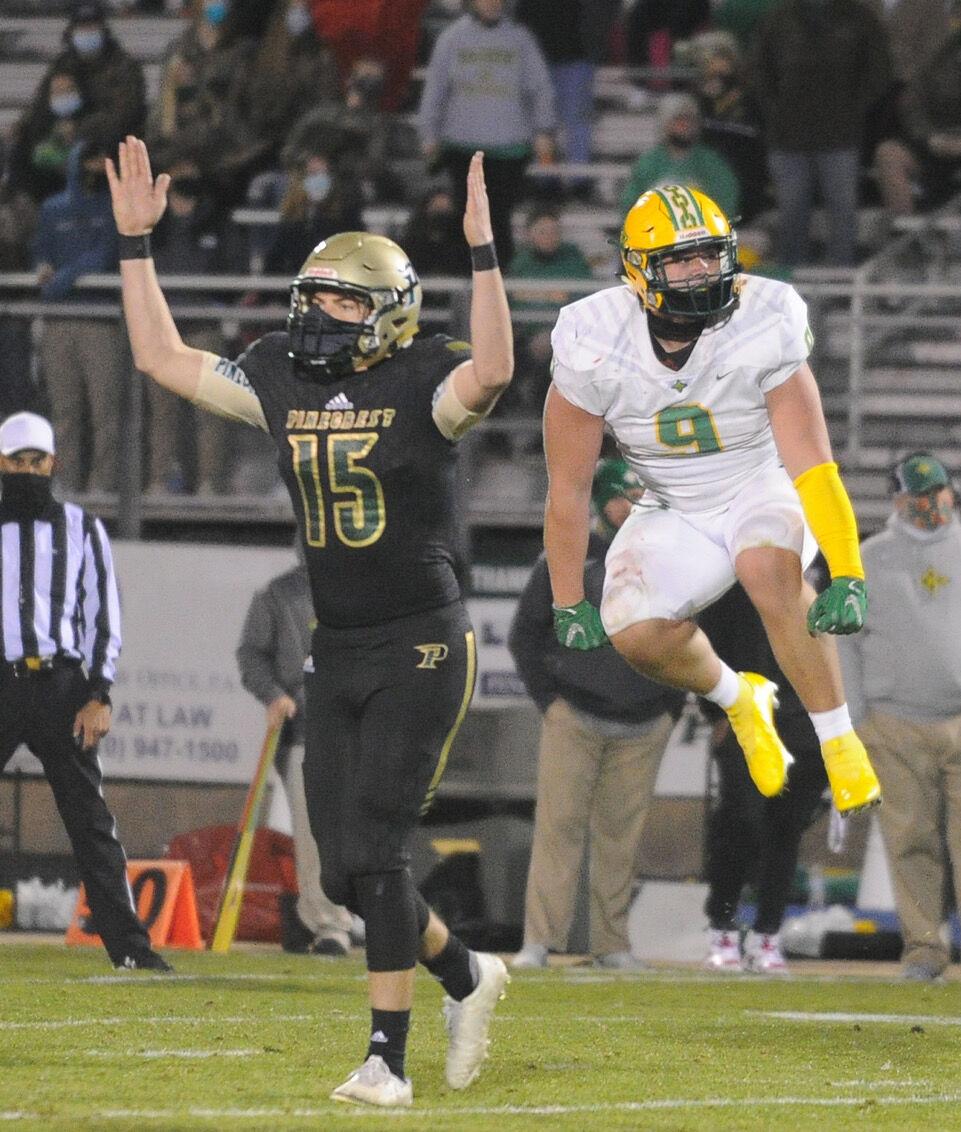 "To be at the level that we want to be at, you've got to clean things up. That starts with us as coaches," Metzger said. "Too many things were handed to a phenomenal ball club and when you do that, it's not a recipe for success."
With Richmond leading 28-24, Pinecrest used a second Yurk field goal, this time from 46 yards out, to cut the lead to 28-27 with 11:48 left in regulation.
The lone offensive touchdown from the Raiders in the second half came on the following drive when Kellen Hood tossed a screen pass out to Tremel Jones that he took 43 yards for a touchdown, putting the Raiders up by eight points.
After directing the offense effectively late in the second quarter and into the third quarter, Barber went down with an ankle injury after running out of bounds on the second play of the next drive for Pinecrest. Then Karres stepped in.
"He is just a warrior that played both ways. He was a leader, a Patriot," Metzger said of Karres. "He came in cool, calm and collected and didn't miss a beat."
On his first play, Karres delivered a strike for 19 yards to Semet Cobb. The immediate change into going under center didn't phase Karres as he had tunnel vision to the task at hand.
"I knew we were down one score so it was really just thinking about how I could help get the ball in the end zone, " Karres said. "I saw my boy Semet, we've been friends for a long time, that was a connection we have always had so it was nice to fit the ball in that window. The play call was perfect against their their defense and it worked."
Karres and the Patriots drove 69 yards to score on a one-yard keeper from the backup quarterback. A false start on the two-point try added to the difficulty of the attempt, but Karres' mobility outside of the pocket extended the play and allowed him to find Cobb again to tie the game at 35-all with 4:38 left.
"I knew we had plenty of time on the clock so I was just focused on getting first down after first down, driving down the field," Karres said.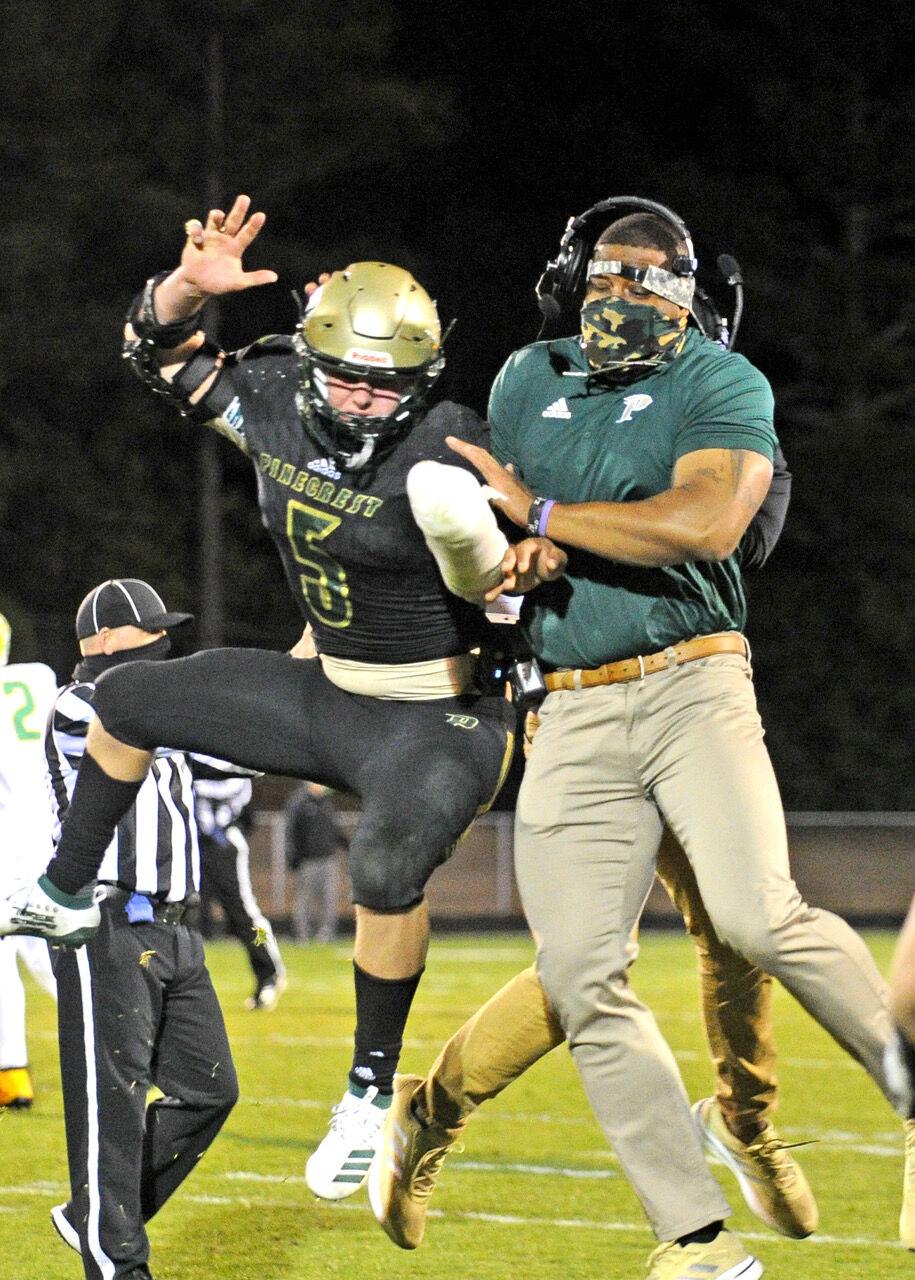 Momentum built for Pinecrest again when Kessler Atkinson fell on a fumble on the second play of Richmond's ensuing drive, but three-and-outs from Pinecrest and Richmond over the next four minutes sent the game to overtime.
In the extra period, Richmond struck first on the first play with Jaron Coleman scoring his second touchdown of the game nearly untouched from 10 yards out. Three incompletions from Karres ended the game for Pinecrest.
Before his injury, Barber passed for 183 yards and rushed for 18 more with two touchdowns to his credit. Cobb caught five catches for 62 yards.
Hood passed for 223 yards and a touchdown. Jones was Hood's top target with 134 yards on nine grabs and six passes were caught by Dalton Stroman for 63 yards. Coleman rushed for 85 yards.
Pinecrest plays at Purnell Swett next week.
Mustangs Show Fight in Loss at North Stanly
Facing a three-score deficit after the first quarter, North Moore coach Andrew Carrouth said he liked the fight he saw from his team over the final three quarters of its 24-15 Yadkin Valley Conference loss on the road.
The matchup with the Comets came on Wednesday after the scheduled game against Albemarle was scrubbed with the Bulldogs in COVID-19 protocols.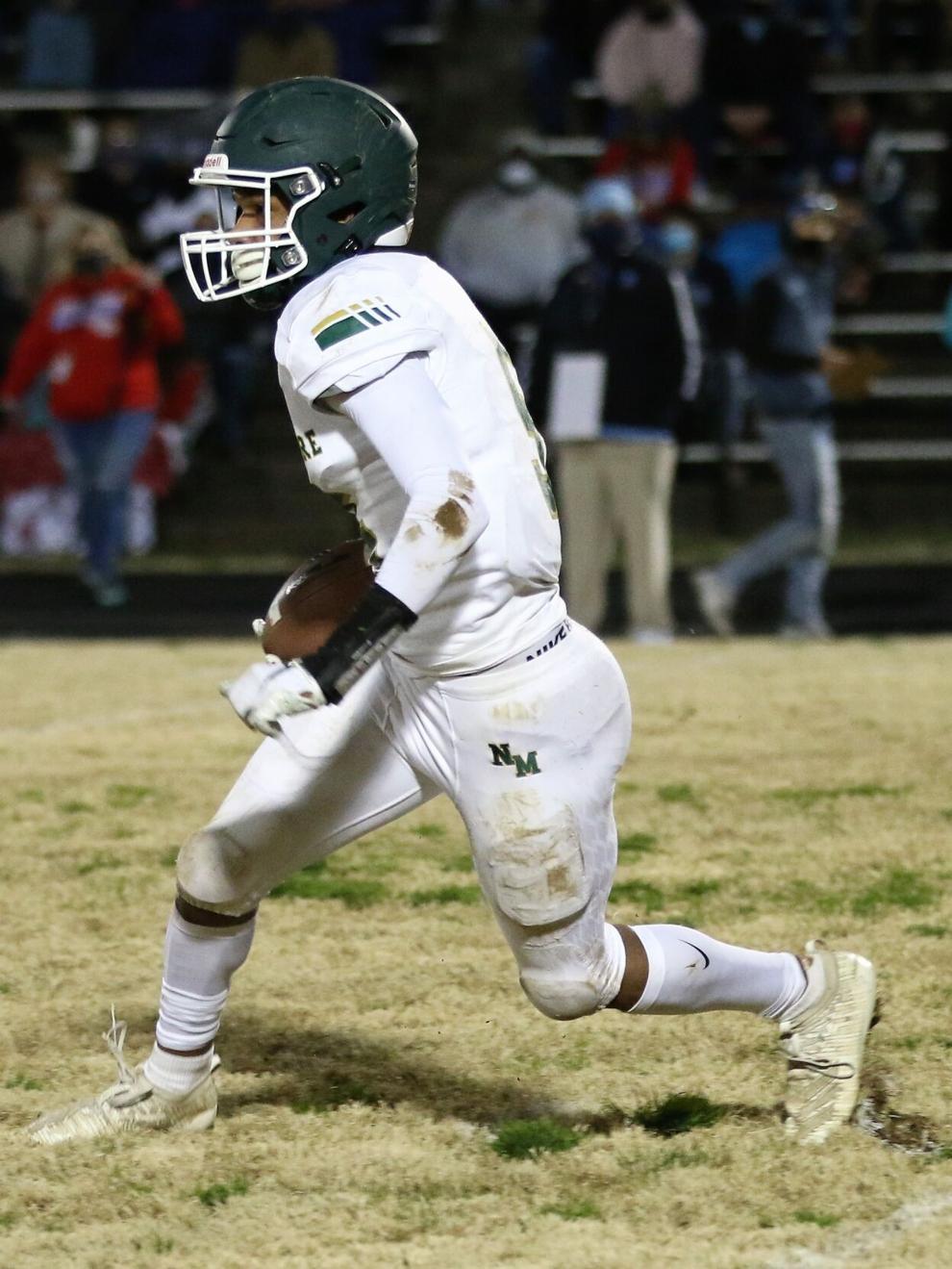 "We had put together what we thought was a good game plan to go up against Albemarle and we were worried about how the guys would handle it and where their mindset would be at," Carrouth said. "But these guys put their hard hats on and went to work."
North Stanly (1-0) went up 17-0 after the first quarter.
In the second half, North Moore (0-1) had a chance to take the lead, but was stuffed by the Comets near the goal line.
Trevor Brady had a touchdown on offense and a safety on defense for the Mustangs, and Dakota Morgan found Isaiah Cassidy for a touchdown pass for the other score.
"For us to be down like we were, the kids showed they have grit and they fought their freakin' tails off," Carrouth said. "Tonight I was pleased because we were the tougher and more physical team."
North Moore returns home to host South Stanly next week.
Late Punt Return Dooms Vikings
A quiet first three quarters led up to a dramatic finish between Union Pines and Forest Hills on Friday.
The Vikings didn't find the end zone until early in the fourth quarter, and a late touchdown in special teams for the Yellow Jackets helped the visitors earn a 14-12 win at Union Pines.
"Credit to Forest Hills. They took away what we like to do most and forced us to adjust," Union Pines coach Lonnie Cox said. "There's no excuse that we turned the ball over four times. We have to take better care of the pigskin."
The Union Pines offense from a week ago went quiet as the first score of the game for the Vikings (1-1) came with 11:17 left in the game on a two-yard score from Russ Schaper to make it a 7-6 Forest Hills lead.
Union Pines' defense forced four turnovers.
"Coach (Jason) Trousdale and our defensive staff did an incredible job preparing for Forest Hills," Cox said. "Our defense not only held their offense to one score, but forced four turnovers. They served us a platter of opportunities and we did not dine in."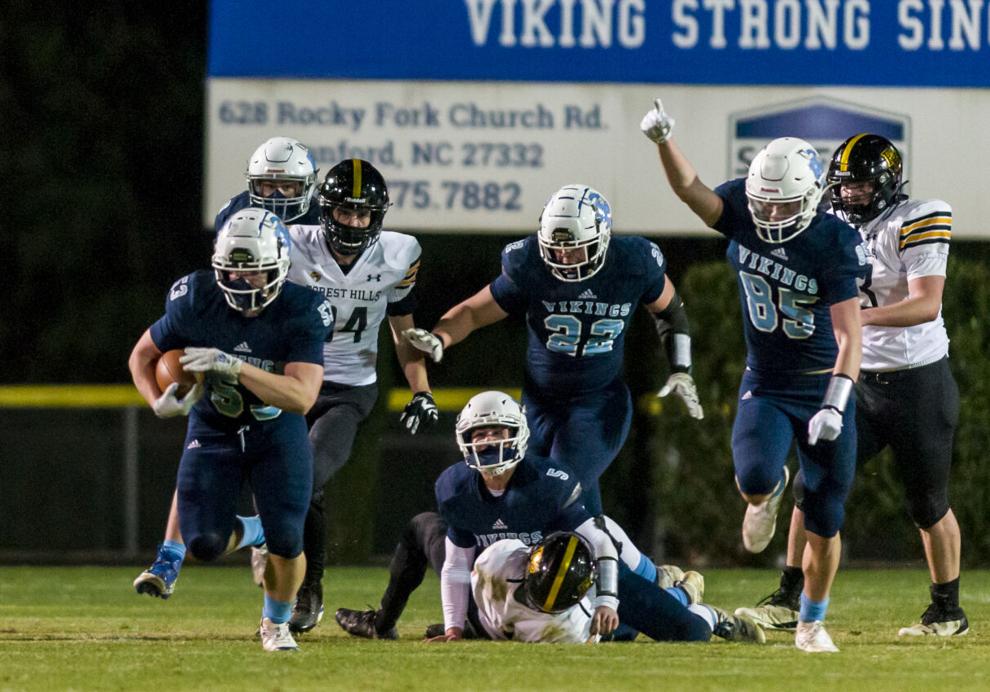 Later in the fourth quarter, Union Pines went up 12-7 when Dakota Spangler stripped Yellow Jackets running back Ahmahd Stafford and took the ball 75 yards for a touchdown.
With 2:45 left in the game, Forest Hills went up for good on a 75-yard punt return by Ja Coffey.
Union Pines opens Tri-County Conference play on Friday at home against Harnett Central.