The stage was set for the last two undefeated teams in Sandhills Athletic Conference play on the boys side in front of a packed and vocal crowd at Union Pines Friday night.
And even with the stage and the competition level of Richmond, the Vikings clawed away after the Raiders built up a pair of double-digit leads in the second half of the clash of the two highly-touted conference foes.
"I feel like they are maturing, but I also felt like they were up to the competition. They knew Richmond was a good team, and we wanted to show people in this conference and this community that we are just as good," Union Pines coach Nick Boney said after the 71-65 loss at home.
"Like I've said all throughout the season and in different games, we've got fight. We're not going to let you just beat us and not put up a fight."
Known for coming out strong in the second half this season, Richmond (13-0, 4-0 Sandhills) pushed a four-point lead at halftime out to 39-27 less than two minutes into the period.
Union Pines (12-2, 2-1 Sandhills) responded to cut the lead down to three points on two occasions in the third with Kelby Wright and Jack Adair carrying the scoring load.
Wright was confined to the first seat on the Union Pines bench for much of the first half after being whistled for two fouls in the first quarter. He scored 12 of his 14 points in the second half.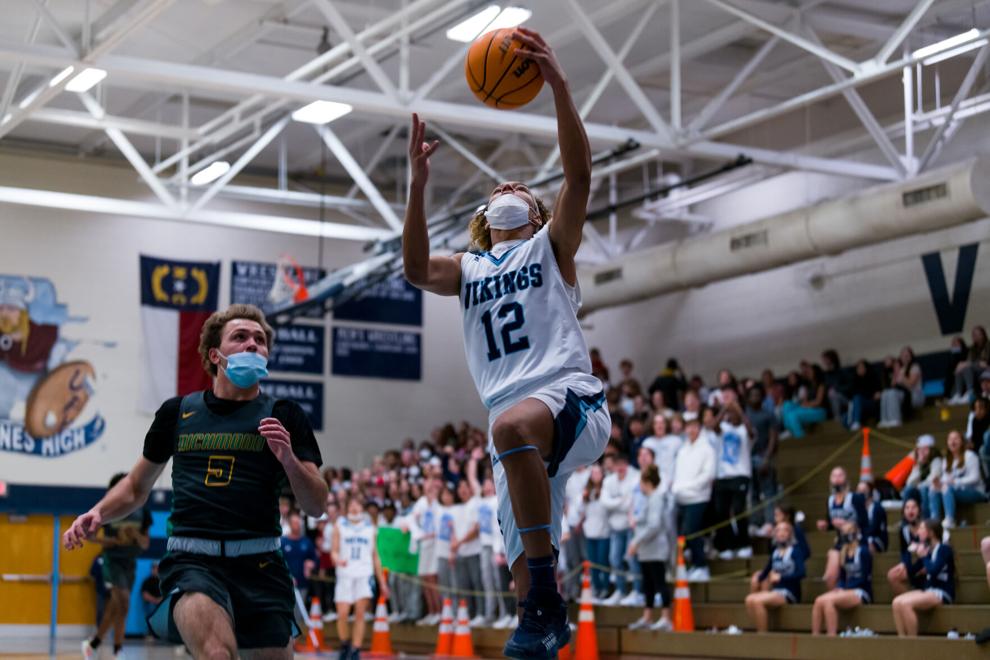 On a night where senior forward Isaiah Robbins was out nursing an injury, senior guard Stevenson Haskell had his share of foul trouble in the second half.
"When I get all of them back at the same time, I think we are a better team," Boney said.
Scoring by Javian Drake and Dakota Chavis helped the Raiders grab a 53-44 lead going to the fourth quarter.
In the fourth, Richmond retained its lead until Wright scored all six points in a stretch to cut the score to 65-60 with a minute to go. The Vikings wouldn't draw any closer.
"Our free throws were terrible. We've got to shoot better free throws," Boney said of his team's 11-for-23 showing at the line. "And then turnovers. We had 19 turnovers and that hurt us."
In the first half, the Vikings' defensive grit allowed them to hang tight. Adair scored 11 points in the first half. The Vikings led as much as 10-4 in the first quarter and then took a 19-14 lead early in the second.
"Our defense in the first half was solid. In the second half, they kind of pressed a little bit so it made us turn the ball over so we couldn't get a set defense," Boney said.
Sophomore standout Paul McNeil helped fuel a Richmond comeback late in the period to give the visitors the lead at halftime. McNeil had 23 points to lead all scorers with Chavis adding in 19 points.
Adair led the Vikings with 18 points.
Lindsey, Raiders Rout Union Pines Girls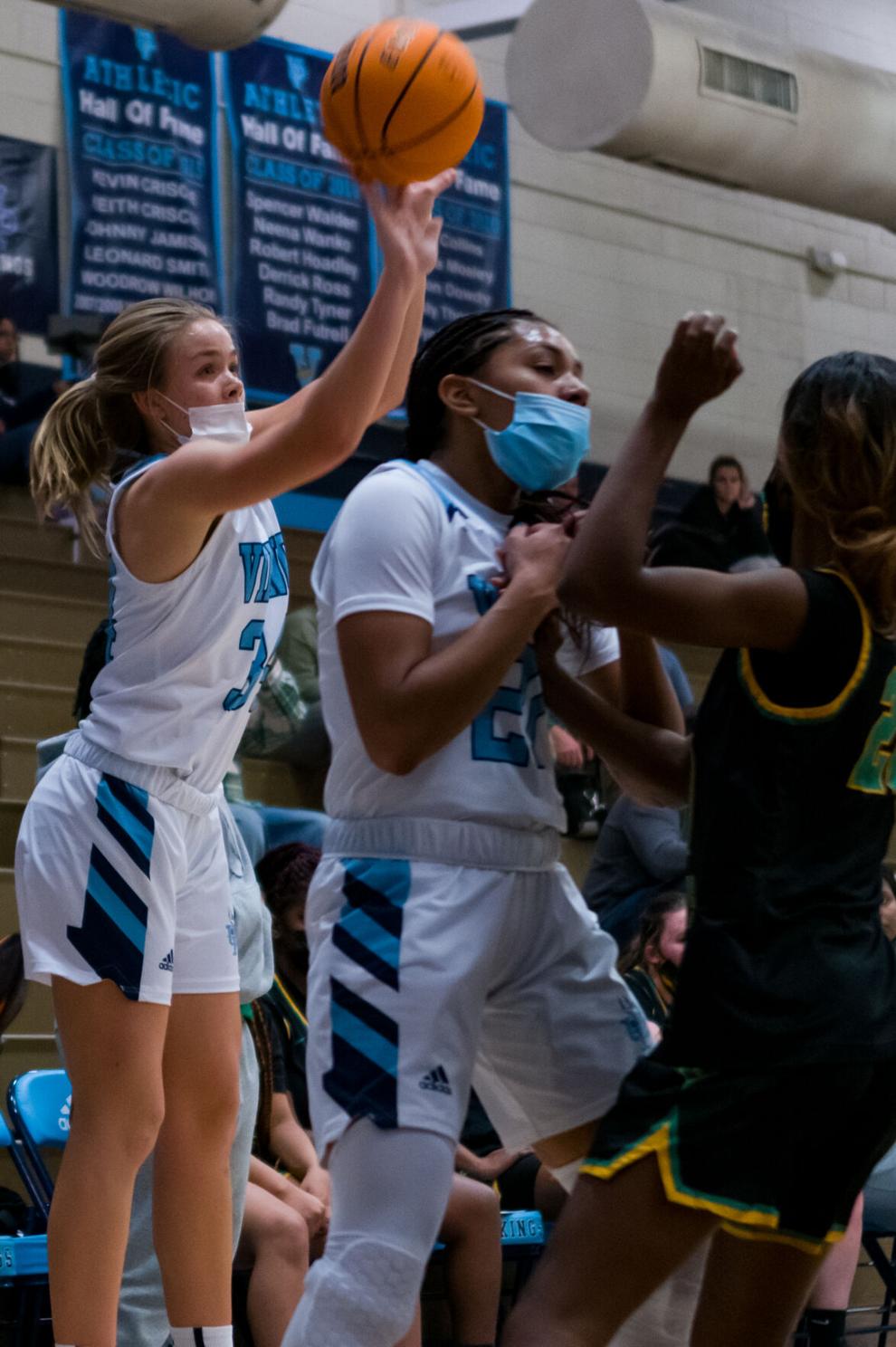 The Richmond girls basketball team used its suffocating defense and a big scoring night from freshman guard Jamiya Lindsey to pick up a 58-39 win over Union Pines Friday night in the first game of the road doubleheader sweep.
Lindsey set a career-high with 34 points in the win where she was double-teamed and denied the ball at times by Union Pines (7-7, 1-2 Sandhills) in the win. She netted 13-points in the fourth quarter, where the Vikings looked to keep the ball out of Lindsey's hands at all costs, but still struggled to slow her down.
Richmond (9-4, 4-0 Sandhills) took a 12-7 lead after the first quarter, and pushed it out to 27-15 at the intermission.
Jamiya Ratliff scored 12 points for the Raiders.
For the Vikings, leading scorer Aaliyah Balser was frustrated by a quieter offensive night than usual and foul trouble. She finished with 11 points and fouled out midway through the fourth quarter. Senior Sara Adams had 16 points to lead the Vikings in scoring.
Union Pines plays at Hoke County Tuesday.
Mustang Girls' Work On Break Pays Off In Win
Nearly three weeks since last playing a game, the North Moore girls basketball team focused on its defense in the time away for the Christmas break. Against Father Vincent Capodanno at home Thursday, the work showed.
"We worked on talking on offense and defense and getting on the ball on defense," senior Taleah Cochran-Chisholm said. "We just kept hustling up and down the court and getting good stops and having good plays on defense."
The Mustangs were fierce with their full-court pressure and held the visiting Grunts scoreless in the third quarter.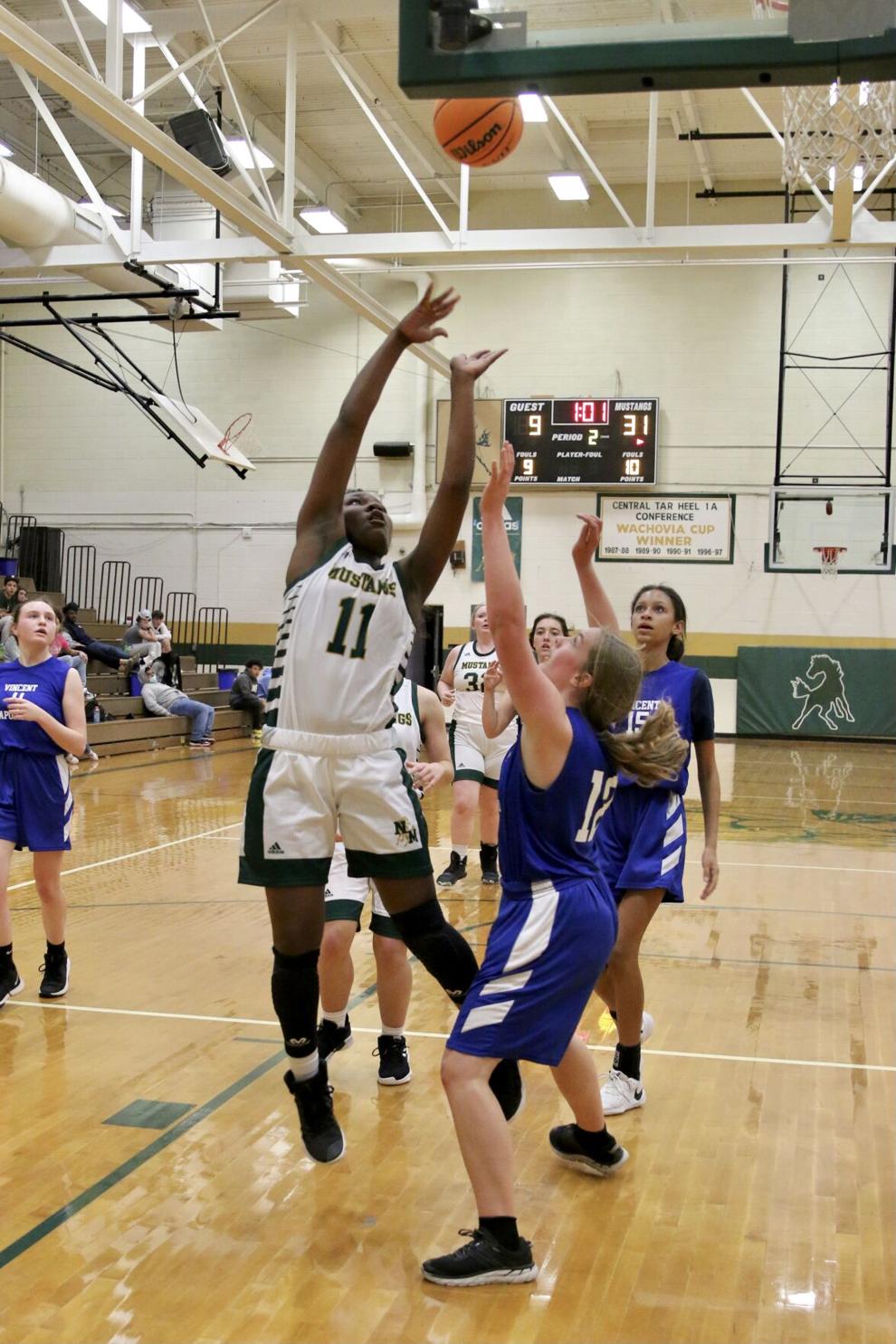 The time away from game action showed early as a layup by Father Capodanno midway through the quarter made it an 8-5 North Moore advantage, before the home team ran away on the scoreboard.
"They were a lot more aggressive with it, which was the most exciting part, and they were actually doing it," North Moore coach Katelyn Sheffield said. "We worked our tails off over Christmas break doing nothing but defensive rotations, talking like crazy when we were on defense and everybody had to talk. Our goal today was to come out and execute everything we had been working hard on over the break."
Pressure in the backcourt led to turnovers and driving lanes for Cochran-Chisholm, who finished with a game-best 32 points.
"She definitely stepped up tonight. She was driving, making her layups and pushing the ball down the court," Sheffield said. "That's the Taleah I want every single game. If she does that, she's going to be our top scorer every game."
That three-point spread midway through the opening period was gashed open by the Mustangs, who took a 36-12 lead into halftime.
Adjusting more into her role as the team's primary ball handler, Cochran-Chisholm scored 15 points in the first half and 17 points after halftime, and did so mostly with her game attacking the rim.
"I took this as an opportunity to keep driving, and driving, and driving, and just not stop until I get it perfected," Cochran-Chisholm said.
Fellow senior Abbie McNeill scored 11 points, while Logan Maness, Savanna Kennedy and Hannah Hunt each had six points apiece.
Emma Klontz led Father Capodanno with 12 points, including 10 of her team's 11 points in the second quarter.
North Moore plays at home against Cummings Friday.